How come I married so many times, I wonder: Pawan Kalyan (Interview)
Saturday, April 9, 2016 • Telugu Comments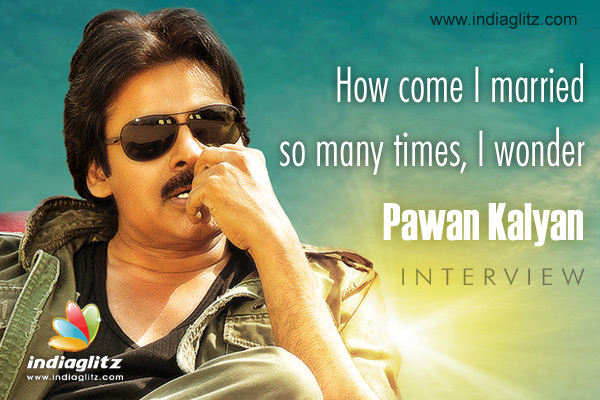 In this interview to a national channel, Pawan Kalyan talks about various issues ranging from his intention to give up films, the Rohith Vemula issue, the JNU controversy, the controversial statements of Aamir Khan and SRK, and more.
What were your interests before before films?
History and social sciences were my interests. I was always interested in knowing how societies get organized, why there is rich and poor divide, why there are classes. I was never apolitical. I think we are all political in a way. Politics decides our day-to-day life.
Why did you react the way you did post the bifurcation of Andhra Pradesh?
Our freedom is because thousands sacrificed their studies and fought for freedom. Anything that disturbs the integrity of the nation disturbs me. What happens today is partly the result of what our ancestors had done. I felt that if not being apologetic about things badly done (with respect to bifurcation), they (powers-that-be) should at least explain to people. I wanted to address the anger of people belonging to a particular area.
There is so much cynicism attached to politics and politicians. How do you plan to address that?
To me, politics is not a dirty word. Do we hate drainage? We are the ones creating drainage. Politics organizes our lives. We can't disregard it. Politics has lot of muck, lot of dirt. But that doesn't mean you have to be away from it. It's ubiquitous.
Does it concern you that your politics could pit you against your own family? Two years ago, your brother and yourself campaigned for two rival parties.
I don't about future. But I am always open in my communication with my brother. I knew the reason why I supported the TDP. I have independent thinking. I made enough notes. I conveyed it to my brother. It's not he agreed with me, but he understood me. My love toward my brother and my approach to politics are different.
You have said that you want to dedicate full time to politics. Why do you want to leave films?
For three months, I couldn't think of even sleeping. I had to finish the film to release on April 8. I was working day and night. If you are into politics which affects the destiny of people, you have to be completely involved. I can't do justice. My passion for movies will never end. My passion and love is story-telling. I may write films, produce films. I will confine to that.
You are an untrained actor. Yet you have reached dizzying heights of stardom. It's said that, your huge popularity owes to the fact that the audience see you as one of their own.
It's a fair observation that they see me as one of their own. I myself never felt that I was an actor. I often wonder as to why so many people know me. It's stupid to wonder because I am a film star and I am bound to be familiar. But still, I am wonder-struck.
You family is well-entrenched in films. Chiranjeevi, Allu Arjun, Ram Charan, Sai Dharam Tej, and you. Is acting inevitable for your children as well?
I don't know. I won't egg on them, I won't discourage them. I will let them be what they want to be. It's not like as I am an actor, my children should become actors. Not necessarily. My father was a cop. I didn't become a cop.
Is it ok if your daughter wants to be an actress?
Yes, I am fine.
Films like Gabbar Singh show you differently from what films like Toli Prema and Khushi, which made you a big superstar. How did you come to do that?
I love realistic films. I am really moved by world cinema. But it's very difficult to convey a story to the Indian audience. We have rich story-telling traditions. We have songs, dances, fights, etc. Indians are tuned into thinking that the end should always be happy. The hero should always succeed. It's fundamental that evil has to be punished. I believe in the principle.
In SGS, there is lot of action. Does action get harder as one becomes older?
Yes, definitely. I never rode a horse before Gabbar Singh. The maximum I did was to stand by the side of a horse. When the director told me I should ride the horse, he was taking it for granted that I knew riding. I was scared. I spoke to the horse for a while. I spoke to the horse. I told the horse, "Darling, I don't know horse-riding. I am sorry. Please help me to finish the shot". It came out well. Of late, I have got a hang of it.
You fans want you to make a film with Rajamouli. Anything on the anvil?
I have met him 2-3 times. I don't believe in planning for things. I just want them to fall in place, unfold as they like. I never design things. I want films to choose me; I don't choose films. I haven't watched Baahubali. I haven't watched my last 4-5 films except while doing the dubbing.
Baahubali has won the National Award. Do you think that will help the Telugu film industry?
Not necessarily. It may remain a one-off thing.
You have passionate legions of fans. They watch your every move, every word. Of late, social media has become a battleground. There is a constant rivalry going on between the fans of Pawan and fans of, for example, Mahesh Babu. What's your own relationship with Mahesh?
He has given a voice-over to my film Jalsa. I came out in his support when he spoke out on piracy issue. I have no problems with him. Nothing problematic at a personal level.
Do you follow what's going on Hindi cinema?
Yes, to an extent. The last film I watched is Chennai Express, which I really liked. I also really like Imtiaz Ali's movies. Personally, I know only a few Bollywood stars. I happened to meet Abhishek Bacchan. Of course, I like Amitabh Bacchan. I never got an opportunity to meet Aamir Khan and SRK.
What's your response to the way Aamir and SRK have responded to the "intolerance" debate?
I don't understand the concept of intolerance. Actors should measure their words
Actress Photos
Tejaswi
Nandita Swetha
Catherine Tresa
Jia Sharma