A date with 'pittagoda'
Monday, December 19, 2016 • Telugu Comments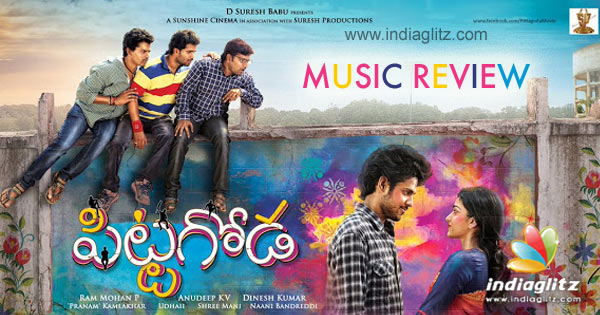 Music-directed by Kamlakhar, the album has renditions by Ranjith, Mallikharjun, Reeta, Haricharan and Anwesha. Srimani's single card lyrics need a special mention.
Welcome To Maa Lokam
Singer: Ranjith
Lyrics: Srimani
The 'Pittagoda' boys are on a roll here. Introducing themselves with all attitude and pomp, they wear their routines on their sleeves. Wiling away time is their qualification, all criticism be damned. Ranjith's sharp vocals make their self-styled squandering all the more sharper. Srimani's lyrics are quite enjoyable, whether they rhyme or not.
Emaindo
Singers: Mallikharjun, Reeta
Lyrics: Srimani
It's as if this mongrealized song is there just to remind us of the lost innocence of a music that existed through the late '90s and early '00s. Srimani sticks to authentic Telugu. The deployment of terms like 'sandadi' and 'oravadi' is noteworthy. Music director Kamalakhar elevates the subdued mood of the lover boy without overplaying the music.
Thiyya Thiyyani
Singer: Haricharan
Lyrics: Srimani
The lover boy's pathetic state of mind receives a lyrical description that is easily understandable. The ecosystem with which the male lead is associated has an imaginative mention. Srimani's lines like 'Idhem vidhi.. vyadha lantindi' are heart-rending. When Haricharan renders the number, it's as if Sonu Nigam is bringing back the pathos of the 'Dil Chahtha Hai' climax number.
Jarigene
Singer: Haricharan
Lyrics: Srimani
It's Srimani all the way. In a song whose tuning is drawn from this or that number, it's the lyrics that are haunting. The poetic expressions are brilliant. If 'Kalau egirela' and 'Kannu ke kottha choopu isthe' are wow, the line 'Na okko adugu choosavante manasa, nee okko theeram rasintundi bahusha' is wonderful. Haricharan is at his brilliant vocal best.
Thiyya Thiyyani (Female)
Singer: Anwesha
Lyrics: Srimani
The female version is enjoyable much like the male version. Anwesha's vocals are entertaining.
Verdict:
Listening to the songs, one knows that Kamlakhar has internalized the ambiance, the characters, the moods and all of the film. Although the music is sans novelty, it nevertheless has a pleasant aroma. The lyrics stand out, especially in the song 'Jarigene'.
Rating: 3/5