Plot of Rana Daggubati's next film
Monday, October 31, 2016 • Telugu Comments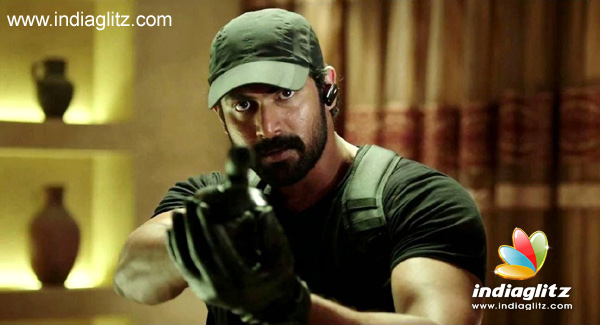 Telugu-Hindi bi-lingual 'Ghazi', starring Rana Daggubati, will hit the screens on Feb 24, 2017 Tapsee Pannu and Kay Kay Menon are playing key roles. A submarine-based war film, this one is produced by PVP Cinema and is based on 'Blue Fish', a book written by the director Sankalp himself. 'Ghazi' is based on the sinking of a Pakistani submarine in 1971 war. This is an underwater war and India's first submarine-based film. Based on the real-life incidents related to the unexplained sinking of PNS Ghazi, the film is done with the shoot.
Going by some of the authentic accounts of the remarkable heroics pertaining to this event, the makers have surely chosen quite an exciting idea that lends itself to be evolved into a gripping screenplay. Here is a thrilling account, published in a recent article by Swarajya Mag.
"In November 1971, well over a month before the declaration of the Indo-Pak war, the Pakistan Navy had despatched an American-gifted submarine named PNS Ghazi – with the mission to sink the Indian carrier, INS Vikrant. When Indian intelligence got wind of the Ghazi plan, the navy hid the carrier in the Andaman & Nicobar Islands – over 1,500 km from the mainland. The navy then built an elaborate ruse that lured the Ghazi. First, it positioned its largest warship, the INS Rajput, off Visakhapatnam harbour and created heavy radio traffic that mimicked the Vikrant's. Secondly, the port authorities placed huge orders for food and supplies that would normally be required when a ship of Vikrant's capacity sails in. The Ghazi took the bait and started laying mines in the port's channel. But the hunter became the hunted on 4 December that year, when it blew up and sank in the harbour. While the Indian Navy claimed that it was INS Rajput's depth charges that caused the explosion, the Pakistanis say their submarine was destroyed by an internal explosion."
Related News
Actress Photos
Shraddha Srinath
Kajal Agarwal
Adhiti Menon
Divya Dattatreya