'Plus' audio comes
Monday, July 6, 2015 • Kannada Comments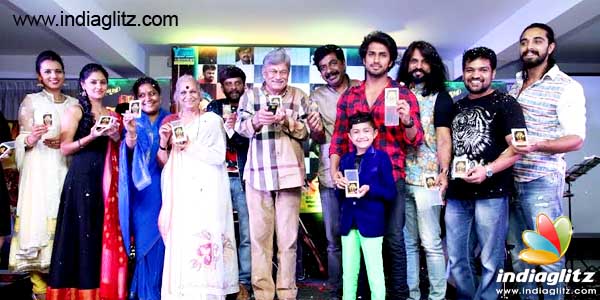 A stylishly made trailer, songs presentation via orchestra and then audio release of 'Plus' from Pen Drive was highlight at the Spring Hotel on Saturday night from Gadda Vijay and Ritesh team. The gracious presence of Ananthnag brought extra glow to the audio release and trailer launch event. Gadda Vijay stated that this film 'Plus' is 'Sarvam Ananthnag Mayam'.
Veteran journalist Dr Vijaya, Gayathri, Ananthnag, Yogaraj Bhat joined the stage for audio release via pen drive. In the past 'Geetha Bangle Store' was first Kannada film to release audio songs in pen drive. Music director Bharat BJ with live orchestra of songs 'Plus' film last shot of versatile actor Ananthnag in work out was clapped even by his wife Gayathri at the crowded gathering. The trailer was introduction of star cast of the film and their mood.
It is Yogaraj Movies presentation. It is the banner with reputation given to other producers to capture the goodwill. Yogaraj Bhat agreed to this point and said it is only to encourage new crops in Kannada. Chetan Chandra with muscular show apologized to actress Shalini for dropping her at the dance shooting of the film. Chetan
Chandra opines that it is the role not done by anyone so far. When asked he did not give explanation to it and showed his finger to Gadda Vijay director of the film. Shalini a pleasant looking heroine to Chetan Chandra admitted that it is because of one name 'Ananthnag' she signed this project. Falling at the time of dance shoot
is also because of my mistakes she stated looking at Chetan Chandra.
It was instinct decision to take up this song because of three reasons - director Gadda Vijay, my interest and Imran Master stated Shruthi Hariharan who has appeared in a special song 'Sunday Banthu... Ritesh has lent the story for 'Plus' that was developed by Gadda Vijay. I am not a perfectionist. That is a too big word. For me it
is honest attempt. From doing short films I thought of making a feature film. For a finest Basmati Rice making Palav was requirement. Gadda Vijay added that Masala and prepared stuff stated Ritesh.
Related News