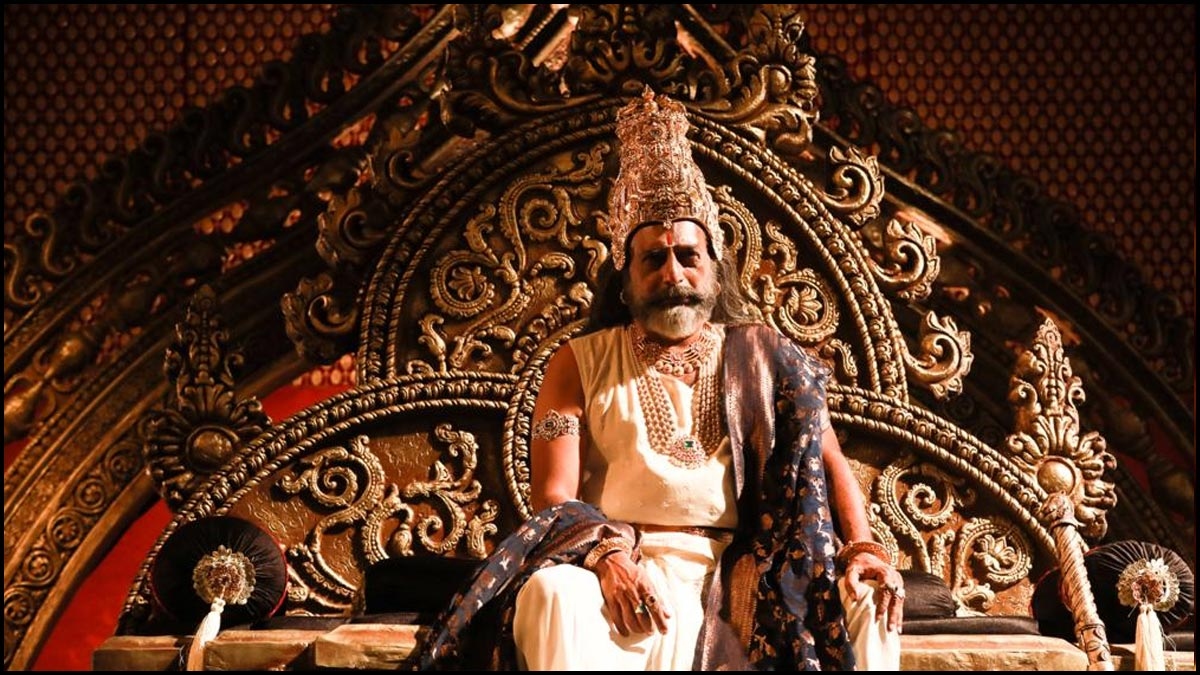 Ponniyin Selvan 2 - Mani Ratnam delivers a satisfying payoff to all that he set up in part one
Mani Ratnam's long time dream project 'Ponniyin Selvan' adapted from the epic novel of the same name by Kalki became the all time number one blockbuster hit movie in Tamil cinema history.  The sequel has released worldwide today with even higher expectations.  Whether the master filmmaker satisfy all sections of the audiences remains to be seen.
'PS-2' starts off from where the original ended.  Arunmozhi Varman (Jayam Ravi) is believed to have drowned to death along with Vadiyathevan (Karthi).  There is turmoil in the Chola kingdom with Aditha Karikalan (Chiyaan Vikram) baying for blood to avenge the death of his young brother.   The scene shifts to the past where a young Karikalan the crown prince is in love with a lowly teenaged orphan Nandhini.  He boldly takes her into the palace and introduces her as his love but unknown to him the king's men set fire to her caretaker's house and banish her from the kingdom.  Cut to the present Nandini sends word that she wants to meet Aditha Karikalan in her palace to bring peace to the kingdom.  However she promises to the Pandyas that she will decimate Aditha and the Chola kingdom while the Abathu Udhavi Padai plot to finish off the king and Ponniyin Selvan.  What happens next is what 'Ponniyin Selvan 2' is all about.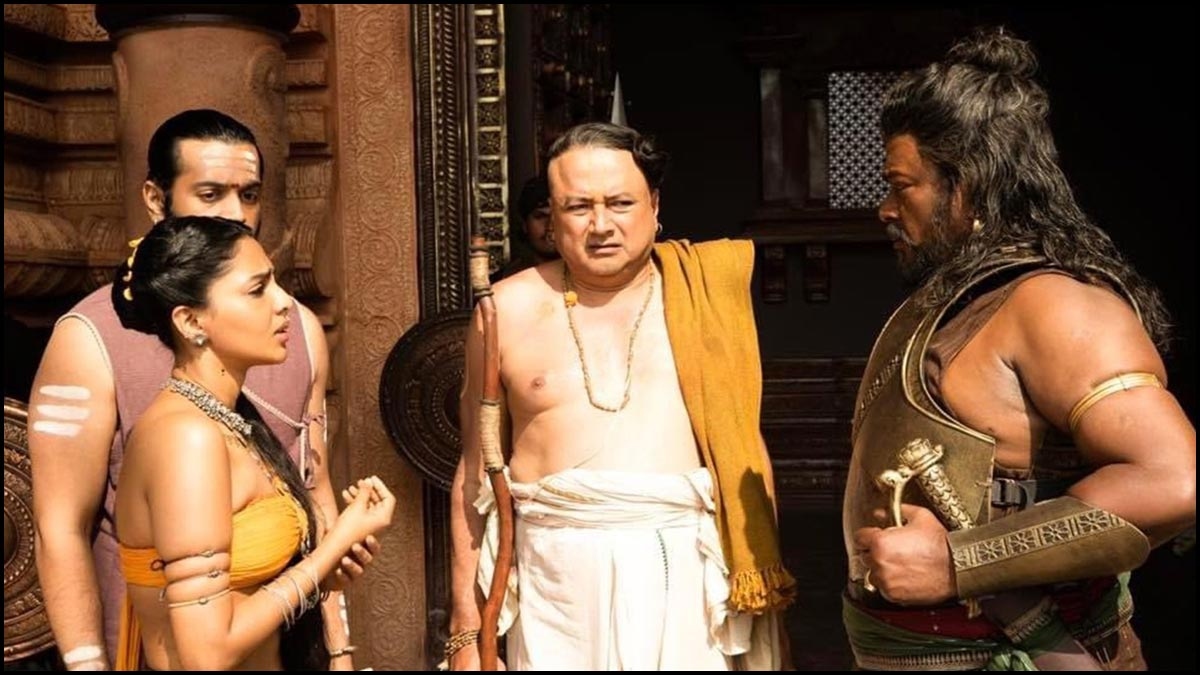 There was a talk that Vikram did not have much importance in the first part, but here it is his character that is dominant throughout.  The character gives ample scope for him to showcase his versatility like the scene in which he is totally vulnerable when he meets his siblings and friends and the long sarcastic conversation he has with Sarathkumar and co in Kadambur palace.   towards his enemies.  However his performance peaks at the pre-climax when he meets Nandini and begs her to kill him and free him from his miseries.  Aishwarya Rai Bachchan breathes fire into Nandhini throughout and especially  in that crucial scene with Chiyaan she effectively conveys her inner turmoil of oscillating between her long lost love and all consuming vengeance.  Jayam Ravi gives an authentic depiction of the level headed prince who puts the people above all.  His calm  acting and majestic body language when taking an important decision in the climax elevates his character even higher.   Karthi's Vandiyathevan who dominated the first part is more a reactive character in the sequel and wherever there is scope he entertains the audiences with his wit and pyro techniques.  Watch out for that prelude to Aga Naga with Kundavai.  Trisha exudes charm as Kundavai and her best scene is when she questions her father about Nandini and Mandakini.   All the seniors Prabhu, Sarathkumar, Jayaram, Parthiban, Prakash Raj, Nasser, Lal, Kishore and Nizhalgal Ravi get their moments to impress.  Vikram Prabhu and Rahman whose character arcs go from positive to negative and vice versa respectively make their marks as well.  Aishwarya Lekshmi, Sobhita Dhulipala, Vinodhini Vaidyanathan and Jayachithra are noticeable in the limited scope they have in the screenplay.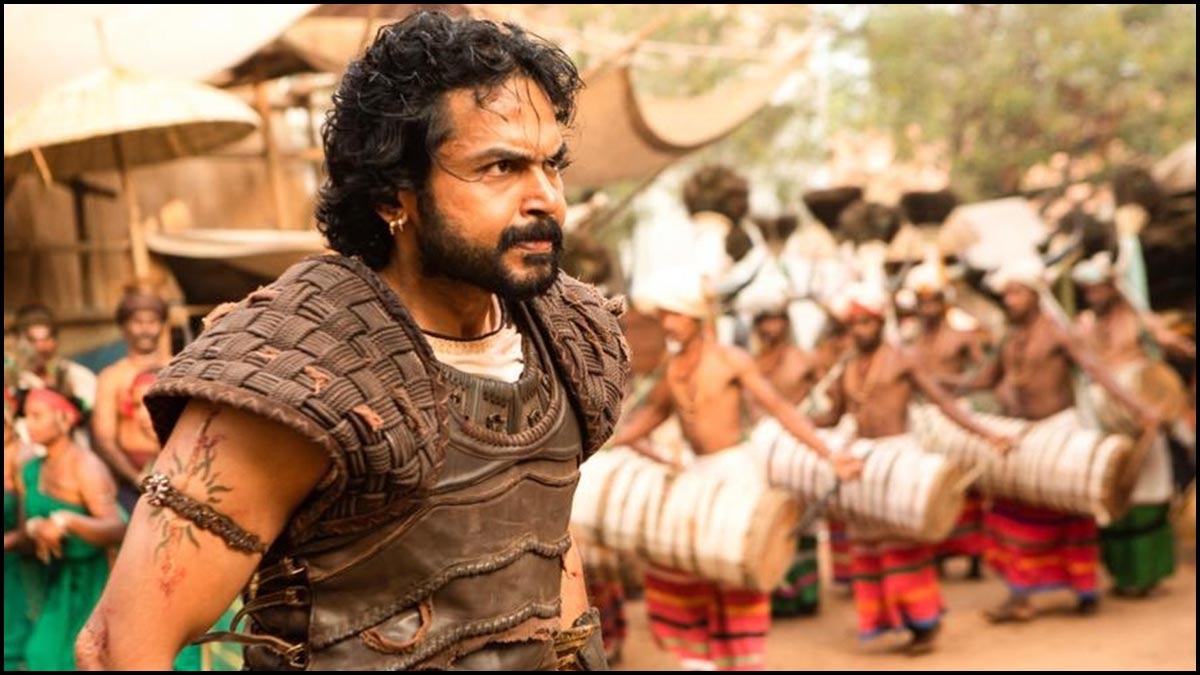 What works best in 'Ponniyin Selvan 2' is the screenplay answering the questions that were posed in the original and tying up the loose ends.  The backstory of Nandhini forms the crux on which the entire story is driven and more or less justifies her actions.  One of the highly enjoyable moments is when Vikram realizes that Vikram Prabhu's Parthibendra Pallavan has been felled by Nandini's charm.  The film without even showing Arunmozhi Varman ascending the throne clearly highlights his characterization as to how and why he came to be known as the Raja Raja Cholan years later.   The sequence at the Buddhist monastery where an attempt is made on Arumozhi and his calm counteraction makes a solid interval block.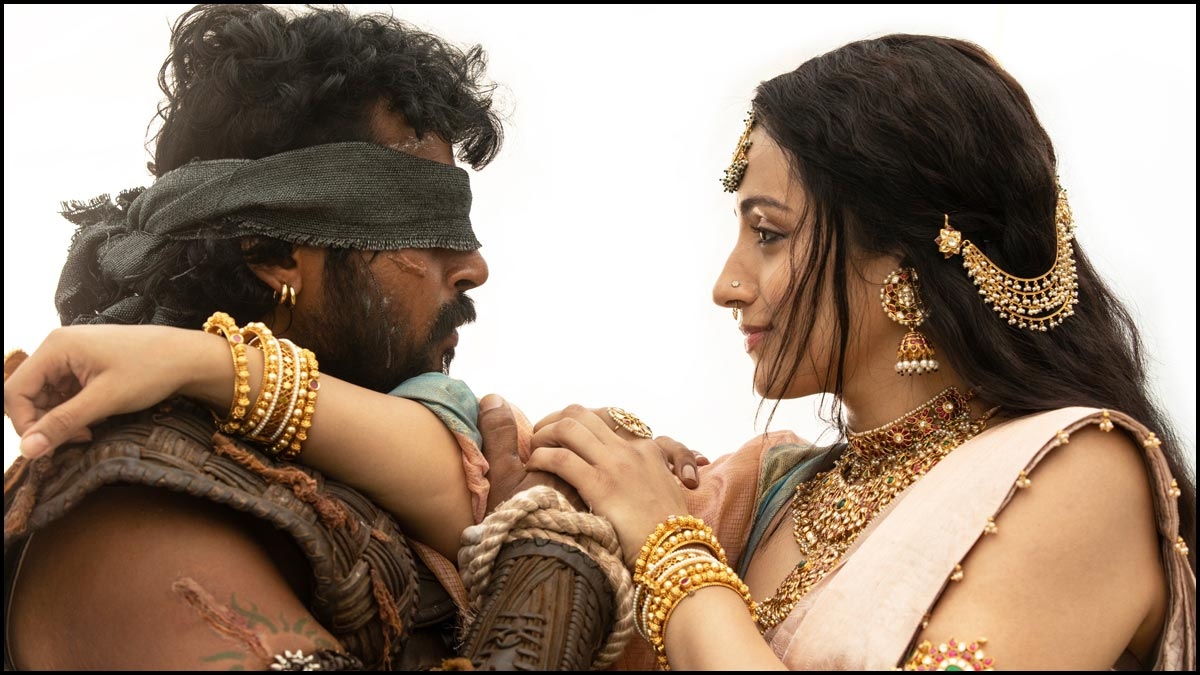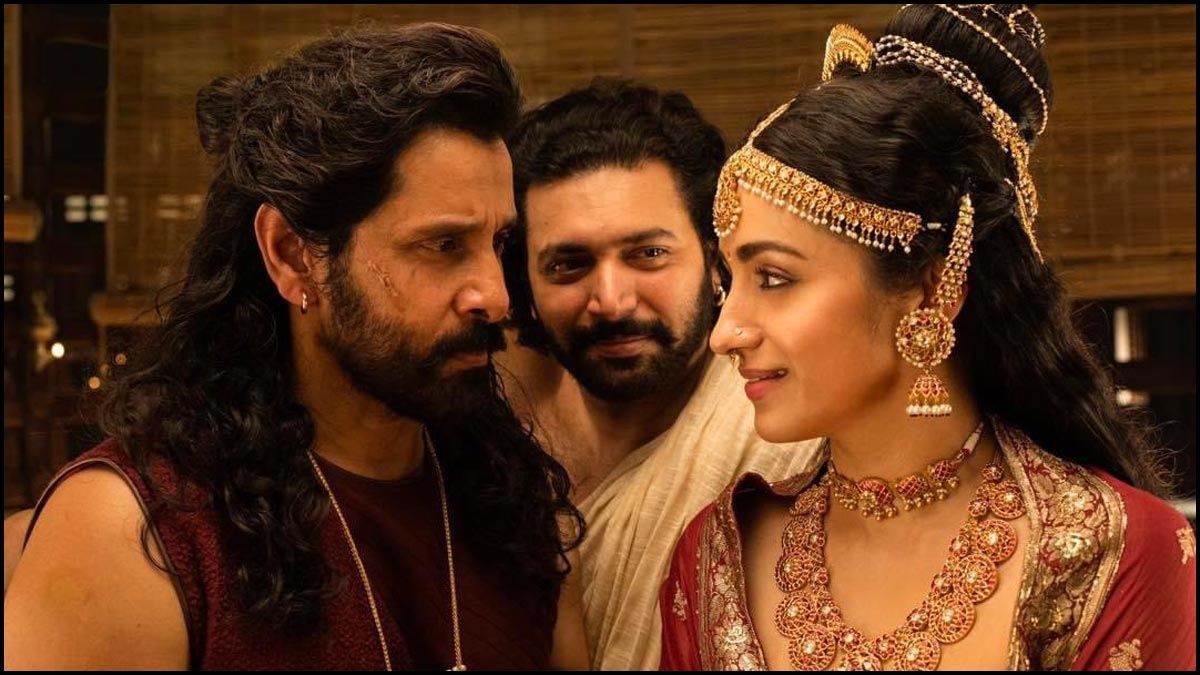 On the flip side the screenplay is rather slow paced and depends on emotions rather than actions and while there are a few hits there are a few misses as well.  The enemies seem to be entering the well guarded palaces at will diluting any thrill.  Vandiyathevan's rather casual interaction with Nandini when Aditha Karikalan's life is in danger and his eventual inaction when the tragedy strikes is not convincing at all.  While it is appreciable to have opted for real sets and for avoiding computer graphics in most sequences some of the ambience is quite artificial.  The second half seems to drag at many places and the twists regarding Nandini's birth lack any shock value (For those who didnt read the novel).  It is an injustice to have introduced Mandakini as a mysterious character crucial to the story and killing her off with just a couple of minutes screen time.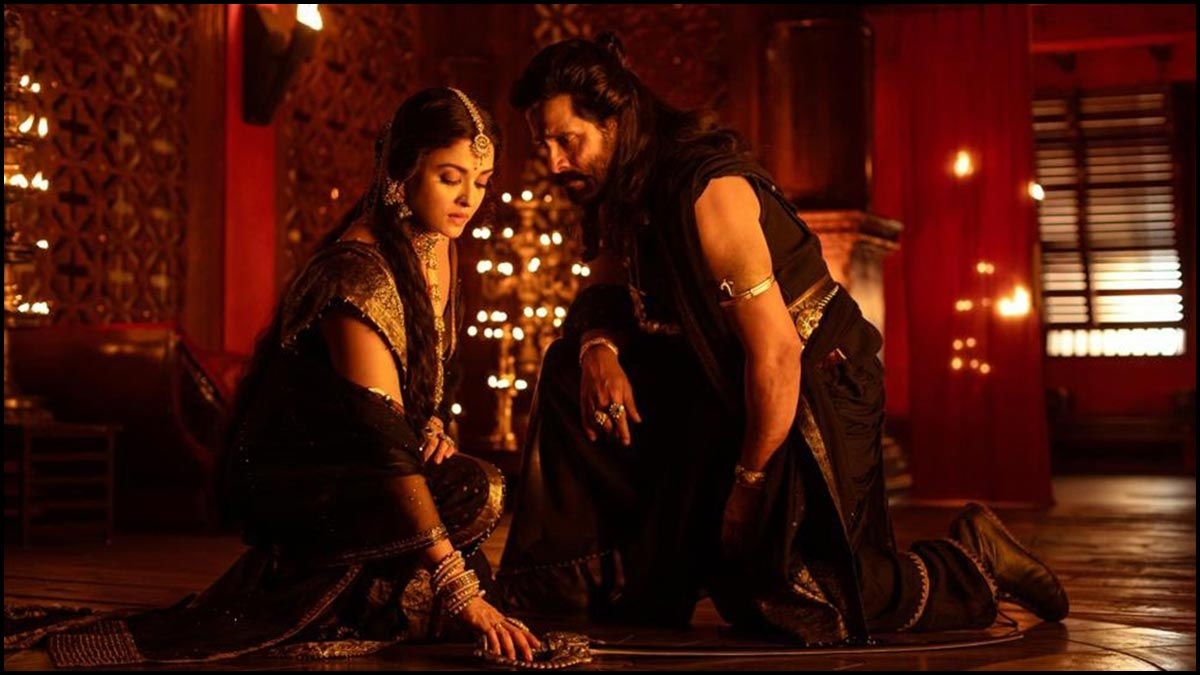 A.R. Rahman's background score infuses energy into the scenes especially when the romance between Karthi and Trisha is played out and the contrasting tornado of emotions between Vikram and Aishwarya.  Ravi Varman's cinematography is top notch especially in the scene where Vikram is surrounded by his traitors and his finale with Aishwarya.  A. Sreekhar Prasad has provided cuts that keep the various story threads going on at the same time without any confusion.  Lyca Productions has bankrolled the project with on par with international standards.  Mani Ratnam having already proved his mastery in story telling yet again in 'PS -1' has succeeded in condensing Kalki's massive material in two parts, which is by no means an easy task.  To aspiring filmmakers he has provided a masterclass in filmmaking considering the weightage of the cast, number of days he shot and the mostly organic methods he adopted.
Verdict : Go for this one to gain a satisfying closure to all that you enjoyed in 'Ponniyin Selvan 1'
 
Rating: 3.5 / 5.0
Showcase your talent to millions!!
Write about topics that interest you - anything from movies to cricket, gadgets to startups.
SUBMIT ARTICLE
More
தமிழ் Movie Reviews
Irugapatru
Chithha
Iraivan
Chandramukhi 2
Mark Antony
Jawan