Prabhas speaks on Vinayak, his fav Chiranjeevi song, Dharam Tej
Monday, January 29, 2018 • Telugu Comments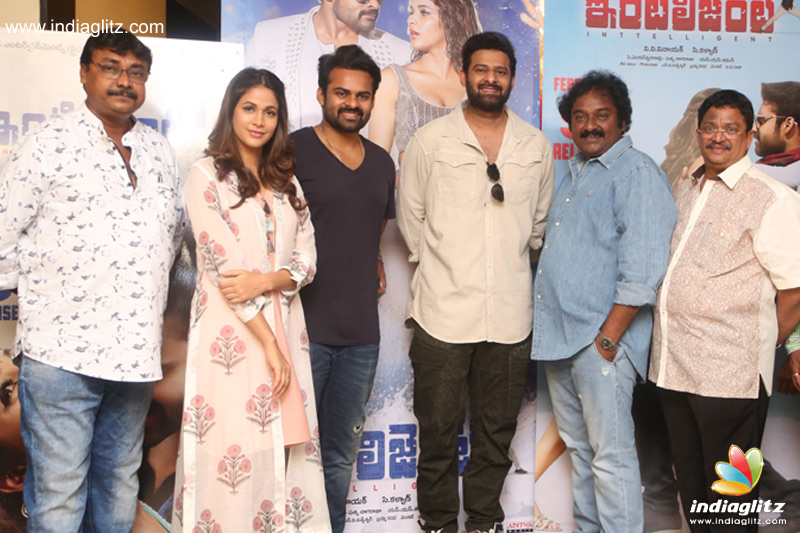 It was none other than Prabhas who released a single from Supreme Hero Sai Dharam Tej's next, 'Inttelligent'. The first song, 'Let's Do It Now', composed by SS Thaman was released by the Baahubali actor on Sunday evening. Penned by Chandra Bose, the song is an entertainer.
Speaking on the occasion, Prabhas said, "Vinayak garu was hesitant to request my presence today. Let me tell him but I will come to anywhere whenever he asks me. I enjoyed a lot in my life during the shoot of 'Yogi'. I had once told Rajamouli that shooting with Vinayak garu is a comfortable experience."
Prabhas further said, "When Sai Dharam Tej visited the sets of 'Saaho', I told him that he is very lucky to work with such a director. My most favourite song in the film is 'Chamaku Chamaku'. It is one of the best songs of Chiranjeevi garu, who was just superb in that song. I am eagerly waiting to see how Teju has performed in that song. I am sure 'Inttelligent' is going to be a big blockbuster."
VV Vinayak said, "Prabhas is like an emblem of friendship. He values his friends. It is very rare to find such a heartful person in the film industry. I never ask anyone anything. I don't invite anyone to functions. I casually called Prabhas and invited him to launch the song. He immediately answered ' Hey Darling, just tell me the time and place'. I was very happy with his response. Usually, Prabhas won't meet many people. He spends time mostly with his closed ones. He enjoys very small things. He came here to share such kind of happiness to all of us. Thanks to Prabhas on behalf of our entire team. It makes us happy that everyone is saying that Teju in teaser looks like Chiranjeevi Garu. Teju did superbly in this film. For the first time, Lavanya did commercial heroine character. This film will get her a new fame. All my films with writer Siva Akula became big hits. I wish this film will become a very big hit too."
Sai Dharam Tej said, "We consider Prabhas Anna as one of our family members. Thanks to Prabhas Anna for launching the first song in our film. I thank director Vinayak Garu, Producer C.Kalyan Garu for giving me this film. Lavanya did a very good role. We all worked together for a very good film. I wish everyone will bless us by watching our film on February 9."
Producer C.Kalyan said, "Thanks to Young Rebel Star for launching the first song of our film 'Inttelligent' produced under our C.K.Entertainments banner. His good nature came from Krishnam Raju Garu. Krishnam Raju Garu will be seen always smiling. That's why we call him 'Navvula Raju'. Their blood always seeks everyone around them to be happy. Prabhas too is such a good-hearted person. I am very happy that the first song 'Let's Do It Now' written by Chandra Bose is released by Prabhas. This film has four songs. We will release a new song for every four hours starting today. Bhaskarabhatla and Varikuppala Yadagiri also provided very good lyrics for other songs. Our Hero Sai Dharam Tej did fantastic dances to all songs. Lavanya Tripathi too did typical dance movements very well. Lavanya will receive love calls after this film. This film is getting released worldwide on February 9th. We will speak about the film's success on February 10th. On behalf of our entire team, I Thank Prabhas for coming here to launch the first song of our film 'Inttelligent' ".
Writer Akula Siva said, "The title has received a very good response. All songs came out very well. Thaman gave superb music. We are confident that this film will become a big hit and bring very good name for all of us. Thanks to Vinayak Garu and Kalyan Garu for this opportunity."
Lavanya Tripathi said, "Thanks to Vinayak garu and Kalyan garu for making me a part of this film. Thanks to Prabhas for launching the first song of our film. Everyone will enjoy this film."
Related News
Actress Photos
Shradda Das
Dhaksha
Priya Vadlamani
Shruti Haasan