Pre & Post Mortem Report on Khaidi No 150 & GauthamiPutra Satakarni
Tuesday, January 24, 2017 • Telugu Comments
Sankranti Movies - Pre & Post Mortem Report on Khaidi No. 150 (KN150) & GauthamiPutra Satakarni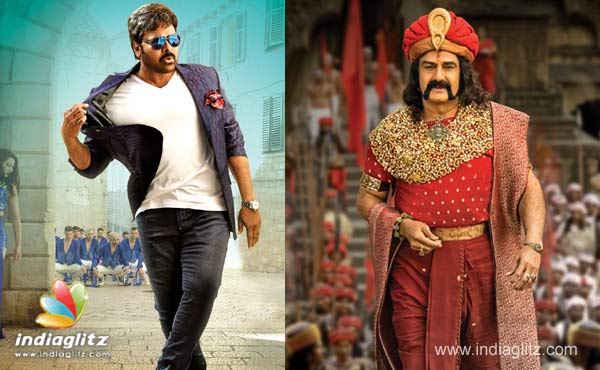 Movie Annoucement & Pre-Release:
KN150 ran into many controversies from the word go. When Chiru chose Vijay's Katti remake as his comeback movie, it disappointed many of his fans. To expect Chiru in Vijay's role may not be an easy fact to accept and on top of it, in a dual role. Initial title was 'kattilantodu', that disappointed even further his fans. Then came the news that Parachuri brothers are working on this movie with V.V.Vinayak as director, expectations sank to the lowest ebb. Not to belittle Parachuri brothers' or V.V.Vinayak's achievements but they are outdated and cannot match to current trend. They may be good with masses, but the trend has changed a lot. People started favoring so called 'class' and 'meaningful' cinemas a lot. Gone are the days for pakka mass movies. With Chiru in his lowest phase in life, these new 'astadaridrams' set very low expectations on this movie. Everyone started ridiculing him and his choice of story, director & dialog writers. Only hope that I had was on Chiru's judgement. He usually is good when deciding few things related to movies.
KN150 Pre Release report was on the lowest point of a sine curve. Expectations were that it will underperform, due to previous sentiments, Chiru movies did not fare well in competition around Sankranti time.
In contrast, GPSK, started on a high note from the beginning. Taking a historical movie, story related to Telugu king, critically acclaimed director Krish, all set good expectations on this movie. Everyone's assumption was that it will be at least a decent movie for the choices made. Only negative point before the release was the choice of music director. A non-native musician for such a historical Telugu movie, somehow felt that music may not gel well.
GPSK Pre Release report is on high point of a sine curve. Expectations are that this will be a hit movie (due to Balakrishna's image, 100th landmark movie for him) and will be appreciated by critics, in the same lines as director Krish's earlier ventures.
Just before the release, audio functions were set for both the movies. GPSK went well, both Telangana State and AP State governments declared entertainment tax exemption. With such move, it's a definite safe zone for the buyers. Expectations went up on the scale on the commercial front for GPSK. On the other side, KN150 songs were released, though the initial feedback was not encouraging, slowly they topped on the music chartbusters. Various fans made a tribute videos to Chiru's dances with KN150 songs. From my acquaintances and sampling, KN150 songs are the ones that played often during Christmas-New Year holiday season Telugu parties. There was N ambiguity on the release date for KN150, as the audio function venue changed in the last minute. Several conspiracy theories floated on online sites that government was denying the approvals for audio function and trying to create troubles for this movie. Chiru immediately released a statement that's not the case and it was an error on the officials who did not fact check the approval procedures and hence last minute changes. Finally audio function was done with big fanfare. Nagababu's controversial speech in audio function created much furor in the online media. He directly targeted Yandamoori and Ram Gopal Varma in his short speech. Next few days, media stepped up their shows trying to cash this conflict, Mega heros Vs RGV/Yandamoori. RGV amped up his satires and ridicule on Chiru and his movie.
PROs and CONs in the movie content:
GPSK, Balakrishna's favorite genre. He excelled in the lead role and his image added value to some of the scenes. From his side, if I were to complain anything it will be on his physical appearance. He should have taken care of it. His dialog diction is excellent, it elevated some of the scenes. It's the dialogs by Sai Madhav Burra made a big impact on this movie. They added so much value to the movie. Popularity of the dialogs are a perfect measure to tell the impact they created on normal audience. Some of them from this movie will be popular for years such as 'samayam ledhu mithrama... ranama? saranama?'. Director Krish, though he picked a nice story, when it came to execution he missed with his flat narration in some of the scenes. I personally felt Krish did not maximize the opportunity given to him by Balakrishna. He had opportunity to elevate some of the scenes but missed them big time. A director like S.S. Rajamouli would have maximized those scenes and elevated to keep the audience in awe. When it was announced that the movie content is just about 2:12 hours I was skeptical as this genre will take considerable amount of time to establish the characters. But Krish did not waste in this one, we should appreciate him for this approach. He stuck to his plot and executed the content with in the time frame without wastage. From a normal audience point of view, to complain, there are too many war episodes. Director Krish intelligently blended the sentiment scenes in the story. Overall a good movie, but for few flat narration scenes, could have been an excellent movie.
KN150, Chiru's introduction scene was welcomed with nonstop whistles and blasts in the theater. That tells how much audience were missing him in the movie industry. But with the change in dynamics of Telugu Film Industry in recent years, I thought it will be difficult to see Chiru in movies now. But believe me he took excellent care of his appearance on screen. Shed some weight and slowed down on his dances but did not lose the grace. Typical repeat value in entertaining movies are songs, dances and comedy. Though comedy is very weak in this movie other two dominated and got so much repeat value for this movie. They have taken farmers issue and added sentiment flavor to the movie. Scenes shot around farmer's sacrifice were very emotional. Dialogs by Sai Madhav Burra and Vema Reddy created a big impact of these scenes. Overall a good blend of entertainment and emotional content with good story made it a big hit.
Box Office Collections:
Both the movies released with a day apart, KN150 releasing earlier. Releasing KN150 on a weekday in USA was a very big gamble. Movie buffs and some hardcore fans may attempt to go on day 1 during weekday. My initial assumption was that it may fetch no more than 300K USD on premier day. Charan's Dhruva also made similar amount... so expected in the same lines. To all of the movie and Box Office experts' surprise, KN150 collected more than 1.3 Million USD on premiere day. Media people were shell shocked by the collections, some of the media people tried to belittle Chiru's magic at Boxoffice, by spreading various rumors. If those collections in USA w
Related News
Actress Photos
Tamannah
Aditi Myakal
Vaani Bhojan
Alia Bhatt