'Prema Baraha' launched
Monday, May 23, 2016 • Kannada Comments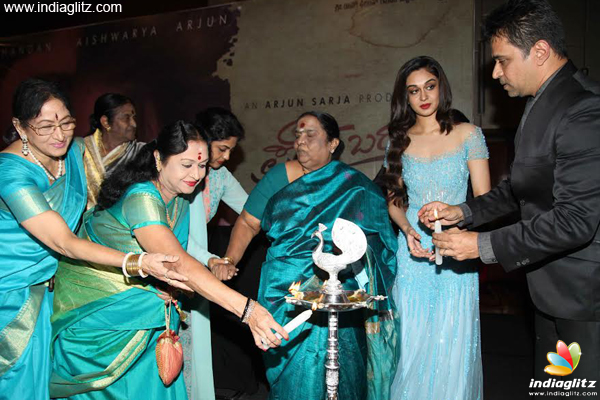 A super star direct his daughter as lead actress is also for the first time in Kannada filmdom. The Tamil action king, Kannada cinema roots in his Arjun made a lavish announcement of his daughter Aishwarya arrival on Sunday night at Sheraton Hotel. It is his second Kannada film direction and 15th direction in his career as actor, director, producer and writer.

Arjun and Asharani (neethu) made a simple and memorable launch for Aishwarya. Chandan a handsome youth is playing lead in 'Prema Baraha'.

The title for Aishwarya launch 'Prema Baraha' is also song line of his father Arjun 'Prathap' Kannada cinema. When Arjun was shooting for the song with actress Sudharani he got the news from Chennai that he is blessed with female child. As a mark of remembrance, he keeps the same words for his film. 'Prema Baraha Koti Taraha…..song was composed by Hamsalekha and sung by SPB and Chandrika Gururaj for 'Pratap' that was released in 1990.

The third generation from two pivotal film personalities Aishwarya was on dais first in the presence of Dr Parvathamma Rajakumar, Dr Rajesh, Dr Ambarish, Dr B Saroja Devi, Dr Bharathi Vishnuvardhana, Dr Srinath, Dr Shivarajakumar, Ashok Kheney, SV Rajendra Singh Babu, Sa Ra Govindu, Munirathna Naidu, Rockline Venkatesh, Sudharani, Thara Anuradha, Pramila Joshai, Dr Sunder Raj, Meghana Raj, Anu Mukeji, Raghu Mukerjee, Telugu actor Jagapathi Babu, Lahari Velu and many well wishers and distinguished guests.

The guests on stage were honoured with a shawl and then the formal announcement from Arjun Sarja came up.
Related News