'Priti Prema' ready to strike, slated for Feb 17
Thursday, February 9, 2017 • Kannada Comments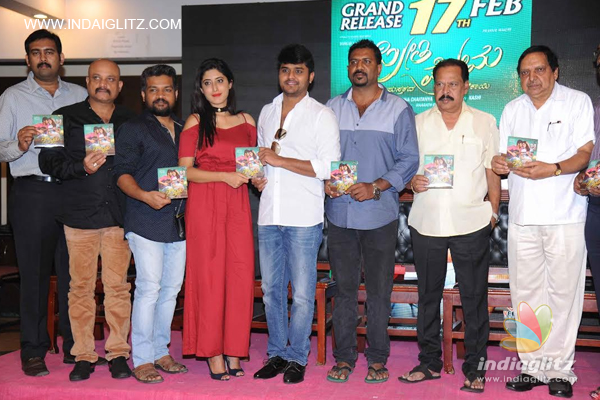 With double responsibilities of production and acting Saikrishna Chaitanya has made a debut via remake of Telugu film 'E Rojulu' in Kannada. The film titled as 'Priti Prema' with a beautiful looking Nidhi Kushalappa as heroine is all set to release in Kashi direction on February 17.

The film title keeping caption as 'Pustakada Badanekayi' is the philosophy of Upendra in 'A' Kannada cinema in 1998.

KFCC President Sa Ra Govindu, treasurer Jairaj and others released CD after watching four songs of the film at The Bell Hotel. Popular producer Uday Mehta joined the team for audio release and he has acted in this film.

Karnataka and Andhra Pradesh are like 'Anthamma' he stated. It is the story that brings audiences to the theatres mentioned Sa Ra Govindu in his address.

Sai Sarvesh has written all the songs and fifty percent of it are inspired from original film he said. BJ Bharath has done music for this film.

Director of the film Kashi said it a film with love, comedy good songs plus good entertainment values. Nidhi Kushalappa of 'Love Track' and 'Kumari 21FM' heroine is in her third film. It is bold and don't care nature role for her. Srikrishna looking good in height and complexion makes debut in this Kannada film as hero.