Raj Tarun on 'Rangula Raatnam', its subject, competition & more:
Friday, January 5, 2018 • Telugu Comments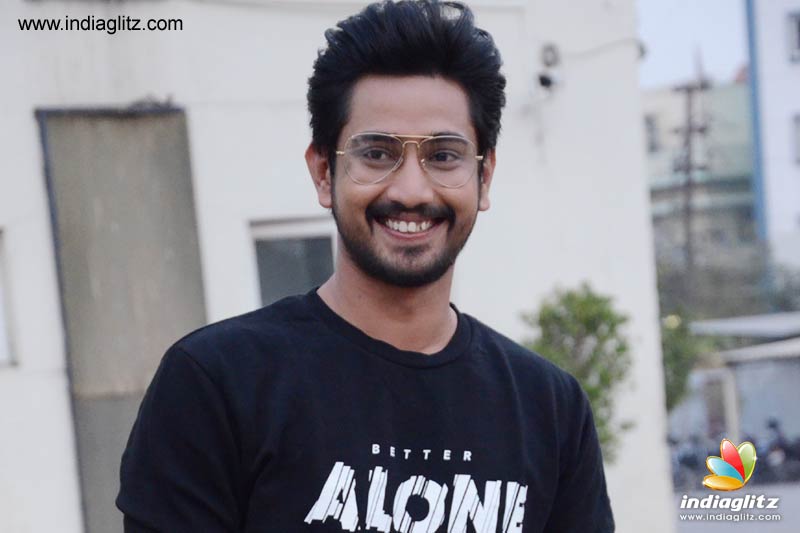 Raj Tarun awaits the release of 'Rangula Raatnam' on January 14. In this interview, he talks about the film's subject, teaming up with a lady director, and more.
How has the response to the trailer of 'Rangula Raatnam' been?
We wanted to release the film as a surprise for Sankranthi after wrapping up all the production works. And the trailer has been receiving a splendid response. We didn't expect this big a response. The media has played a key role in securing this response.
How did this project fall into place for you?
Supriya garu (Nagarjuna's niece) called me up on a day and told me about this project. I immediately accepted the film when I listened to the story. That's how the project happened to me.
The trailer shows that you are going to be seen as a happy-go-lucky guy in the movie. What kind of a character have you played?
I am playing a middle-class boy. He is like the guys of his age. However, my look, get-up and characterization are distinct. I hope that my character in 'RR' will be deemed special among all the characters that I have played so far.
It's a beautiful love story first. The romantic-comedy scenes between the lead pair (Chitra Shukla is the heroine) are quite amusing. Everybody can relate to the movie.
What is the heroine's character?
Chitra Shukla is a debutante heroine. She has played a girl who has many responsibilities. She has become this responsible after leading a happy-go-lucky life for many years. The story is both entertaining and emotional.
How was it working with Sree Ranjani, the director?
There is no male-female distinction in the creative fields. A director is a director. She has made the film from her point of view. She is a protege of Selvaraghavan. She is extremely talented. She is a commanding personality and is quite passionate. She knows what she wants.
Have you involved anywhere in the making?
Once I listen to the story, my involvement is zero. If they seek any suggestions, I give my best.
What justifies the title 'Rangula Raatnam'?
We had cogitated over so many titles. But we chose this one as it's organic to the script. It's the aptest.
Tell us about the music.
Sricharan Pakala of 'Kshanam' fame has composed the tunes. All the six songs are excellent. The sounding is quite new. I too have penned a song. The RR is wonderful.
Annapurna Studios's production values are always something. What can we expect from 'RR'?
Even before I debuted in 'Uyyala Jampala', I had had previous experience in direction department. I was tended while doing my first movie. But this time, I was not at all tensed while teaming up with Annapurna Studios. Even though most of them are newcomers, care was taken that no mistakes happened. Quality-wise, you can expect uncompromising stuff from 'RR'.
It's releasing when 'Agnyaathavaasi', 'Jai Simha' and 'Gang' will also be in the race. Aren't you tensed?
No, especially after seeing the experience of such situations in the past. Competition is there every week. Since it's a holiday season, families are going to watch the movies for sure. Ours is a film you will smile watching for 2 hours. I hope that our movie will also succeed like the other Pongal releases.
Tells us about Sitara and Priyadarshan's characters.
Sitara garu has played my mother. Priyadarshi is my friend. They have delivered realistic performances. Their acting is quite situational. I have seen the first copy. I have liked it a lot. It's definitely going to be a hit.
Related News
Actress Photos
Malavika Mohanan
Madhu Shalini
Aishwarya Rajesh
Manjusha