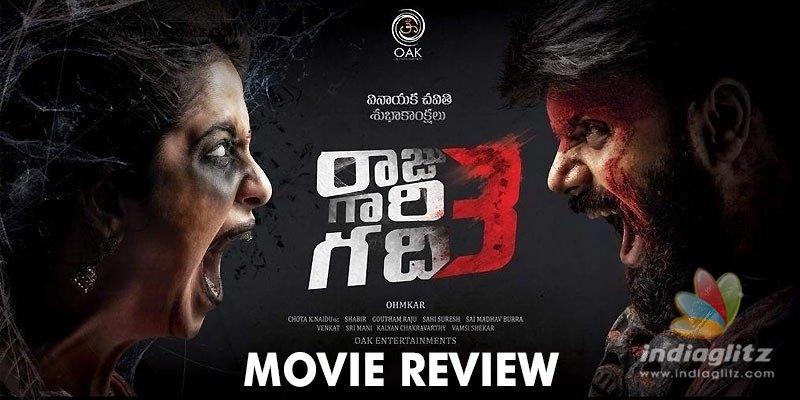 'Raju Gari Gadhi-3', written, produced and directed by Ohmkar, hit the screens this Friday.  Here we present its review.  
Story:
Ashwin (Ashwin Babu) is that typical slum boy auto-driver who takes pleasure in boozing his way to glory every night.  He predictably falls in love with an educated woman, a doctor at that.  She is Maya (Avika Gor).  
But then, his love has an enemy - a ghost!  We are shown that the heroine's father, Garuda Pillai (Ajay Ghosh), is a problematic Tantrik who tortures anyone who proposes to his daughter.  
To be sure, there is more to the story than this angle.  The second half deliversa comic twist.  Enter a range of characters, including a powerful sadhu, in the second half.  
Analysis:
First things first.  The film is a remake of the Tamil movie 'Dhilluku Dhuddu-2'.  But more than the original, it seems to take its male lead far more seriously.  And that's a problem.  The film unabashedly oversells Ashwin Babu.  Right from his get-up (which is a rip-off of Ram Charan's look from 'Rangasthalam') to his body language, he is made to behave like a mass hero.  Besides an introduction song which is 'mass-masala' and boisterous, he also gets an item song and self-important lines like this one: 'Nenu chirutha puli".  
In the film's most crucial scenes, the hero doesn't really do anything game-changing in a smart way.  He has time for all sorts of things - like spitting on this or that character, and dancing with bar dancers.  But he has got none to express love towards his girl in a touching manner.  He has none to come up with smart plans.  
Avika Gor's character is so lazily written that it is hard to sympathize with her.  Even when she knows that the man towards whom she has started developing feelings is in danger, she happily walks away from the scene after giving him a half-hearted warning about the impending danger.  
If the characterization of the heroine is immature, the way Ajay Ghosh's character is designed leaves you gasping for breath.  From fart jokes to some silly 'Kanchana' angle, they all look cheap.  
From Sivasankar Master to 'Jabardasth' Sreenu, they are there to remind us that Ohmkar has a strong television background.  They hardly elicit laughs.  Hari Teja speaks in an affected way.  Brahmaji injects us with boredom with his lame comedy.  Ali gets to parody a moment from Pawan Kalyan's 'Kushi' and also imitate Balakrishna.  However, for the most part, he is seen buttressing Ashwin Babu's supposed mass hero credentials.  
Whatever content is there, it's stuffed in the space of some 20 minutes in the second half.  Ajay Ghosh and Urvasi bring the house down here and there in this segment.  They are joined by Ali, Ashwin and Dhanraj.
The story comes with no sense of villainy.  The antagonist is a fluid entity in the film.  The flashback itself is unremarkable, revealing its cards way too much.  There is nothing exciting after this.  
Despite the narration's limitations, cinematographer Chota K Naidu delivers goods like a hero.  His talent is mesmerizing.  Sahi Suresh's art direction and Shabbir's background score are big pluses.  
Verdict:
The film is ruined by a wafer-thin storyline.  It actually comes across as an excuse for launching Ashwin Babu as a massy hero.  The narration has loose ends and the comedy lacks punch.  The technical departments are able and pull off a mature job.
Rating: 2.75 / 5.0
Showcase your talent to millions!!
Write about topics that interest you - anything from movies to cricket, gadgets to startups.
SUBMIT ARTICLE