Rally for River, big event in Bengaluru
Monday, September 11, 2017 • Kannada Comments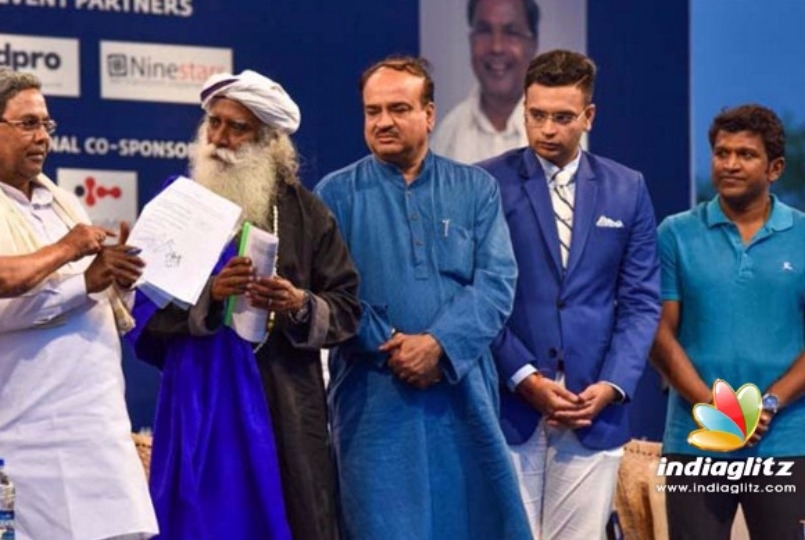 At the Bengaluru Palace the 'Rally for River' movement was held in the presence of bigwigs like Karnataka chief Minister Siddaramaiah, Union minister Ananthkumar, Sadguru Jaggi Vasudev, power star Puneeth Rajakumar and others were on the dais for a start for the movement evolved by Isha Foundation – Save River from Kanyakumari to Himalaya. A letter of agreement to sow 25 crore plans in the state has been signed by Karnataka chief minister Siddaramaiah and Jaggi Vasudev.
The noted Sadguru Jaggi Vasude speaking on this occasion said in the human history we have done enough of mistakes already and tragedy is for sure in case the wrongs are not corrected. It is necessary to grow plants to save Rivers in and around one Kilometer of it. The effort to grow 25 crore plants is the intention.
According to study report in Bengaluru in the last 100 years has lost 79 percent of water resources. Lakes have been made as cricket fields, out of 1000 lakes only 81 are remaining. In the coming five years the water scarcity in Bengaluru would bring a nasty situation – it will not be fit for living says IIST report.
In all 16 states across the country have extended support to this 'Save River' – it is essential to get people support in this case!
The purpose on which 'Save River' movement is going would definitely help in cultivation of 20000 acre instead of 10000 acres.
Addressing the mammoth attendance Sadguru Jaggi Vasudev called upon the people of the nation to give a missed call to 8000980009 to show support.
Sadguru Jaggi Vasudev pulled the legs of online soldiers. Instead of saving rivers why can't we build the nation on the lines of Dubai they say – 130 crore population of this country cannot afford to import food is what they do not know.
Irrigation minister MB Patil was also present at the memorable movement.
Related News