Visiting a bygone era
IndiaGlitz [Thursday, March 15, 2018 • తెలుగు] Comments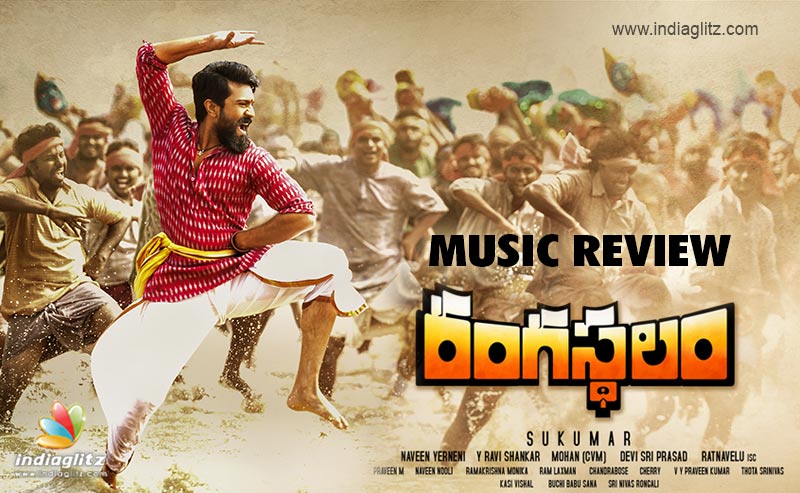 'Rangasthalam' has a single-card performance by lyricist Chandrabose. Devi Sri Prasad gets on board Rahul Sipligunj, MM Manasi, Sihva Nagulu, Rela Kumar, and Ganta Venkata Lakshmi. He himself renders a song. The music is out on Lahari Music.
Yentha Sakkagunnaave
Singer: DSP
Lyricist: Chandrabose
When Chandrabose is around, poetic thoughts find their best 'Rangasthalam'. In 'Yentha Sakkagunnaave', Ram Lakshmi (Samantha) has the best-ever 'bhajana' dedicated to her. He pens such splendid lines as this one: 'Kadava nuvvu nadumuna betti, katta meeda nadisottha unte, sandran nee sankekkinattu yentha sakkagunnave'. If this doesn't succeed in wooing a girl, nothing else can. 'Adivi neeku godugattinattu' is another brilliant phrase that almost conjures up the image of pristine beauty.
Devi Sri Prasad croons the number with a sense of the period. He makes it a point to keep the sound simple. The Rock Star's guitar segues its way into our heart.
Rangasthalam
Singer: Rahul Sipligunj
Lyricist: Chandrabose
A period film. A village backdrop. A song set against theatre drama (?). A Mega dancer like Ram Charan as the hero. Blending it with rustic sounds, he conjures up a terrific number. DSP had his task cut out.
And Chandrabose's brief was not so easy either. He had to satisfy a surgically precise director like Sukumar with honest lyrics. And he does just that. Drawing upon the Epics and their tropes, he pens a meaningful title track. Rahul Sipligunj renders the number with such gusto that only Mega Power Star's dance moves can match it.
Rangamma Mangamma
Singer: MM Manasi
Lyricist: Chandrabose
It's the Greatest Beauty of the Republic of Rangasthalam's payback time. And she does it like a dream girl, powered by Chandrabose and MM Manasi.
Rama Lakshmi's naughtiness knows no bounds. So does Chandrabose's buoyant imagination. The 'Hushammaas' and 'Uffammaas' remind us of the language of children. The girl surely has hard luck with the unromantic Chitti Babu. Manasi is brilliant, with her striking voice almost ringing in memories of Silk Smitha's item songs.
Aa Gattununtaava
Singer: Shiva Naagulu
Lyricist: Chandrabose
The song is clearly inspired by a Vandemataram Srinivas song from 'Osey Ramulamma'. Devi Sri Prasad is a known improviser, but this song is mediocre in the sense that there is an attempt to pick ideas from someone's work wholesale. Chandrabose's lyrics are difficult to understand since they stay true to the time period and the region in which the film is set. Shiva Naagulu renders the song with a folkish abandon. And he doesn't disappoint.
Jigelu Rani
Singers: Rela Kumar, Ganta Venkata Lakshmi
Lyricist: Chandrabose
Devi Sri Prasad consciously chooses the female voice so that the song doesn't have a trace of the post-2000 item song feel. Ganta Venkata Lakshmi's voice may be initially unsettling. Rela Kumar's voice fits the bill. Chandrabose's lyrics are crazy in a conventional setting. The wonderment of the men at the sight of a beauty, her knack for wearing her naughtiness on the sleeve, etc are also known elements. Music-wise, the song is a middling performer.
Verdict:
A largely convincing album, this one may go down as an output that DSP will have to struggle to best in near future.
Rating: 3.25/5