'Rarandoy Veduka Chuddam', relationships-based family entertainer
Thursday, April 20, 2017 • Telugu Comments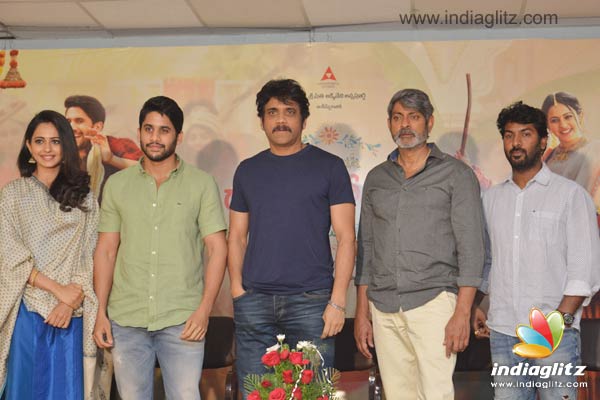 'Rarandoy Veduka Chuddam' is all done but for a song. Producer Akkineni Nagarjuna earlier today announced in a function attended by the film's cast and crew members that the film will be released in the third week of May.
Nag said, "A girl dreams that the guy she is going to marry is like a prince. Who is that prince, and whether the girl's dreams will come true at all, is the crux of the film. I told Kalyan Krishna that a film which is a mix of 'Ninne Pelladatha' and 'Manmathudu' should be made. The former has family sentiment and the latter has a sensible love story. Kalyan told me a fantastic story. He came up with a story that reached my expectations. I was very happy when I listened to the story".
Jagapathi Babu is playing Chaitanya's father in the movie. "After the salt-n-pepper look in 'Legend', he will be seen as a stylish father. The father-son relationship is great in the movie. How I am with my son in real life, they are like that in the movie. Rakul Preet is Sampath's daughter. They die for each other. These four characters are the main pillars of the movie". He further said, "Rakul is playing Brahmaramba. She learnt Telugu better to act better".
He said that Kalyan Krishna is a better writer than a better director. "It was his writing talent which made us rope him in as the director of 'Soggade Chinni Nayana'. He knows the Telugu nativity well. We are very satisfied with how 'RVC' has shaped up," Nag added.
Nag praised DSP's music and cinematographer Vishveshwar Rao's work.
Rakul Preet said, "I had always wanted to do an out-and-out love story. This is a loveable innocent love story, which is close to the Telugu culture. Family relations and emotions are clearly delineated in the movie. I am behaving like Brahmaramba even after the film was wrapped up".
Jagapathi said that he saw Chay growing up in front of his eyes. "The scenes in our combination are fantastic. He is a very sweet boy. His performance is amazing. Rakul's energy levels are high. I usually get irritated. But Kalyan Krishna worked without causing me any irritation," he said.
Kalyan Krishna said thanked the producer for being a constant support and re-iterated that the film is mainly based on father-son, father-daughter relationship and emotions. "Naga Chaitanya's performance is very new. His performance is better than what I had imagined. Rakul too is very new. She is a beautiful performer. I feel lucky to have worked with a senior artiste like Jagapathi Babu garu," he said.
Naga Chaitanya said that his dad is very confident after watching the film. "Many senior artistes have worked on the movie. This film will help me in my career. It's a feel-good, emotional and relationship-based film," he said. Chay is playing a character named Shiva in the movie.
Related News