Refreshing
Thursday, September 8, 2016 • Tamil Comments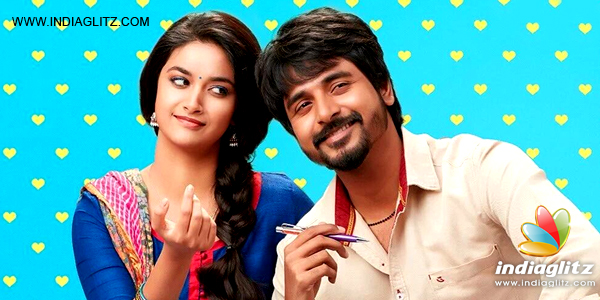 With two songs already keeping our ears glued to them, here's the complete album of Remo, up for a round. After Rajini Murugan, as Sivakarthikeyan teams up with Keerthy for a guaranteed laughter factory, here's what Anirudh has churned out, to give Remo the best suited makeover.
1. Remo Nee Kadhalan
Voice: Anirudh Ravichander
Lyrics: Vignesh Shivan
We have known this for more than two months, and now with so many poster adages, the sense of this song is taking a stalk shape, more with the day. By now, it is clear as day that the protagonist undergoes a shockingly massive transformation during the course of the movie, although we are unsure yet as to whether it is what we blatantly see. As though this very transformation takes shape in musical notes, 'Remo Nee Kadhalan' is a song that belongs to a unique genre. Set at a pace in tune with compelling disbelief, with the sheer number of instruments thrown in to symbolize the confusion, this song appeals straight to the psych, as a moment of stunning chaos. For the thoroughfare music lovers, this number strives satiate your hunger for zest. Set on a systematic and simple rhythm, sharpened with stimulating lyrics and occasional fusion, together with Anirudh's commanding voice, 'Remo Nee Kadhalan' is archetypal of a fitting opening.
2. Senjitaley
Voice: Anirudh Ravichander
Lyrics: Vignesh Shivan
This is one more track from the album that has kept us entertained, as a consistant chart topper in the last two months. The energy of this song needs no introduction. Seemingly straightforward, yet intricate in its own mettle, 'Senjitaley' opens on breezy notes, and gets carried in Anirudh's voice to, into a strong wind best suited for bass setting. The deep beats set to a foot-tapping rhythm, sings along in lyrics of bemusing charm. Intricacies of boyish charm are well carved out in this song, in a self-assumed challenges of being smitten. Although heavy, the beats sound just right on a lighter setting too; here, Anirudh has managed to trespass the pregnant distance between melody and heavy bass, walking across to the thin line of separation, serving delicious to both tastes. 'Senjitaley' is an innovative package of lightheartedness.
3. Sirikkadhey
Voices: Arjun Kanungo, Srinidhi Venkatesh
Lyrics: Vignesh Shivan
We are very well aware that Anirudh kings melody, and with 'Sirikkadhey', he has pumped his fame to a greater height. As one would expect of a typical modern day melody, this one begins with strings too; don't be fooled with the strums, for what lies at its other end is bliss. In rich creativity, this song's lyrics describes rapture in its purest poesy - Vignesh Shivan has worked magic on the tune. For all those of music freaks who were left floored by Arjun for his Hindi songs, thanks to Anirudh for bringing him down south - his pronunciation on his rendition is classy. Complementing Arjun's voice, guiding the song to a duet is Srinidhi's solid rendition; unlike the rhetoric of a drip-drip sugary choice for melodies, Srinidhi on board is what accentuates the edge this song delivers. Concluding in a crisp strum, and minimal beats throughout, 'Sirikkadhey' is pure joy to listen to!
4. Meesa Beauty
Voices: Anirudh Ravichander, Richard
Lyrics: Vivek
This song is a leg-puller, singing literally of the contradicting stark apparition in the story. 'Meesa Beauty' is set on a steady tempo, and cheers up higher at every level, through the course of the song. The song is rendered predominantly by Richard, whose unique voice well complements the choice of treble taste for the number. Though not high on beats, and not running open throttle, 'Meesa Beauty' is certainly a peppy foot tapping number.
5. Daavuya
Voice: Santhosh Narayanan
Lyrics: Ku Karthik
Back to the yore gana frenzy, 'Daavuya' revisits the pure breed of gana tunes that was the in-thing, decade before last. So here is a simple skeletal gana tune, but it is the transformation of this to a whole package which is magical. With Sandy on board, the song rests assured of the rawness that this genre demands. To bring life in line with the current trends, Karthik has chosen Thanglish as his medium, for maximum emotion; there's a catchy uniqueness to his poesy, where he has employed the knack of picking those words to rhyme, that form unconventional couplets/quadruplets, which makes for a refreshing experience. And with a touch of contemporary twist, detailed in beats and in the very choice of pitch of every instrument, 'Daavuya' is the latest trendsetter gana kid on the block.
6. Tamilselvi
Voice: Nakash Aziz
Lyrics: Vignesh Shivan
So intricate is this song that it is bound to take some time to register that every note on the rendition is very much in sync with the background music; however, the karaoke version could sound quite misleading, since the score and song follow different tempo. A love solo, this lightheartedly worded song is careful about inclusion of each key, as it goes. Taking on only two instruments to begin with, 'Tamilselvi' goes on to generously give way to more beats and keys at various tuning; but only one at a time. Nakash has an unequalled depth to his voice, which brings out the soul of the emotion driven, despite all the sugary play of sarcasm, coated on the tune. In all Tamilselvi is a slaphappy jingle.
7. Come Closer (Sirikkadhey Reprise)
Voice: Inno Genga
Lyrics: Inno Genga
To the many millions of his ardent followers, and more, Inno Genga is officially a part of this album. So the first good news is that we got his cover well ahead of its usual schedule; and the next good news is the song itself! For the faction that is unaware of Inno Genga, 'Come Closer' is the gate pass to be his fan. Floating down as a feather to the beautiful hat, this reprise is a jewel to the already precious album. With hardly a change or two to the 'Sirikkadhey' tune, and in lovely lyrics, 'Come Closer' is a refreshing heart stealer!
Some beats, a little melody, and a whole lot of fun, Remo is soulful jukebox. Another badge on young man's shoulder, Anirudh's Remo album shakes up the inner spirit and gets your heart lively and beating. Here we look forward to the movie even more cheerfully now!
Rating: 3.5/5
Verdict: Energetic as adolescene