Pawan Kalyan is like a dormant volcano: RGV [Interview]
Thursday, December 22, 2016 • Telugu Comments

Listen to article
--:-- / --:--



At a time when Ram Gopal Varma is ready with 'Vangaveeti' (Dec 23rd release), he is not averse to fielding questions on a range of topics. From his first experience with rowdyism to what was his approach to this movie, the maverick speaks on a lot of other issues, in his own inimitable style.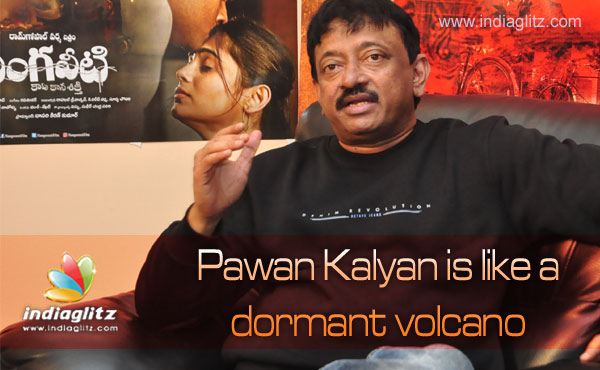 You have described yourself, on a lighter note, as a rowdy back then. What was your first tryst with rowdyism as a college student?
I was personally witness to an incident while in college. The students outside the college gate were applying colours on the passersby when an Ambassador car happened to come in that route. As much as those in the car were asked to come out, they didn't. When the students persisted, they stepped out of the car brandishing swords. Everyone was shocked/trembled because nobody expected that sword-wielding rowdies would be sitting inside the Ambassador car. It was my first experience with rowdyism.
Did you ever interact with Ranga? Why did you choose the title?
I never had personal interaction with Vangaveeti Ranga. I only happened to see him on three occasions. Even with Murali, there was no personal interaction. To me, Vangaveeti symbolizes the origin of rowdyism. What began with one Vangaveeti (Radha) ended with another Vangaveeti (Ranga).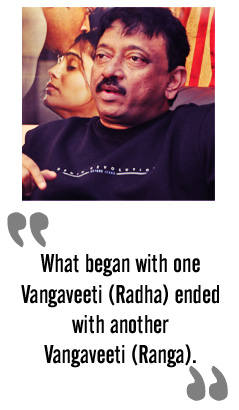 Isn't there a danger that one might take sides while making a film like this? You may have interacted with people, but how can you judge whether they told you the truth or not?
Two enemies may have a biased view of each other, but I am a neutral observer. As for how I could judge whether something is truth or falsehood, all of us believe to be true only two types of things: what one has verified with certainty and what seems to be trustworthy. For example, I never believed that Chalasani Venkat Ratnam sustained 72 knife stabs before succumbing unless I interacted with one of his murderers. When he told me about how, after one of the killers dared to stab him from behind, the rest of the killers pounced on Chalasani and stabbed multiple times, I immediately believed in the version.
What would your answer be to those who think 'Vangaveeti' shouldn't have been made because the feuds are now a thing of the past? Isn't objectionable that there is caste talk in the song 'Kamma Kaapu'?
I am not doing anything of that sort. There is nothing in the film that is not known to the parties involved. There is no caste element in the movie. If you think 'Kamma Kaapu' song is about caste, then you haven't heard the stanzas properly.
Why didn't you go for established names?
A film like this should be done only with newcomers because there would then be no expectations. I happened to spot Sandeep during a party. He was in a corner and as soon as I saw him, call it instinct or whatever, I could see Radha in him. I asked him to send me his pics fashioned after Radha's pics by next day, which he did. After that, I asked him to send him pics imitating Ranga, which he did. Since he looked perfect, I decided to cast him in both the roles.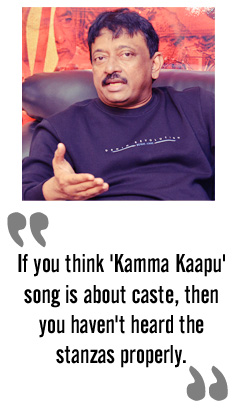 You seem to be disappointed with 'Khaidi No. 150'. Why don't you direct Chiru?
I won't do a film with Chiranjeevi, of whom I am a big fan, because I don't have that capability. I will never produce his film, as production would also have my perspective. I can't reach the fans' expectations. I strongly feel that his 150th movie should have been bigger than 'Baahubali'.
You have been an admirer of Pawan. Do you think he will succeed in 2019?
Pawan Kalyan is like a dormant volcano. He erupts at times and goes into dormancy afterwards. I think he will put up a great show in 2019 polls. When the time comes, he will erupt big-time.
Why don't you make a biopic on Chiru and/or Pawan?
For a biopic to be made on someone, his or her life has to be either dramatic or controversial. How can one make a biopic on people who are no-nonsense types? (Laughs)
You have also evinced interest in Sashikala, not to speak of a film on third world war. What are you up to?
The personality of Sashikala is interesting because she has wielded influence without occupying any position of power. I tweet about my plans as and when they come to my mind. A film in my mind may materialize in one month or one year; sometimes, it may never materialize. 'Nuclear' would be a zenith of the emotional high I got while doing 'Vangaveeti'.
Follow us on Google News and stay updated with the latest!
Follow
Actress Photos
Mehreen Pirzada
Sonal Chauhan
Amala Paul
Shobitha Dhulipala