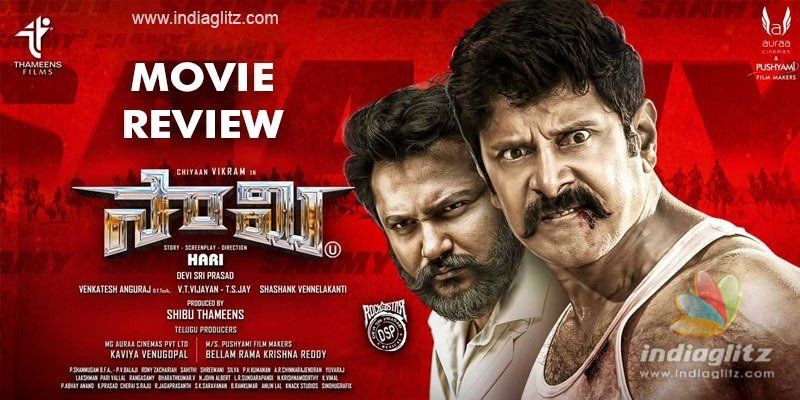 'Saamy', starring Vikram as a powerful cop, hit the screens this Friday.  Here is our review of the entertainer.
Story:
 
The film opens with flashes of 'Saamy' (the first film, which was remade in Telugu with Balakrishna as the hero) to refresh the  audience on that story line.  The actual story beings with Parusuramaswamy (Vikram) fiercely taking on a honor killing mob and gives them a taste of his lathi and an earful of advice on how to respect women.   
He and his wife Bhuvana (Aishwarya Rajesh in place of Trisha) are eliminated brutally by Ravana Bikshu (Bobby Simha), who goes on to become a gigantic money launderer who can threaten even a Union Minister.  
Cut to Delhi, 28 years later, you get to know Ramaswamy (Vikram again), an IAS aspirant, working as Front Office for a Central Minister Viswanath (Prabhu).   The minister's daughter Divya (Keerthy Suresh) falls in love with him although he rejects her.  Driven by destiny, Ramaswamy becomes an IPS officer and is posted in Vijayawada.  
Needless to say, he brings down the criminal empire of Ravana Bikshu in the second half.  
Analysis:
The strength of filmmaker Hari lies in dishing out masala flicks that move at a racy pace and 'Saamy' is belongs to this category, but it's not consistently engaging.  
The Kollywood director has this knack for making the audience root for the hero.  This hero is not only a superhuman but is also way too intelligent.  In one scene, he terrifies the District Collector by saying that he is more academically qualified than him and that he could have been an IAS officer but he chose to be a cop.  And then, he delivers this line: 'IAS dhimaag, IPS bandhook'.  Amen!  He, the Brahmin-turned-casteless martyr hero, takes on casteists in the form of a massy song.  Yes, you read it right.  
Ordinary super-heroes bombard everything in their sight in teaching the villain a lesson.  Our Saaamy does all of this and more.  If he faces a problem, he shoots off a mail to the President of India (yes, you read it right) and gets things done.  
The film is built on a wafer thin line.  There is nothing exciting after interval, with the much-dreaded money laundering villain reduced to screaming (sometimes louder than the hero).  
Everyone from Keerthy Suresh to Vikram to Prabhu to Bobby Simha keep traveling in cars, jeeps and flights somewhere or the other but the story is stuck in one place and refuses to budge an inch.  The rom-com track is phenomenally Kollywoodian.  A slap here, a lecture (obviously, to the heroine) there.  A duet here, a saviour act there.  An item song here, a comedian-is-successfully-condemned scene there.  
After disappointing with his below-par performances in films like 'Inkokkadu', Vikram is in full form in this movie.  He packs a punch with his looks and expression. Keerthy Suresh gets to play a near dumbo character and is her vibrant self only in the song sequences.   Bobby Simha is back with a bang and he is no less in his villainy.  His style of killing quickly with a switch blade is chilling.  Soori's characterization and his antics are pedestrian.  
Devi Sri Prasad's songs are a rehash of his old tunes.  Despite this flaw, they are foot tapping.  His theme music for Vikram is explosive and is played alternating with Harris Jayaraj's in the original. Venkatesh Anguraj's camera keeps moving non stop causing an eyesore.   Its V.T. Vijayan who cuts Hari's films in fast forward mode but here to an undesirable result.  
Verdict:
'Saamy' is a formulaic film where the antagonist's character fizzles out badly.  Familiar episodes and backdrops dot the proceedings.
Rating: 2.25 / 5.0
Showcase your talent to millions!!
Write about topics that interest you - anything from movies to cricket, gadgets to startups.
SUBMIT ARTICLE
More
Telugu Movie Reviews
Karthikeya 2
Laal Singh Chaddha
Macherla Niyojakavargam
Sita Ramam
Bimbisara
The Legend