Sahore song on Darshan for MK
Sunday, January 7, 2018 • Kannada Comments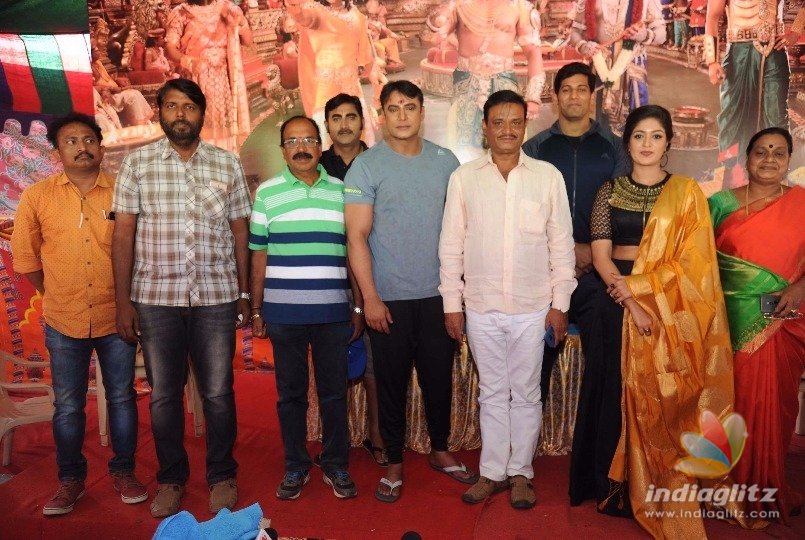 The introduction song of challenging star Darshan character in 'Munirathna Kurukshetra' from the point of view of Duryodhana was shot with elephants, horses, hundreds of dancers at Ramoji Rao Film city. With this the shooting of this mythological film has also come to an end in the direction of Naganna and Dr V Nagendra Prasad.
'Sahore Saho...Ajanubahu Rajadiraaja Suyodhana….was the song in the dance direction of Ganesh. Darshan coming on an elephant fitted with throne looked majestic.
Producer Munirathna Naidu very happy with the completion of mythological film stated that in the last 83 years of Kannada cinema talkie cinema history a film on 'Kurukshetra' was not made. There were mythological, devotional, historical films but not on war field of 'Kurukshetra'. This film I would say proudly that it catches attention of all audience of India and abroad. Technically this film work is done in Chennai, Hyderabad, Bengaluru and Mumbai with expert technicians.
Munirathna Naidu further says other language film producers visited the shooting of this film and wondered on the making. On selecting Duryodhana character there is specialty. The 'Gada Yudda' of Duryodhana and Bheema is one of the highlights. This film is shot in 2 D and 3 D technology. On February 10 we expect the first copy and for censor on March 2 and March 9 as release date is the plan says sitting MLA of Congress I Munirathna Naidu.
Cameraman of this biggest venture 'Munirathna Kurukshetra' Jayan Vincent is back after a 1988 Kannada film 'New Delhi'. He is using seven cameras every day for successful completion of shooting.
Kiran is art director; graphics department is headed by Durgaprasad for this 'Munirathna Kurukshetra'.
Actress Photos
Mishti Chakraborty
Anaika Soti
Honey Rose
Tejaswini