I learnt invaluable lessons by observing those two directors: Santosh Srinivas [Exclusive Interview]
Thursday, September 29, 2016 • Telugu Comments
Santosh Srinivas in this exclusive interview to IndiaGlitz gives insights into how screenplays evolve organically, those two directors who have had lasting impact on him and more.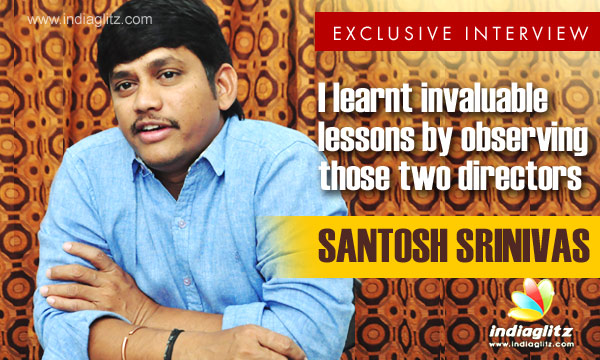 What went into conceiving 'Hyper'?
Before conceiving a story line, I think a myriad questions; I ask myself a number of questions. When I got the right answer after asking many questions, 'Hyper' was born.
How do writers stumble upon an idea? In the case of 'Hyper', was it two basic ideas - one pertaining to father-son questions, the other pertaining to political backdrop - that were merged?
When a point is stumbled upon, the screenplay gets driven by it. Things have to flow from that one idea. Wherever that idea takes, the writer goes. In the case of my film, there was no conscious attempt at merging the two ideas. When there is a problem, how the hero solve it forms the base. The problem around which a story is spun has to be refreshing. Emotions and entertainment are woven around it.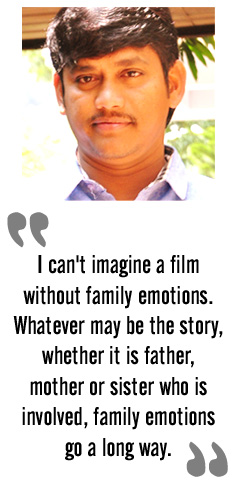 Ram, Rao Ramesh, Sathyaraj are important members of the cast. Who would you say are the four pillars of 'Hyper' among technicians?
Firstly, the producers have been the biggest pillar of support. Cinematographer Sameer Reddy, writer Abburi Ravi and editor Gautham Raju would come first. Of course, others like Ghibran, Mani Sharma garu are also very important.
From your words, Rao Ramesh is going to be a big surprise package of the movie.
He once asked me as to how I could see a new dimension in him. He is a big asset for our movie. He has performed better than how I had visualized. He enjoyed himself doing the role. Thoroughly.
Is it only Ram who is doing the comedy?
All comedy is situational in the movie. Apart from Ram, Sathyaraj garu, Rao Ramesh garu, Murali Sharma garu and even Raashi Khanna has done comedy.
You hold K Raghavendra Rao and VV Vinayak in high regard. What have you learnt from them?
I worked in the cinematography department for a couple of their movies. Raghavendra Rao garu teaches how to shoot a scene with 25-30 artistes in the shortest possible time. VV Vinayak garu has the same knack. A director would know why it's very important to have such a talent. The experience I got by working for 'Channakesava Reddy' is equal to what I wouldn't have got by working for even 10 movies. These lessons will be of use for the rest of my life.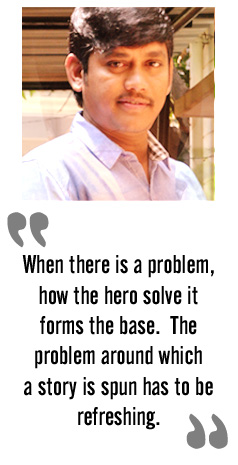 Why do you say family emotions are important for a movie? What difference do you see in the way directors of the last generation depicted them and how the current lot do?
I can't imagine a film without family emotions. Whatever may be the story, whether it is father, mother or sister who is involved, family emotions go a long way. Earlier, directors had a clarity with respect to the story. These days, technology is allowed to cloud over the story. Story should take the precedence and not any other factor.
This is the biggest release yet in Ram's career. Are you tensed?
Not at all. I have done big releases like 'Kandireega' and 'Rabhasa' in the past. I can take it.
You have said that Tollywood should reach such a stage where others will remake its films. Is the industry on the way to attain that?
Definitely. In five years' time, Tollywood will be on a higher pedestal. New directors and producers are seen with fresh ideas. The audience, too, are ever-ready to patronise such movies. Even in my case, if I could do 'Hyper', it's because of that assurance.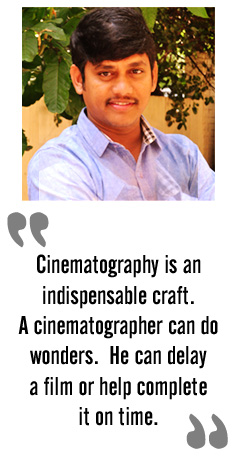 You have said that you are in awe of larger-than-life movies. Can we ever expect a soft-core one from you?
I don't mean to say that I won't do soft-core subjects. It has been my wish to make a good love story, a love story sans action and all that. But I don't know if I can do that. Energy runs in my body. But someday, I will do a romantic subject.
You entered the industry with a desire to become a director. You went on to become a cinematographer. With that experience, you have become an efficient technician. Technically speaking, to what extent can a cinematographer contribute to keep the budget in balance without compromising on quality?
Cinematography is an indispensable craft. A cinematographer can do wonders. He can delay a film or help complete it on time. We could complete 'Hyper' in 90 days because of my experience. I myself am fast at doing things.. Many technicians can't stand me. Sameer Reddy garu has been in sync with my pace.
Technical knowledge aside, from whom did you learn screenwriting lessons?
I never got to work under any writer. As I was a technician, I couldn't be witness to story discussions. I watch movies a lot. I have watched classics like 'Sagara Sangamam' and 'Shankarabharanam' scores of times. Before filming the climax of 'Hyper', I watched 'Shankarabharanam' a number of times. Although the content is unrelated, the emotions are intense and I wanted to get into a certain frame for the same reason. I learnt a lot by watching 'Aadi', which is like a 'Shiva' which changed the industry. I learn something or the other from every movie.
Related News
Actress Photos
Kajal Agarwal
Aishwarya Dutta
Vaani Bhojan
Sreemukhi