A fairly foot-tapping album
Monday, December 30, 2019 • Telugu Comments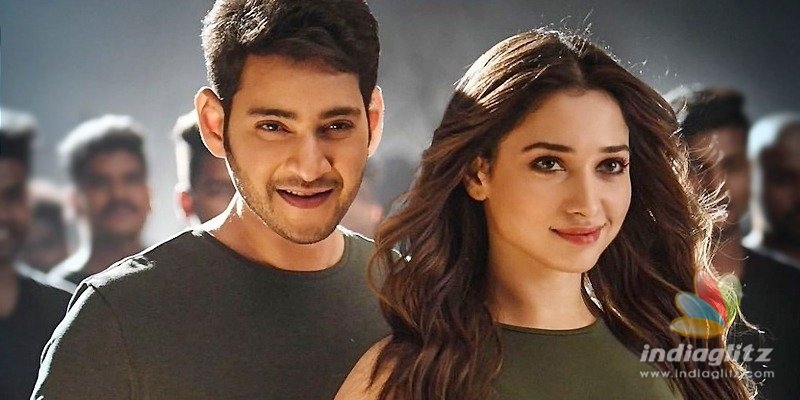 Three singles from 'Sarileru Neekevvaru' are out, on Lahari Music.  Here we present their reviews.  The other songs will be reviewed as and when they are out.
Mind Block
Singers: Blazee, Ranina Reddy
Lyricists: Sri Mani, DSP
There are item songs.  This one is a 'food items' song wherein the body parts/other attributes of the temptress are likened to edible items like cupcake.  Blazee's rap is on pedestrian lines.  Mahesh Babu's interludes become run-of-the-mill after a while.  Music directror's name, per YouTube, is Govind Vasantha and it's quite puzzling in a song that sounds spiritually like DSP's quintessential one.  The instrumentation lends itself to some mass steps.
Suryudivo Chandrudivo
Singer: B Praak
Lyricist: Ramajogayya Sastry
B Praak's voice is dense and apt for a song that describes the protagonist's character in verbose terms.  At one level, however, it also sounds deliberately old-fashioned and DSP should perhaps have chosen a lighter voice. Sastry's lyrics are drawn from literary Telugu, complete with metaphorical language.  This is not exactly an appealing song, but could work as part of the story.
He Is Soo Cute
Singer: Madhu Priya
Lyricist: Srimani
This one is the mandatory 'praise Mahesh's awesome looks' moment in a star vehicle.  Srimani's lyrics follow the standard template of making the female protagonist sound playfully romantic and naughty.  Madhu Priya's voice is apt for an actress (Rashmika) who exudes those girl-next-door vibes. DSP conceives it as a song of a pure-hearted creature who is in awe of the handsomeness of someone beyond her.
SNE Anthem
Singer: Shankar Mahadevan
Lyricist: Devi Sri Prasad
Before reaching a crescendo, the "anthem" starts off on a light, lilting note. Shankar Mahadevan croons it in a relaxed yet focussed style.  The high-pitched rendition of the title by the chorus of singers is striking.  The symphonic rendition is another special feature.  The lyrics, penned by DSP, extol the virtues of the soldier, portraying him as a selfless warrior who is above petty identities.  In summation, this one is an engaging number.
Daang Daang
Singers: Nakash Aziz, Lavita Lobo
Lyricist: Ramajogayya Sastry
The lyricist deploys English and Hindi phrases/words dime a dozen.  From 'wildfire' to 'Disco beat', this song has them all.  Nakash Aziz's dense vocals have a booming effect.  Lavita Lobo's voice is effective.  DSP's music delivers the goods.  This is perhaps the best song of the album.
Rating: 3
Verdict:
The album is not exactly DSP being on fire.  But it surely has its big moments.  Listen and enjoy it.