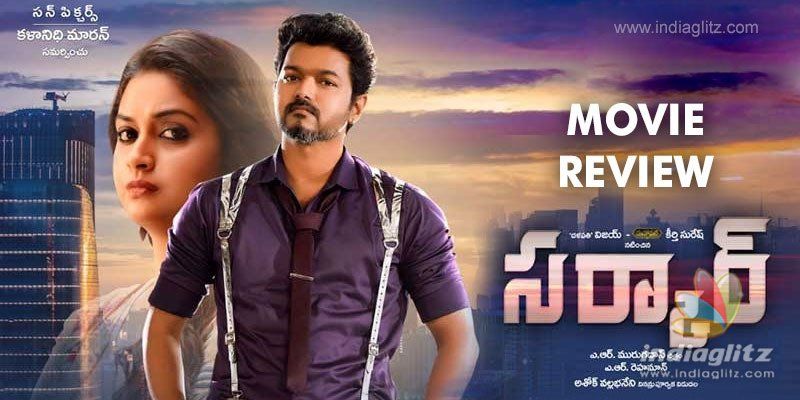 'Sarkar', starring Tamil superstar Vijay in the lead, hit the screens this Tuesday.  Here is our review of the political drama.
Story:
Sundar Ramaswamy (Vijay) is a dreaded corporate leader who is known for ruthlessly eliminating his rivals in country after country.  To whichever country this NRI goes, market rivals bite the dust.  
Such a genius visits India to cast his vote in the Assembly elections.  This is when he comes to know that someone else has already cast his vote illegally.  Sundar takes it seriously and decides to get back his right by invoking Rule/Section 49-P of the Conduct Of Elections Rules, 1961.
Due to a few missteps by the ruling party leadership (played by Pala. Karuppiah and Radha Ravi), the hero is provoked to make it a big battle.  Lakhs of people rally behind him and due to a court ruling, fresh polls are ordered to be held for all the Assembly constituencies.
It's now up to the villains of the ruling party to outsmart Sundar.  But given his knack for crushing his opponents, Sundar goes about his task of executing his plan of action to herald a new government aka people's 'sarkar'.
Analysis:
In just the last few years, at least half a dozen big-ticket films in regional cinema must have failed for want of a strong villain.  Yet, some filmmakers don't seem to see the writing on the wall.  In 'Sarkar', you have a clueless three-time Chief Minister who not only fears a political novice but also doesn't do anything substantial to defeat him.  Never. Not even once.  At least to deceive the audience into thinking that director Muragadoss takes his audience seriously.  His political experience must count because he has been in politics for 56 years?  But no, he is a pathetic dummy.  
As for the hero, he can move the Himalayas amid romancing Keerthy Suresh and having a peg with comedian Yogi Babu.  After drinking to his heart's content, the corporate honcho who draws a salary of Rs 1800 crores per annum dances in the basthi because there has to be a song after a fight, you know.  
Crores of people turn into robots at will and root for our hero in two shakes of a lamb's tail.  He gives a call to his supporters to find 170 good MLA candidates and voila, they smoothly spot them faster than Infosys can recruit a handful of good engineering graduates.  Even campus placement drives take longer in real life.  
Just as toddlers are threatened by moms who invoke the unseen 'boochodu' to scare them into eating food, our hero invokes the judiciary to terrify the villains.  "I will go to the courts," he says and every bad fellow in the film is bloody scared as if all judges in India are good guys who work for justice day in and day out.  
Look at the hero's characterization.  In his very first scene with the heroine, he says that having a woman by one's side gives a lot of kick!  The one scene in which he shows intensity is the one where he delivers an emotional speech to migrants.  For the most part, however, the cool hero behaves as if demolishing a government is as easy as firing employees in his company.  
Look at the villains.  The three-time CM has a dumbo (Radha Ravi) by his side.  He is utterly putterly incompetent and he does exactly those things that will put his party in trouble.  Heck, he doesn't even know how not to walk out of a TV debate.  The CM can't think of a single allegation against Sundar.  Even unpaid Twitter warriors do a much better job in inventing allegations in the actual world than these idiots who inhabit Muragadoss' infantile world.  Not once is Sundar's lack of political experience questioned by the ruling party!  It's as if they are there only to show their nervousness.  
The heroine.  Keerthy Suresh gets to beat her character in 'Agnyaathavaasi'.  The film was not longer to show what she does 30 years after people's 'sarkar' is installed, but we have no doubt that she would be dreaming up a song with Sundar.  The only consolation is that this semi-idiotic character has no much space in the second half.  
The mindless villain's side finally gets a brain when Varalaxmi Sarathkumar (as Papa. Yes, right!) enters the screen ahead of the climax.  Even her character is stunningly immature in the beginning.  Since the hero has finished IT companies in some countries, he can also finish a political party in India.  That's her logic.  We got to invent a new term for this kind of ridiculous writing.  
Vijay makes a modest impact and at least his speech in the climax shouldn't have been mediocre.  He mildly imitates Pawan Kalyan in one of the scenes.  The rest of the performances are immensely forgettable.  
AR Rahman's songs have no spark.  'NOTA', the recent political thriller, had a better background score than this one.  Girish Gangadharan's cinematography passes muster.
Verdict:
'Sarkar' suffers from feeble writing and half-hearted execution.  Too many creative liberties, a weak antagonist, intrusive songs and routine fights make it a mediocre movie.
Rating: 2.25 / 5.0
Showcase your talent to millions!!
Write about topics that interest you - anything from movies to cricket, gadgets to startups.
SUBMIT ARTICLE
More
Telugu Movie Reviews
Sky Lab
Akhanda
Anubhavinchu Raja
Drushyam 2
Ram Asur
Missing