Sarvarswa audio comes, Srimurali release CD
Monday, September 11, 2017 • Kannada Comments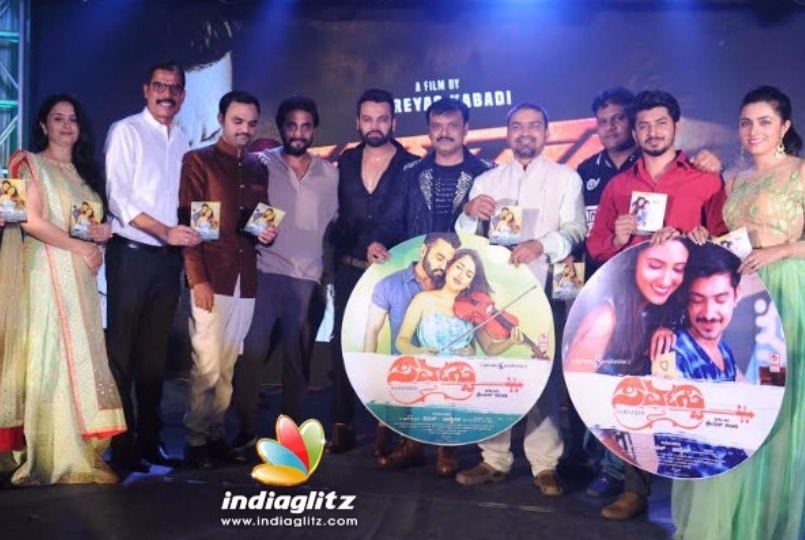 The top actor in Kannada cinema now busy in 'Mufti' with two mega hits to his back 'Ugram and Rathavara', Srimurali graced the audio release of 'Sarvaswa' and he was there for his friendship with actor Thilak.
Dentist couple from Gujarat Smt Vimal and Vamdev is producers of the film 'Sarvaswa'. It is the 26th music direction of Sridhar Sambram was released at a crowded gathering at Kings Court in Bengaluru Palace on Saturday evening.
Acting in 'Tapaswi' Shreyas Kabadi an engineering graduate caught hold of good information to use his knowledge in directing a film. Director task and hero task are brought in the characters of actor Tilak and hero Chetanvardhana. Tilak on board for this film that contains love, thrill and sentiment in the film is because he can perform in two shades with ease says director. We have visual richness too says SK.
Tilak is convinced with the narration first and he plays a director inside the film. it is a romantic thriller in nature he says. Meghana Appaiah is Sathwika Appaiah from this film. Sathwika is her character name too in the film. She plays a bubbly and matured role in the film. She learnt skating for this film and had some injuries too. Two songs for me are also of different concept she says.
Sridhar Sambram in his 26th film thanked director SK for making good space for songs to creep in. On the audio release day he has performed live of all the songs. We would make mistakes that should be known he mentioned. He introduced the singers Chetan Naik, Meghana Kulkarni and Sriraksha on this occasion.
Kaviraj had seen lot of enthusiasm in the team members. He has contributed two songs for the film.
Bhupendra Singh Raina DOP of the film is a man with lot of conviction and perfection was aware that 972 shots are required for this film. He has done it precisely.
A graduate in commerce Chetan Vardhana looking for a right launch and he got the one after audition. He has right place in debut and workshop has helped he says.
Related News