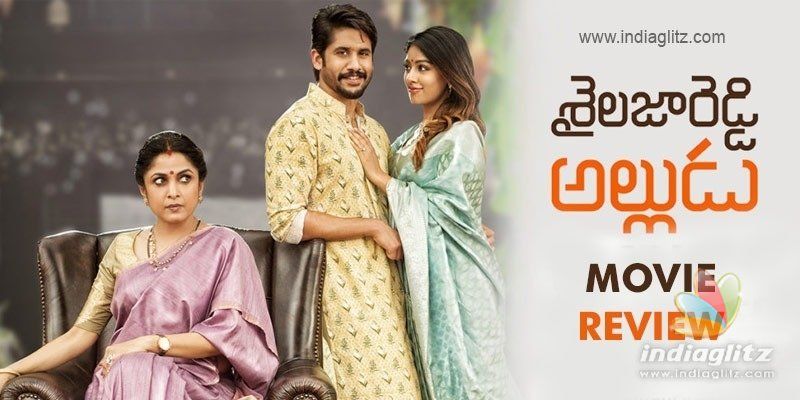 'Shailaja Reddy Alludu', starring Naga Chaitanya and Anu Emmanuel in the lead, hit the screens this Friday.  Here is our review of the family-comedy entertainer.
Story:
Chaitu (Naga Chaitanya) is a cool guy who can take everything with a positive attitude.  His rich father (played by Murali Sharma) is a polar opposite.  He is arrogant to the core.
In comes Anu (Anu Emmanuel), with whom Chaitu falls in love in no time.  She too is an epitome of arrogance but then, our hero's cute ways change her.
When his ego is challenged, the hero's father forces Anu to get engaged to his son without notice.  This leads to some unforeseen consequences for the Chaitu-Anu duo, who now have to face the super-arrogant Shailaja Reddy (Ramya Krishna) and her stubborn attitude.
The second half is about how some characters have a change of mind when enlightenment dawns upon them, thanks to our good-hearted hero.
Analysis: To be sure, the film is hardly an Attha versus Alludu story.  It's a mother versus daughter story.  And why do they have differences?  You have to watch it on the silver screen.  Suffice it to say that the conflict between them, much as it forms the crux of the second half, is hardly big-ticket.
There is this scene where Chaitu wants to talk to his lover in the middle of the night.  She is somehow unavailable on the cell phone.  He stages a big ruckus in Shailaja Reddy's bungalow with the help of Chary (Vennela Kishore) so that he can be with Anu for sometime.  A laugh riot follows, involving all the major characters of the film with the exception of the hero's father.  This is the film's defining scene.  There may be no rationale behind staging a big drama in the middle of the night for a flimsy end, but that the scene offers laughs serves its purpose.  Some "entertainers" are like this only.
The film subsumes everything from righteous anger to self-respect under the umbrella term "Ego".  Telugu films have this habit of misunderstanding whole terms and their meanings.  This film is no exception.  Also, girls being egoistic is a bigger sin than males being so, such is the film's point of view!
The whole track before the interval that goes into introducing the domineering Shailaja Reddy, whose ethics can't tolerate injustice to women, is superb.  Maruthi has done a fine job in building tempo around the larger-than-life character played by the talented Ramya Krishna.
The director could have done a much better job in sustaining the pre-interval momentum.  This could have been done by elevating Shailaja Reddy to a tempestuous perch, if needed.
Chaitu is in a tricky situation and he is running out of time.  But there is no sense of edginess in the proceedings. This poverty, however, is undone by an emotionally appealing climax where Maruthi's directorial touch weaves a lovely marriage song that is also rich in sentiment.
The film could have done better in terms of the love track.  Anu falls in love over feeling insecure about Chaitu falling for someone else.  Vennela Kishore's comic timing is affected by his not-so-hilarious interludes.
For Naga Chaitanya, here is a film that can help him become a family hero.  He is lovable in the scenes where he talks those typical lecture things. Anu Emmanuel gets to play her career's most performance-oriented role.  She gets much space throughout the film and the beauty doesn't disappoint.  Ramya Krishna's calibre when it comes to acting vulnerable in emotional scenes should have been exploited by the director.  Don't expect punchlines from her.  Murali Sharma is able, Kedar Shankar, Naresh, and others are OK.  Prudhvi as a sandwiched character fooled by Vennela Kishore's Pranic healing is fairly rib-tickling. 
The technical output is a huge plus.  Gopi Sundar's title track, the climax song bring life to the second half.  The RR too is decent. Nizar Shafi's frames are lighted up and the actors look all the more beautiful.  The art work and editing are effective.
Verdict:
'Shailaja Reddy Alludu' is a formula-driven story.  Maruthi gets able actors and technicians on board.  With some better drive and gravitas, this one would have been far better.
Rating: 3 / 5.0
Showcase your talent to millions!!
Write about topics that interest you - anything from movies to cricket, gadgets to startups.
SUBMIT ARTICLE
More
Telugu Movie Reviews
Hunt
Driver Jamuna
ATM
Vaarasudu
Waltair Veerayya
Veera Simha Reddy