Sizing up the theme
Monday, November 16, 2015 • Telugu Comments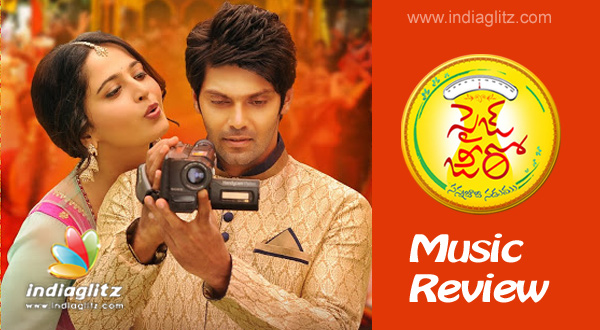 Size Zero is an album music-directed by the much sought-after MM Keeravani. High on the success of some of his recent albums, he delivers goods like an ace.
Lyrics are mainly by Anantha Sriram; Srimani does with one song. A range of singers include Neeti Mohan, Ramya Behara, Ranjith, Aditya, Arjun Adapalli and others.
Size Zero
Artists: Neeti Mohan, Ramya Behara, Mounima, Mohana Bhogaraju, Noel Sean, Rahul, Prakash Raj
Lyricist: Anantha Sriram
For a title track to be rendered by one too many singers is an idea that demands an enormous scale of its own. Neeti Mohan, Ramya Behara and others do a splendid job within the larger canvas prepared by MM Keeravani, who at places intersperses the traditional with the modern. Anantha Sriram here doesn't go for loaded words; he instead panders to the demands of the title and fetishes the fashionable size zero. A good beginning for an album that promises to be surreal, lyrically.
Mella Mellaga
Artist: Arjun Adapalli
Lyricist: Anantha Sriram
It is a story-based song that seems to come at an emotional situation. The lyrics mirror the attitudes of the characters, at least two of them. Arjun Adapalli renders the melodious song without a trace of second-rateness. MM Keeravani's music is quite a melody and he marshals his classic self for a while. The short but sweet song is sure to get on your ears, mella mellaga..
Innava Innava
Artists: Madhumita, Ramya Behara, Palak Mucchal
Lyricist: Anantha Sriram
It is a combination of folkish flavour and mellifluous flavour. Ramya Behara and Madhumita lend to the song that much needed melodious thrum. The lyrics flit between the romantic and the naughty. Anantha Sriram once again shows his profound sense of lyrics by going for two contrasting moods; this one is a song that gives a taste of both love and romance.
Size Sexy
Artist: Mohana Bhogaraju
Lyricist: Srimani
As catchy songs go, this one stands out for its music as well as the theme. Srimani delivers the lyrics with a characteristic distinctness. His wordplay is sure to catch the audience's imagination, as the lyrics give a sense of the familiar. Mohana Bhogaraju's vocals are apt for a song like this, a song that demands off-beat rendition. MM Keravani blends his old style along with what is in-thing for the new generation.
Mella Mellaga
Artist: Swetha Pandit
Lyricist: Anantha Sriram
Swetha Pandit's mellifluous rendition comes back to give a taste of the same number rendered by Arjun Adapalli. It is a good idea to have a thematically same song with a changed flavour by two different singers, that too, one male and the other female. Anantha Sriram's lyrics are sure to be appreciated for their lyrical profundity.
Cycle
Artists: Ranjith, Adithya
Lyricist: Anantha Sriram, Noel Sean, Kanika
It is a song with inspirational lyrics. A situation-based song, this one has a near-perfect rendition by Ranjith and Adithya. The proceedings are easy on ears and the high pitch is sure to wow the music lovers for its meticulous rendition and exposition. For Anantha Sriram, it must have been a breeze to write this song. Noel Sean and Kanika play their role, too. M M Keeravani has a knack for blending the same genre from two different periods. It comes off quite well here.
Verdict: The album is a welcome change, what with there are no routine situations and romantic songs. The film's apparently distinct tone shows itself in the lyrics. Keeravani's music is refreshing as ever, with his improvisations coming as a good addition, though not surprising.
Rating: 3/5