So Sweet! Mammootty surprises his fan
Thursday, October 12, 2017 • Malayalam Comments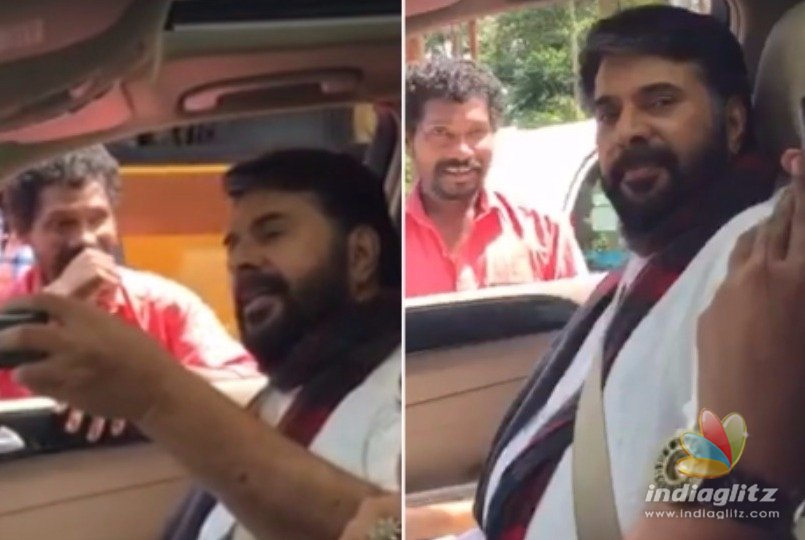 While Mammootty haters allege the actor to be of very arrogant, here is a video that has now surfaced online showing a completely different side of the actor. Mammootty who is currently in Wayanad shooting for his upcoming Malayalam movie Uncle surprised a fan named Balan who was waiting on the roadside to get a glimpse of his favourite star after learning that the star was in town for a shoot. 
The video was shared on Facebook by Sinto Thottipully, a driver at the film location, who also shared the interesting incident of how Mammootty and Balan met. "A Mercedes Benz car was coming through the forests of Wayanad Pulaplly when a person ran to the car and stopped the vehicle by waving his hands. A woman opened the car window and the man asked in Wayanad slang 'Is Mammoottikka there in that road, people said he is there.' She answered, 'Yes he is there, why?' With a smile he said, 'I am his fan'. Then the person heard a voice from driver's seat, 'Please come this side'. He was shocked and stood still for 2 minutes there. Rest you can watch it here," reads the Facebook post with a video, that has already gone viral on social media.
Mammootty who clicked pictures with Balan also interacted with him asking details about his whereabouts. Meanwhile, the nervous fans seemed to be in complete awe of the superstar. The video ends with both of them shaking hands and clicking several pictures. Mammootty was accompanied by CIA actress Karthika, the female lead in Uncle, who captured the moments on Balan's phone. 
Related News
Actress Photos
Avantika Shetty
Misty Bhardwaj
Nandita Swetha
Tamannah