Happy Birthday to the music maverick A.R.Rahman!
Saturday, January 6, 2018 • Tamil Comments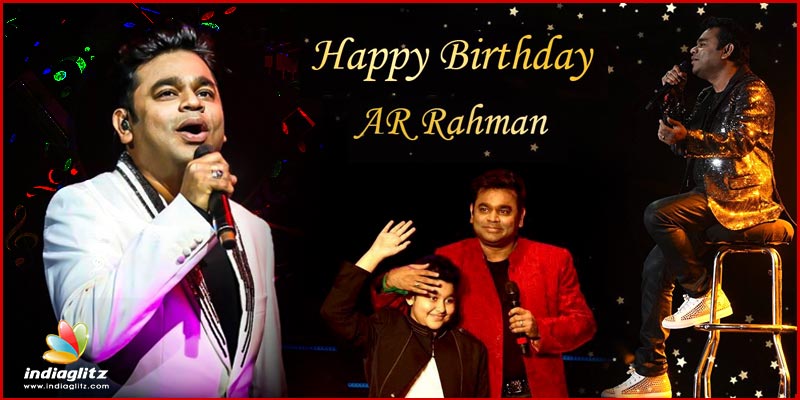 Millions of hearts, two Academy awards, four National Awards, two Grammys, a BAFTA, a Golden Globe, 15 Filmfare awards (another 16 in the south) – musical prodigy A.R.Rahman's portfolio is as resounding as his music around the world. As the music God turns 51 this auspicious day, Indiaglitz wishes him a many more happy returns of the day!
What makes Rahmaniacs go gaga for the composer is not only his soul shaking numbers, but that divine serenity and humbleness that he oozes despite his achievements in the music world. Contrastingly Rahman's compositions have never lacked in versatility from his early 'Roja' sensation days.
While the old pre Oscars Rahman reminds us of mesmerising melodies that ruled our sleepless love-dazed nights (think 'Dil se') the present day counterpart has become sophisticated, creating world standards abroad and bringing it back to our own regional albums.
This leads to one of his core strengths: his music is universal. He has soared across boundaries and touched crores of people speaking the one language that he knows above all: music. This universality in his music also translates to delightful dividents for his Indian listeners as his 'worldliness' unintentionally seeps into his compositions.
Rahman also has the credit of keeping generations of youngsters lured by his ageless compositions. Present day iPod obsessed youngsters love his 'Puthu Vellai Mazhai' as much as the once walk-man touting teenagers listen to 'Mechanical Sundariye' in loop mode.
Rahman has touched upon almost all major styles in music including his soulful sufi renditions (think 'Khwaja mere Khwaja' in 'Jodha Akbar') to head banging rock as well. Rahman has also aced in the international arena with compositions for films, albums and as a performer as well.
The takeaway for youngsters here is Rahman's humility despite reaching the pinnacle of his profession. From a keyboardist to being a avante-garde composer, Rahman is also a trailblazer who is set to soon gift us virtual reality cinema experience. If Sachin is the God of Cricket, then Rahman will be the God of music for us.
We at Indiaglitz wish our very own 'Mozart of Madras', the unstoppable 'Isai Puyal' a marvellous and joyous birthday once again!
Related News
Actress Photos
Deepu Naidu
Nitya Naresh
Shipraa Gaur Kavya
Harshitha Panwar