An enjoyable album
Wednesday, August 25, 2021 • Tamil Comments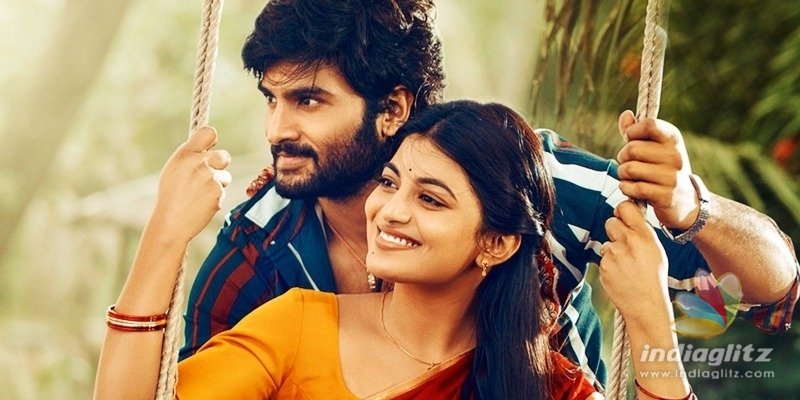 In this section, we are going to review the songs from 'Sridevi Soda Centre', whose lyrical videos are out on Zee Music South.
Mandhuloda
Singers: Sahithi Chaganti, Dhanunjaya
Lyricist: Kasarla Shyam
Inspired by Uttarandhra folk music, the song has lyrics meant to evoke a sense of guilty pleasure. Kasarla Shyam's lines are rooted in the local tongue; and they are customized for the specific, raunchy mood of the number. Sahithi Chaganti's song is laced with an air of old-school voice, and it fits the 'item' number vibes of 'Mandhuloda'. Dhanunjaya is equally good with his dense and jaunty vocals. Mani Sharma's 'iSmart' energy comes to the fore, yet again. The first lyrical from 'Sridevi Soda Centre' lends itself to a theatrical experience.
Naalo Innaluga
Singers: Dinker, Ramya Behara 
Lyricist: Sirivennela Sitarama Sastry
Sirivennela's phrases are delightfully meaningful, conveying the budding romance between a man and a woman. Phrases like '...ela choopalo rahasyam edho' take the cake. It helps that someone with a tender voice like Ramya Behara has aced the vocals, with Dinker offering a soothing match with his mature vocals. 'Naalo Innaluga' is a wonderfully written song for which Mani Sharma covers himself in the 'Melody Brahma' glory.
Chukkala Melam
Singer: Anurag Kulkarni
Lyricist: Kalyan Chakravarthy
The wedding song is about the evolution and evaluation of a relationship, complete with lines that describe the primacy of a soulmate. Kalyan Chakravarthy's lines buck the trend and try to be inventive in using a string of words/usages that are not usually heard in mainstream romances. Anurag Kulkarni takes a plunge into the Quwwali syrup and gives us a taste of his sweetly loud voice in the context of a marriage song. Mani Sharma's music appeals to the lovers of love anthems in the listeners.
Naalone Unna
Singer: Anurag Kulkarni 
Lyricist: Kalyan Chakravarthy
Anurag Kulkarni, who is known for loud and celebratory songs, croons an emotional song that is also moody. His voice is fascinating. At a time when such songs are being sung by Sid Sriram, it's refreshing that Kulkarni has been picked. Kalyan Chakravarthy's lyrics swim past the cliches; they are based on the situation, the characterization of the hero and the story.
Love Theme 
Composer: Mani Sharma
The romantic theme is a good end to an album that has both heavy and light songs. The Melody Brahma marshals his BGM skills as well. The instruments used make for a lilting experience.
Verdict:
The album, comprising four songs and a theme musical, is engaging thoroughly.
Rating: 3