Srikanta On Floor
Saturday, October 17, 2015 • Kannada Comments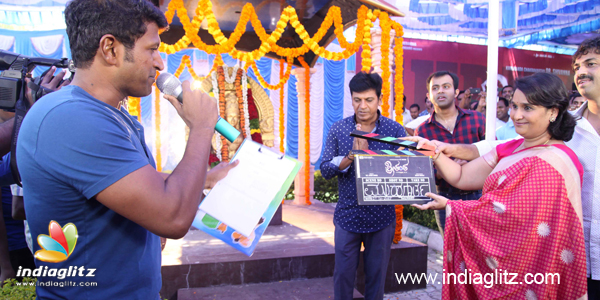 This is perhaps 110th film of Dr Shivarajakumar that went on the floor on Friday morning. 'Srikanta' (remember Lord Shiva or Nanjundeshwara - who swallows poison and keeps block it at the throat) in Manju Swaraj fourth direction was attended by Smt Parvathamma Rajakumar and switched on camera, Power star Puneeth Rajakumar directed the maiden shot for the film when Dr Shiv faced the camera, Smt Geetha Shivarajakumar and Madhu Bangarappa sounded clap board.
The film 'Srikanta' has contemporary subject and a common man impact is derived from Nagathihalli Chandrasekhar short story disclosed Manju Swaraj. Dr Shiv will be working out strategy to put down minus things he encounters in his journey. What extent a common man can tolerate injustice is this 'Srikanta'.
Dr Shiv looking perfect after a small ill health has liked the capability of director Manju Swaraj after conversing with him for more than 15 times on the subject 'Srikanta'. On his journey meeting strangers how he reacts and revolts is best part. In the climax why did the protagonist behaved like that - audience would get answer. The incidents are well woven with the story. Why he emotes in certain situations is a question crops up in the mind. There is plus and minus shade for the character. It is at last height of emotions with peak point Agumbe location informed Dr Shiv.
Cameraman Suresh Babu worked in 'Nanjundi' with Dr Shiv as hero and it has given nine year life in cinema. He is expecting double the life with his association for the film 'Srikanta'. Ajanith Lokanath is scoring music.
On the proposal of Arundhati Nag and Ananthnag in this film - the final decision is not yet taken says Manju Swaraj.
Related News