Straight Talk! Will the digital politics of Kollywood stars work with the masses?
Saturday, January 6, 2018 • Tamil Comments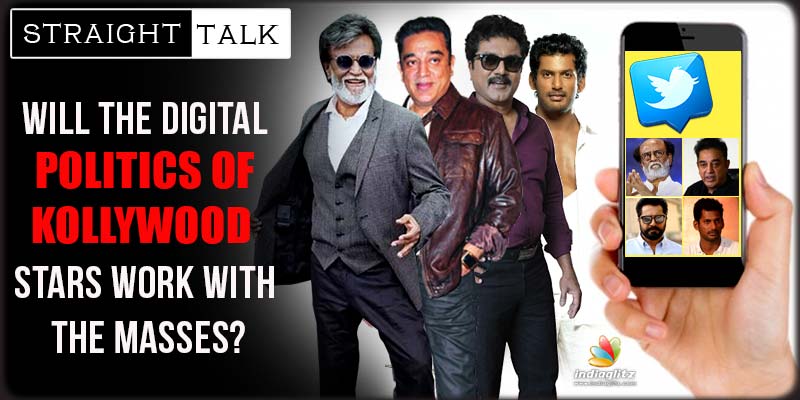 Welcome to the first Straight Talk of 2018 in which we analyze the predominantly digital politics that our stars like Rajini, Kamal, Sarathkumar and Vishal are practising and whether it would find its takers among the masses.  If you recall after the demise of former CM Jayalalitha a year back the Kollywood stars are very forthcoming in taking on the ruling party and also rendering support to many social causes.
The path first chosen by Vishal and later adapted by Kamal, Sarath and Rajini is to create apps to register as members, to post complaints etc.  There is criticism that this reliance on digital media to reach out to the people will not win elections but one can counter that by safely saying that TN has high penetration of communication infrastructure and the younger generation is very tech savvy.
Though reaching out to the masses is just a click away, the soon to be politicians do need cadres who would be willing to work for the people and each one of them needs 234 others to share their vision and principles which is the toughest task.  Winning the election of course is dependant on an X factor that will come into force only when the fever is at its peak.  One thing is certain the coming assembly elections will witness a decidedly large and diverse representation from Kollywood and the people's mandate may well favor one from the tinsel town. 
Related News
Actress Photos
Remya Nambeesan
Parvathy Nair
Anjena Kirti
Adah Sharma