Sundeep Kishan on 'Manasuku Nachindi', career path, ignoring trolls, & more
Thursday, February 15, 2018 • Telugu Comments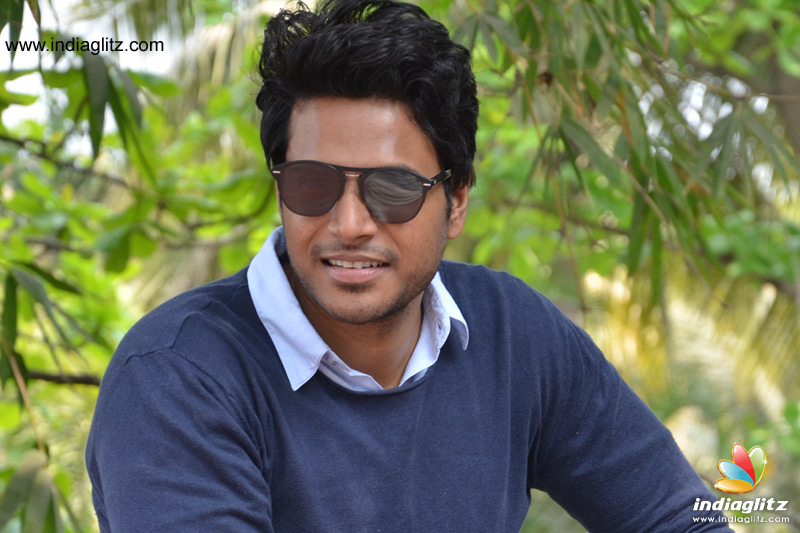 Sundeep Kishan awaits the release of 'Manasuku Nachindi' on Feb 16. In this interview, he talks about the film, his character, what made him go in for it, a controversy involving a producer, and more.
What is your character in the movie?
I have played Sooraj, a rich, English-savvy, happy-go-lucky, confused idiot. He is urbane, is glossy. So far, you have seen me in massy roles. Looks-wise, too, I am different in 'Manasuku Nachindi'. By nature, I am a middle-class guy in real life.
What drove you towards Manjula's script?
When she narrated the script to me for the first time, she enacted all the roles. I understood that this is going to be a movements-driven movie. There is so much of freshness in it. Like Sekhar Kammula's movies, it's very realistic. It's a love story which audiences of all age groups will love. Women and girls are going to love it more. Even when two girls fight in the movie, feels so different. Even Priyadarshi has got a very different role.
Also, the story itself is driven by the female characters. There is no feminist perspective in the movie, but there is women's thinking in it.
Mahesh Babu has lent his voice-over for 'Manasuku Nachindi'. Why was he needed?
When you want to say something great, someone big has to say it. It helps. His voice-over is up to 3 minutes or so. He hasn't watched the movie. He has watched some scenes and he loved them. He is going to watch it with his family on Day 1.
Don't you think a big break has eluded you?
Doing a good film is one thing. Other factors play a role in its success, be it release date, competition from other films, etc. I don't understand it all. Speaking for 'Manasuku Nachindi', I am more confident as Gemini Kiran garu and Manjula garu have a 100 percent success rate as producers.
What went wrong with your recent movies?
I did films like 'Nakshatram' in the faith that it's a different character. Krishna Vamsi garu's brand of filmmaking is special. Had it been a hit, nobody would have asked me why I did that movie. Till before 'Tiger', I was doing minimum guarantee movies like 'Beeruva', 'Joru' and 'Venkatadri Express'.
You have had a much better strike rate in Tamil it seems. What's your say?
'Maayavan' and 'Maanagaram' did really well. I have to balance it out from now. Playing your age is very important. I may be 30, but in the audience's perception, I am 25-something. Maybe I should start doing college campus romances.
How has doing 'Manasuku Nachindi' affected you?
I was not enjoying Nature as much as I am doing now previously. I now experience sunrise and sunset. I have started experiencing the Durgam Cheruvu lakeview from the balcony of my house. I realized how beautiful it is only in recent months. I am experiencing my holidays. I am enjoying bungee jumping and all. I am enjoying even driving my car, something I never used to do.
What went wrong with SK Basheed, the producer of 'Project Z'?
He killed a good film. He claimed that he spent Rs. 3 crore on publicity. Nobody ever saw where he spent them! He was once jailed and even banned by the Producers' Council. I lost my time and effort because of him. He resorted to forgery, money laundering, and even is guilty of contempt of court. He suggested stupid titles for the Telugu version. I was ready to buy the film from CV Kumar garu by paying Rs. 20 lacs more. Basheed pressurized us to make a hot song. The heroine stopped promoting the movie after the proposal. Had I not been an actor, I would have reacted differently to his baseless allegations.
Recently, you were mildly hitting out at a random Twitter critic. How do you react to negativity?
There is so much of negativism. Some people derive pleasure from it. Even the likes of Pawan Kalyan and Mahesh Babu are trolled.
Your friend Regina's movie, too, is releasing this Friday. Do you want to say anything?
'AWE' is also coming. I wish Kajal, Regina, Nani and everybody else associated with the movie all the best. I also wish director Prasanth Varma the best. Both our films should do well at the box office.
What are your upcoming movies?
The film with Kunal Kohli will be ready by Summer. It's a Woody Allen-like romance. I have two other films lined up. One will be directed by Karthik Ghattamaneni. The other one will be directed by one Nandini. In Tamil, I have 'Naragasooran' up for release later this year.
Actress Photos
Shriya Saran
Meera Mitun
Alia Bhatt
Kiara Advani