Suriya's 24 will be career best
Monday, April 18, 2016 • Tamil Comments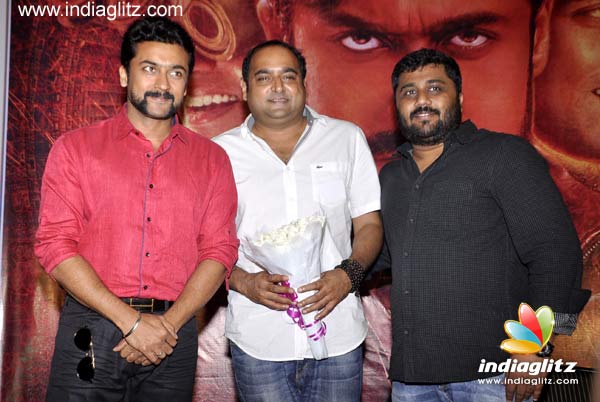 Speaking at a press meet held in Hyderabad, the team of 24 exuded confidence about the sci-fi. The film will hit the screens on May 6.
Saying that Suriya will be seen in five get-ups, director Vikram Kumar said, "Although it's only three roles in which he will be seen, there are five get-ups in total. I can't tell in words how nicely Suriya has played the character of Athreya. The film was planned as a small project, but it eventually became a mammoth film because of Suriya. I had worked with Nithya and Samantha in the past. I want to work with them again. Teaming up with AR Rahman is an unforgettable experience. The songs have already become a big hit. Re-recording is coming out very well."
Actor Suriya expressed his confidence about 24's potential in Telugu. "Whenever films like Shankarabharanam, Eega and Baahugali - films that were different - were made, the Telugu audience lapped them up. Even though we worked for 100 days, we were never tensed. Thiru's cinematography makes its mark everywhere. We shot in Madanpalle. Of the three roles that I have played, I like Athreya. I felt that it might be better if the character was played by some other actor. But Vikram Kumar convinced me that I would be apt. Elements like action, romance and comedy are there in this film like in all commercial entertainers. Chandrabose's lyrics are great. This summer release will be loved by children and adults alike."
Dialogue-writer Sashank Vennelakanti said, "People get innovative ideas in only a few areas. But Vikram Kumar has fresh ideas in every area - be it comedy, action, or romance. The stories of 13B and Manam were different. It's very difficult to compress a story narrated for 4:30 hours in two hours. Both the hero and the villain's role are played by Suriya. It's very difficult to play both roles."
Gnanavel Raja said, "When I watched Manam, I called up my father and told him that I felt like talking with him after watching the film. My father watched the movie and expressed his intention to remake Manam with Suriya and Karthi. Vikram Kumar then said that he had a story and if he didn't like it, then we would remake Manam. Although the appointment time was only 30 mins, Vikram Kumar went on to narrate for 4 1/2 hours. You can imagine! This will be the best film in Suriya's career."
Related News
Actress Photos
Poorna
Sreemukhi
Sumaya
Vaani Kapoor