Tamil Film Producers Council wants Sarathkumar as Nadigar Sangam President
Saturday, October 10, 2015 • Tamil Comments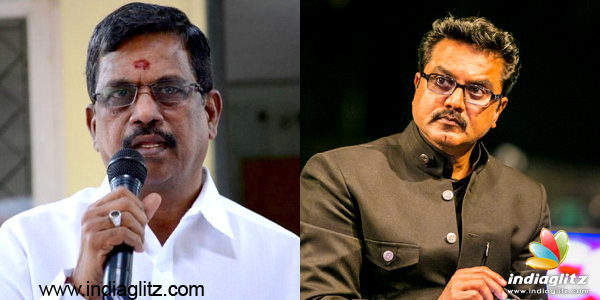 Tamil Film Producers Council President Kalaipuli.S.Thanu has officially announced the Council's support to R.Sarathkumar and his team of incumbent administrators in the Nadigar Sangam Elections to be conducted on October 18 in Chennai.
Yesterday, producer A.L.Azhagappan had allegd that Thanu is trying to project his individual decision of supporting Sarathkumar's team as the stand of the Producers council on the issue. However, Thanu seems to have conducted a meeting with the Executive committee members in Chennai yesterday, to discuss the issue. The meeting was attended by the Council's Secretary T.Siva, Radhakrishnan, Vice President P.L.Thenappan, Treasurer T.G.Theyagarajan and other office bearers.
Producers Sangili Murugan. K.E.Gnanavelraja, Pyramid Natarajan, S.S.Durairaj and many other producers also participated in the discussion after which the President Thanu has announced the Producers Council's stand on the Nadigar Sangam issue.
Thanu in his statement has stated that the Council finds nothing wrong in lending the Nadigar Sangam land to build a mall in order to generate income. The statement also attracts attention to the efforts taken by Sarathkumar as the leader of the Sangam to resolve the issues faced by individual actors like Shruthi Haasan, Ganja Karuppu and Kajal Aggarwal and films such as 'Uttama Villain', 'Komban' and 'Paayum Puli'.
Further Thanu in his statement has criticized Vishal and his Pandavar Ani of causing insult to actors community in their addresses to the Media. He also pointed out that a person like Vishal who boycotted the joint efforts of the Producers Council, Directors Union and FEFSI to bring a compromise in the Nadigar Sangam, issue cannot be trusted for cooperation with the Producers Council if he is elected as President.
Meanwhile the Pandavar Ani has criticized the decision of Producers Council to support one team in the election, as wrong.
Related News
Actress Photos
Vedhika
Meera Mitun
Kajal Agarwal
Aishwarya Dutta