Thara at Avare Mela
Saturday, January 6, 2018 • Kannada Comments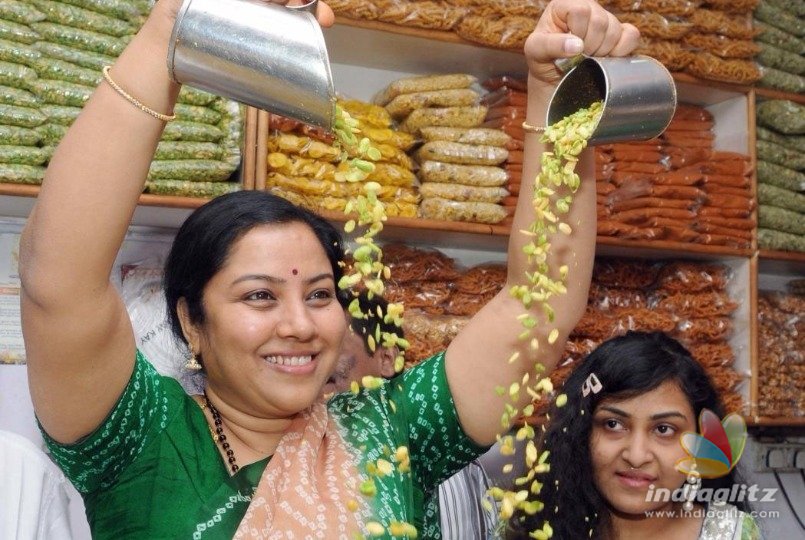 The famous 'Avare Kayi'(hyacinth bean) mela from Vasavi Condiments in Sajja Rao circle is attracting Kannada cinema artists and technicians ever since the national award winning actress and MLC Thara inaugurated it.
The varieties of food prepared at this 'Avare Mele' draws crowd from many part of Karnataka. The Avare Mela is from Jan 4 to 15th at VV Puram Food Street.
Vasavi Condiments started 24 years ago is conducting the Avare Mela from last 17 years. 10 tons of Avare Kayi is sold at the famous fare and the food street offers many variety of mouth watering recipes made out of Avare Kalu.
The same Avare Mela is conducted in Malleswaram from Jan 19 to 28 and in Nagarabhavi from Feb 2 to 11. For the Avare Mela the top ranking people Guru Dwarakanath, home minister Ramalinga Reddy, MLAs RV Devaraj, Priya Krishna, Mayor Sampath Raj, Uday Garudachar, Kodihalli Chandrasekhar, Vani V Rao, Kannada actors Doddanna, Ramesh Bhat, Chiranjeevi Sarja, Mayoori, Deepika, Shruthi and others attended the inauguration of this 'Avare Mela'.
Avare Kayi comes from Chickmagaluru, Doddaballapura, Chikkaballapura, Mulabagilu, Kolara, Chintamani, Magadi agriculturists take part with their cultivation in this Mela.
 
Actress Photos
Honey Rose
Tejaswini
Mishti Chakraborty
Mehreen Kaur Pirzada