Happy Birthday Director Bala
Tuesday, July 11, 2017 • Tamil Comments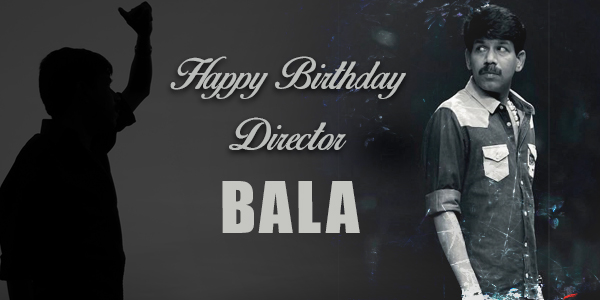 Today is the birthday of most acclaimed director Bala.
Bala made his directorial debut with the path breaking film 'Sethu which gave a big break for Vikram's career who is today one of the top five stars of Tamil cinema. He followed it up with the critically acclaimed film 'Nanda' which again gave the much needed break for actor Suriya who is also one of the top league stars of Kollywood. With his third film 'Pithamagan' fetched the first National award for Vikram who played the role of a graveyard care taker. With his fourth film 'Naan Kadavul' which dealt with the lives of Aghori sages and the mafia which forces destitute people into begging. Bala won the National award for the Best Director with this film. His 'Paradesi' won critical acclaim for the hard-hitting portrayal of the plight of tea estate workers under the British rule. His last film 'Tharai Thappattai' failed to impress the audience and failed at box office but we can be assured that he will bounce back with his upcoming film 'Naachiyaar' starring Jyothika and G.V.Prakash Kumar in lead roles.

Bala is a director who is not only hailed by fans and film buffs, but also by film industry celebrities. This is because of his boldness he has shown in portraying the hard-hitting reality in everything he deals with his films. He is also one of the few directors in Indian cinema, who brings the best out of his artists and technicians. Most of his films speak about the downtrodden people who are always the direct victims of wicked minds who would do anything for money. That's why he is always praised by highly reputed filmmakers like Mani Ratnam and Anurag Kashyap.
Bala has also produced some quality films like director Mysskin's 'Pisaasu' and enjoyable entertainers like 'Maayavi' and 'Chandiveeran'.
We wish Bala a Happy Birthday and we use this opportunity to request him on behalf of the fans and Tamil film enthusiasts, to do more number films in the coming years as there are a lot more subjects which no other filmmaker in Tamil cinema will not even think of touching.
Actress Photos
Srijitaa Ghosh
Priya Prakash Varrier
Meghana
Samantha