EXCLUSIVE: That's why we didn't promote 'Kaashmora': PVP
Saturday, October 29, 2016 • Telugu Comments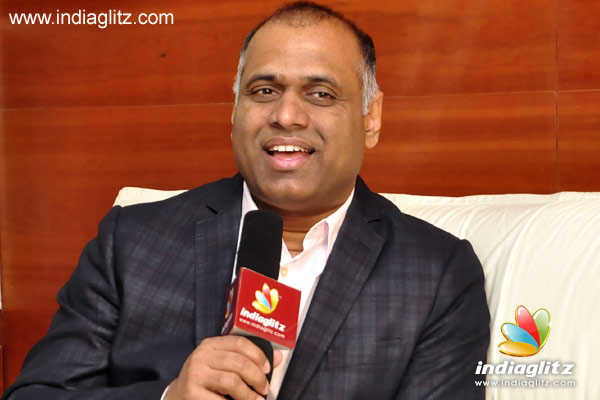 Prasad V Potluri, the producer with a penchant for profound scripts, has the latest release in 'Kaashmora'. In this exclusive interview, he talks about the response to the Karthi-starrer, learning the right lessons from the failure of 'Brahmotsavam', doing a film with Pawan Kalyan and Mahesh, so on and so forth.
The hit called 'Kaashmora':
Children, elders and family audiences are enjoying 'Kaashmora'. Our film collected Rs. 5 cr on day one. It has reached our expectations. Karthi's performance has been getting wide applause. The audience are enjoying the interval block a lot.
Going over-the-top with publicity can be counter-productive because hyping will raise the expectations. That's why we were low-profile before the release. We have been confident about the success from the beginning. We are planning to carry out promotions after Diwali.
The plans for 'Ghazi':
'Ghazi' was wrapped up by April end itself. Post-production works take a lot of time for a movie of this kind. The film is based on the sinking of a Pakistani submarine in 1971 war. There took place a little-known battle between the two countries.
Film with Mahesh Babu:
We are going to produce a film in the combination of Mahesh Babu and Vamsi Paidipally. Pre-production works are currently on. The film will go on the floors in June next.
Lessons from 'Brahmotsavam':
The release date of big-ticket movies is announced well in advance. Sometimes, it may have to be postponed in the nick of the moment. When the first copy is available only a day before the release, it is impossible to make desired changes. We faced this situation in the case of 'Brahmotsavam'. The failure of 'Brahmotsavam' has taught us that it helps to have a thorough spacing between the first copy and the release. In Bollywood, it's commonplace. Aamir Khan is done with 'Dangal' and the makers are screening it for friends to receive feedback well in advance so amends can be made if needed.
Unconditional friendship with Pawan:
I extended assistance for the launch event of Jana Sena Party owing to my friendship with Pawan Kalyan. I am not thinking about politics. As for doing a film with him, he is too busy with his own commitments and political works. My friendship with him is unconditional.
On 'Raju Gari Gadhi2':
The film with Nagarjuna garu, in the direction of Omkar, will go on the floors in December. We are planning for a Summer 2017 release.
Actress Photos
Eesha Rebba
Priya Bhavani
Vaani Bhojan
Sakshi Agarwal