Theri Music Review
Saturday, March 19, 2016 • Tamil Comments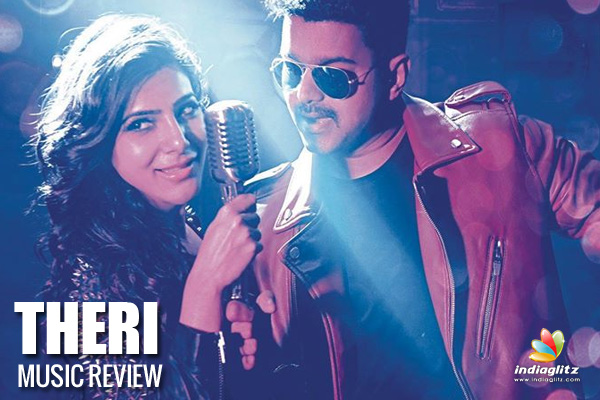 Not just a promo, first complete and REAL music review of Theri. You read this FIRST on Indiaglitz
Song : Jithu Jilladi Singers: Thenisai Thendral Deva, Balachandran
Lyrics - Rokesh
Trumpets for the grandeur and siren for power, Jithu Jilladi begins in a unique combination, and has its opening lines rendered by Deva, and gradually blends into gana beats, to take shape as a complete mass song. This song is descriptive in praise of the police force that slogs relentlessly to ensure a safe livelihood for all of us. The song is steady in its tempo, however varying in pace as an orderly randomness. While gana is usually associated with dance numbers, this one makes an exception as being more of a social awareness song. The entire song is worded as a conversational passage - a real circumstance sung in Deva's voice and public's responsibility highlighted in Balachander's voice. The police force is almost always taken for granted; but they are also humans who however hardly have the pleasure of living a normal, regular clocked life. Kudos to Rokesh to have brought this to light, and to GV to have chosen the perfect genre to break an impacting message. For those of you who want to get up and dance, you still can, when the trumpets blow and the drums roll here and there, and also bringing the song to its finale.
Song : En Jeevan Singers: Hariharan, Siandhavi, Vaikom Vijayalakshmi
Lyrics - Na.Muthukumar, R.Thiyagarajan (Sanskrit)
Harp and violins - what better to set the mood of love! The second track in this album is an impacting romantic duet, with a striking specialty. En Jeevan is a lilting tune, sung in the lead by two of the most soothing voices in the know-how. The song opens in Saindhavi's voice, joined in eventually by Hariharan's. This song is carefully worded for a sweet love story shared by pristine hearts. This feeling is elevated with the violin signatures blended into the flow of the song. As for the specialty, the song is sans beats. It is entirely the string orchestra and tinkling piano that makes up for a supporting background to the tune. And Vaikom Vijayalakshmi's role in the song is an exhilarating fusion, beyond any scale of verbal measure, which we leave to you to enjoy. Dive into pure bliss with En Jeevan - a time defying classic sure to stand strong.
Song : Eena Meena Teeka Singers: Uthara Unni Krishnan, G.V.Prakash KUmar
Lyrics - Pa.Vijay, Arunraja Kamaraj (RAP)
GV had promised a quirky number in Theri, and Eena Meena Teeka storms in as the best example of this genre! This song is as though sung by a guardian adult (presumably the father) and a little schoolgirl. The song is entirely about the messy yet adorable love shared by a little girl and her daddy dear. Dedication, patience, focus, passion, swift action, and speed - getting a kid ready for school could easily be qualified for Olympics. However, this song is not about how flawlessly the dad manages to get his little girl ready, but about how chaotic the scene ends (or begins), every morning. Taking careful note of each little thing nuance in a kindergartener's big life and that of a grown man's life of pumped arms, the song has been beautifully worded Pa Vijay and Arunaraja, into a conversational exchange of mutual gripe. GV has landed the right notes for the perfect tune for a song this unique and standalone. He has also added pep to the number, in his own voice, while Uthara steals the show in her cute and innocent voice that doesn't miss a single note or word, even in rap! Well, it could be tiring and messy to be raised by a man who blissfully his lousy self. But no matter what, at the end of the day, daddy-daughter chemistry is the sweetest form of love that could ever be witnessed. And Eena Meena Teeka is a tribute to such a feeling.
Song : Chella Kutti Singers: Vijay, Neethi Mohan
Lyrics - Kabilan
Who said love duets must stick to being soft and melodic or sensual alone? There's very much this side to love - the funky, happy-go-lucky, lighthearted adoration. In one of the first attempts ever, to highlight such a fluffy and happy side to romance, Chella Kutti is easily the super hit of Theri album! The song flows on keys, pipe, and tapping beats, which blows a pleasant chill breeze into the warmth of our hearts. The song opens in a quirky couple of lines, and goes on to be thrown open in Ilayathalapathy's voice, eventually joined in by Neeti's. The beats that support the song are a steady dance number with a folk air to it. The song changes tempo to a pop touch between stanzas, but is quick to swing back to the mood. This track is one of mutual adulation of a couple. This one carries some of the most romantic impacting lovely lines, but they are encased in such class that they come out clean as a lovely string of funky beats, thanks to Kabilan. A dance number with a little melody, rendered in the apt pitch for a lighthearted feeling, woven together in sweet lyrics, Chella Kutti is everything nice about love!
Song : Thaimai Singers: Bombay Jayashri
Lyrics - Pulavar Pulamaipithan
Motherhood is a feeling beyond measure by words. That is why, GV has expressed the bliss of such a pristine emotion in music. Although sounding to be a lullaby at the outset, Thaimai is a deeply meaningful composition, with the best choice of instruments, voice, and lyrics. The feeling of parenting, especially that of being a mother, is an everlasting blissful emotion, filled with pure joy and love. Pulavar Pulamaipithan has described it as nearly as is possible in words, as a beautiful string of pampering choice of words. Memory of This beauty is kept intact, defying flow of time, in GV's choice of notes that create a lasting impression; choice of dominance of flute over all other instruments, on gentle melody, is a positive edge to the song. Bombay Jayashri's soothing silken voice is the icing on this sweet cake, making for a joyous and complete package, just as tender and preciously pristine as motherhood in itself.
Song : Rangu Singers: T.Rajender, G.V.Prakash Kumar, Sony Kakkar
Lyrics - Kabilan
Setting an ideal opener to a kuthu number, the song opens with a snippet of an old rustic Tamil song, that zips out to a peppy treatment by Tavil. Trumpets to pump the energy up and electric guitar to add a mass appeal of funky twist, the song rolls on a steady combination of drums with an occasional Tavil relief. TR's accomplished voice reverberates on a softer pitch than his normally sharp and cutting edge pitch. Raangu is also a romantic duet penned by Kabilan, but in the raunchy and get-up-and-dance league. Sonu's confident voice well complements TR's pace and vigour, while GV's voice is softly blended in here and there. The song is an absolute dance number, all set to rock any stage! As if all the energy wasn't enough, the song wraps up in a treat at the end, with a series of rolling, foot-tapping drum beats; the soft combination of keys on this rocking energetic roll makes for a creative edge on the sunny side, for the song.
Song : Dub Theri Step Singer: Arunraja Kamaraj
Lyrics - Arun
Related News
Actress Photos
Anupama Parameshwaran
Ramya Pandian
Nandita Swetha
Indhuja