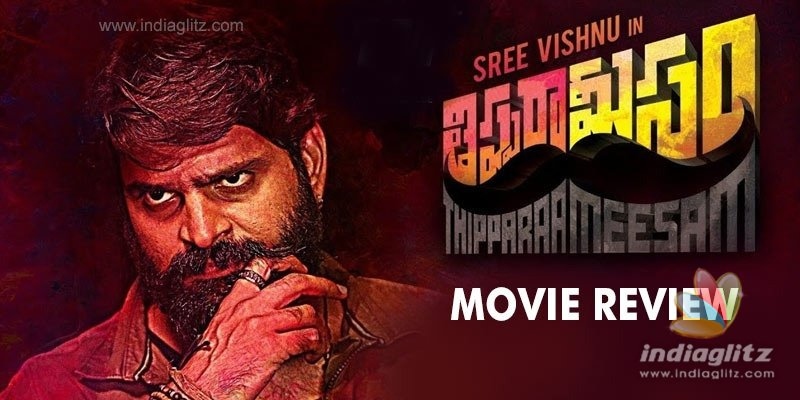 'Thippara Meesam', starring Sree Vishnu in the lead, hit the screens this Friday.  Here we present its review.
Story:
Mani Shankar (Sree Vishnu) is a DJ who has been hating his mother (Rohini) from childhood.  When he was a teenager, Mani got addicted to drugs and started feeling that his mother forced him into a rehab centre only because she doesn't care for him.  
Living on his own, Mani is addicted to bad habits.  Expectedly, a beautiful fangirl (played by Nikki Thamboli) falls in love with the eligible bachelor (sarcasm).  
Mani's tryst with a ruthless punter lands him in trouble.  In his search to pay off due amount, he does things that make his life and his mother's all the more miserable.  What are his sins?  Can Mani get out of the morass of self-destruction?  Answers to these and other questions are found in the film.
Analysis:
Have you ever heard of a son or a daughter approaching the court demanding a share in the property from their parents?  Many times, right?  But, guess what, this film projects this as some sort of an unprecedented happening in our mind-blowing society that is otherwise full of only outstanding parents and amazing children!  Trust Tollywood to flaunt ignorance like only it can.
An educated, career-oriented and seemingly sensible girl falls in love with a drunkard who also does drugs.  But she is not bothered about his bad habits and abnormal lifestyle.  Her only complaint is that he has gone against his mother.  She never asks him why he stays alone (when they speak, they talk about romantic games, by the way).  What the heroine thinks about her boyfriend is sketchy for the simple reason that she is edited out of the screen after being used for a montage song, followed by a half-hearted rom-com track.
The hero keeps doing all the wrong things but the characters around him use colourful descriptions for him.  "Nuvvu artham kaavu raa babu", "Manodu variety", etc.  What is "variety" about staking lakhs of rupees on punting?  What is there to understand about a pervert, for God's sake?  
Director Vijay Krishna had just two priorities.  1.  Projecting Sree Vishnu as an irreverent social deviant.  2.  Projecting this deviance with the kind of stylization we saw in 'Arjun Reddy'.  Suresh Bobbili's background music, time and again, is stylized in an affected way, reminding us of the Vijay Deverakonda film.  In one of the moments, the hero's substance abuse is celebrated through a song full of some of the most famous punchlines of Telugu cinema!  
The film should have got at least the depiction of the mother's pain right.  Even here, it is content with scratching the surface.  After she is tossed into an unenviable situation by her son, the mother comes to him and mouths much the same thing that she has been telling him since the initial scenes.  She is a one-note mother whose suffering is everything from melodramatic to unmoving but never heart-rending.  The tracks involving the cops and the politicians could have been better.  
The film comes into its own in the last act.  The climax makes two revelations that stand out and make the storyline look way ahead of the film.  The emotional touch in the climax is also a merit.  
Sree Vishnu's performance is effective, by and large.  He bulked up for the role and looks the part as a wayward youngster who has no control on himself.  Nikki Tamboli is wasted.  Naveen Neni's comedy falls flat.  Ravi Varma is good, so also others like Lahari and Banerjee.  
The songs pass muster, so also the BGM.  Sid's cinematography is a plus, capturing Hyderabad in night effect.  The editing should have been crisp.  
Verdict:
'Thippara Meesam' is eccentricity overloaded.  Underdeveloped characterizations abound.  The pace slackens repeatedly as the hero's stylized avatar is over-indulged.  Coming with a meaty storyline, this one offers an interesting climax, though.
Rating: 2.75 / 5.0
Showcase your talent to millions!!
Write about topics that interest you - anything from movies to cricket, gadgets to startups.
SUBMIT ARTICLE
More
Telugu Movie Reviews
Extra Ordinary Man
Kadak Singh
Hi Nanna
Calling Sahasra
Atharva
Animal