'Tholi Prema' pre-release event held
Sunday, February 4, 2018 • Telugu Comments

Listen to article
--:-- / --:--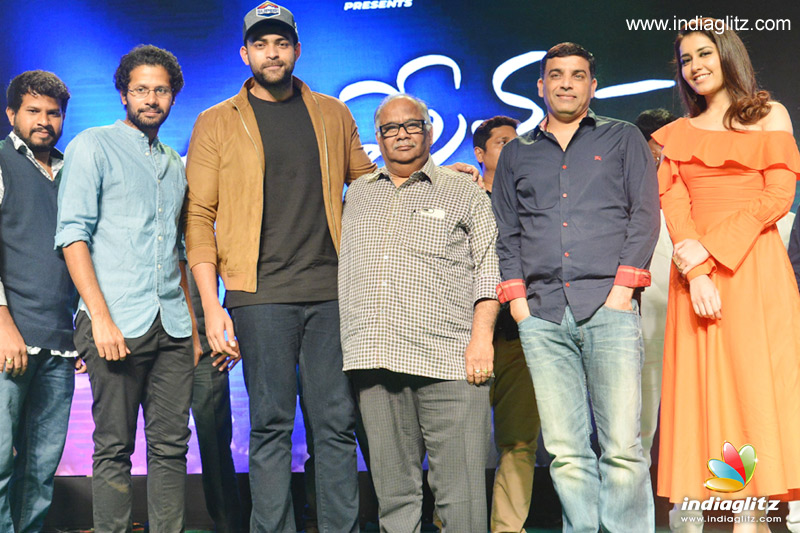 'Tholi Prema' pre-release event was held at Bheemavaram on Saturday. It was graced by the film's cast and crew.
Hyper Aadi said, "I have seen such huge crowds for an 'Indra' event and for an 'Attarintiki Daredi' event. Our 'tholi prema' is on Power Star Pawan Kalyan. Someone was today asking me as to what is Pawanism. Being his fan till the last breath. That's the truth. That's Pawanism. I have played a character named Bheemavaram Suriraju in this film."
Dil Raju said, "Bheemavaram has produced so many cinematic talents. There is something special about it. I was a distributor for 'Tholi Prema' in 1998. I am again a distributor for a movie with the same title in 2018. This is a 100 percent youthful entertainer. Girls and boys are going to watch it by flunking the classes. Two years ago, Venky told this story to me first. 'Fidaa' was received as an amazing movie right from the first show. In the same way, 'TP' will be viewed as same. There are quite many romantic moments in the movie. The chemistry between the lead pair is great. Censor Board has given U/A. It's because there is a lip-to-lip kissing scene in the movie. We didn't want to remove the scene. We are releasing the movie on Feb 9 in the US. In India, it will release on the 10th. 'Happy Days' and 'Shatamanam Bhavati' too happened this way. Just like Pawan Kalyan garu, Varun Tej is doing youthful movies in his initial years of career."
Director Venky Atluri said, "Just as Pawan Kalyan garu's 'TP' was fresh, we have done this movie with a lot of honesty. We thank Pawan garu's sainyam. Our film will live up to the respect that his 'TP' carries. A film is not just a director's dream. It's the effort of a whole team. So many are working on this movie by sacrificing their sleep. I thank all the departments, including the make-up department."
Raashi Khanna said, "I didn't expect this big a crowd, honestly. I am very happy to receive your love. This film is very close to my heart. After 'Oohalu Gusagusalade', this is my first pure love story. You have given me so much love in commercial movies. I hope you will give me the same in this film, too. I too am a Power Star fan, having watched 'Tholi Prema'."
Varun Tej said, "You all have received us so great today. I had trained at an institute in Vizag. The first shot in my life was shot in this town. It's so memorable. Even though it's his first movie, director Venky has done a fabulous job. Dil Raju garu is the first one who believed in the story. He has been the main pillar of this movie. The trailer has got a great response, thanks to cinematographer George Williams and editor Naveen Nooli. The first thing we all recall when the title is pronounced is the first 'Tholi Prema'. We are not going to spoil the title of Babai's movie. Our film will live up to expectations. We are coming on Feb 10."
Follow us on Google News and stay updated with the latest!
Follow