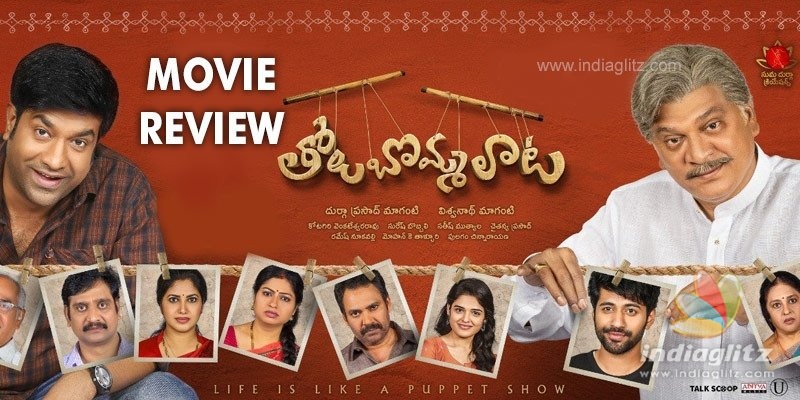 'Tholu Bommalata', a family entertainer, hit the screens this Friday.  Here is our review of the latest box-office release.
Story:
Rishi (Vishwant) and Varsha (Harshitha Chowdhary) are related as 'bava' and 'maradalu'.  Much against the wishes of their respective parents, they fall in love and seek their grandfather Somaraju's (Rajendra Prasad) help in making their wedding take place.
As fate would have it, Somaraju dies all of a sudden, leaving his warring son (Devi Prasad) and daughter's husband to their fate.  
Taken aback by what ensues after his death, Somaraju's spirit teams up with an aspiring politician named Santosh (Vennela Kishore) for a cause.  What is that cause?  Can the dead soul ensure that it happens?  What roles does Santosh have in this?  That's the rest of the story for you.
Analysis:
It doesn't take more than five minutes into the second half to realize that 'Tholu Bommalata' is not just lousy but is also a farce.  Far from focussing on the differences crippling the relations within the family, the film descends into a mediocre workplace love story and a fragile break-up saga.  It would have been forgivable had this track been dignified.  But what we get is an overindulgence of Vennela Kishore, whose workplace harassment is portrayed as the perversion of a primary school teacher.  Imagine your Team Leader making you stand and work because he doesn't like you.  Far from being funny, the idea borders on the juvenile, which this film toys with endlessly.  
The first half overplays the fights between the family members.  While it sidetracks the love story between Rishi and Varsha, the Somaraju-Santosh (read Rajendra Prasad-Vennela Kishore) track goes on and on, testing the audience's patience.  
The climax comes into its own, with characters baring their fangs.  For this brief period, the drama does strike the right chord.  But even here, the lines (as in the rest of the film) are dated.  
The film's obsession with Vennela Kishore has to be seen to be believed.  He is a creep and a joker, but the character behaves like the most emotional man alive just when the story artificially wants him to.  The story's aim is to portray two-four characters as mean.  Towards that effort, it peddles gobbledygook.  
Rajendra Prasad (who was supposed to be the film's main lead but who cedes space to Vennela rather thanklessly) tries to remind the audience of his mawkish acts from some of his previous films.  As much as director Vishwanath Maganti aims to make an 'Aa Naluguru' out of ordinary proceedings, the film fails to shake off its mediocrity.  
Tagubothu Ramesh plays a spirit who calls himself Devadas because, well, how else can you make him do a drunkard's role for the thousandth time in his career?  Pooja Ramachandran is wasted in an insipid role that demands of her to glam it up.  Dhanraj is that over-the-top 'manchi panodu' who seems to be a mockery in sentimental scenes when he cries.
Music director Suresh Bobbili gives a memorable song in the form of 'Manasara' (rendered by the much-happening Sid Sriram).  But even this song looks quite superficial on the screen for the reason that the emotion driving it is narrated in a plasticky manner.  The cinematography is adequate.  The art direction passes muster.  
As for performances, the 'Nata Kireeti' shows anguish with ease.  His comic banter with Vennela falls flat, though.  Vishwant and Harshitha are okayish.  Devi Prasad and others do their parts well.  
Verdict:
'Tholu Bommalata' turns out to be an empty family drama where the conflict has potency.  However, the excessive focus on things that are not central to the story is its biggest undoing.
Rating: 2.25 / 5.0
Showcase your talent to millions!!
Write about topics that interest you - anything from movies to cricket, gadgets to startups.
SUBMIT ARTICLE
More
తెలుగు Movie Reviews
Rangamarthanda
Das Ka Dhamki
Kabzaa
Phalana Abbayi Phalana Ammayi
CSI Sanatan
Anger Tales