Throwback Thursday - T.R, Sundaram - First Innovative Producer of South Cinema
Thursday, November 30, 2017 • Tamil Comments

Listen to article
--:-- / --:--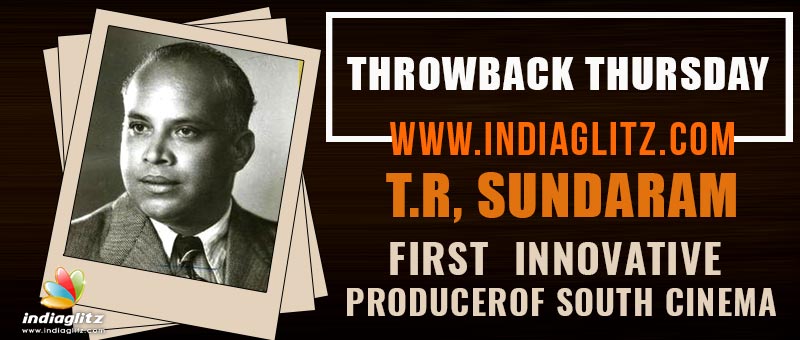 One of the visionaries that Tamil cinema will never forget for the impetus it got from him in its innovative path of evolution is Thiruchengodu Ramalingam Sundaram.  Hailing from a wealthy textile mill family Sundaram had his education at the prestigious Leeds University England where he not only discovered his passion for filmmaking but also found love and married his wife Gladys.
After producing many films during the thirties under the banner Angel Pictures with a partner, Sundaram branched out on his own to launch the historical Modern Theatres based in Salem. The production house bankrolled the first talkie in Malayalam 'Balan' , gave MGR his first super hit 'Manthirikumari' and also the first full length colour film in Tamil 'Alibabavum Naarpathu Thirudargalum'. 
T.R. Sundaram produced close to a phenomenal 150 films with all the big stars like MGR, Sivaji, Gemini to later day superstars like Jai Shankar.  He innovated in casting too like in the superhit 'Vallavanukku Vallavan' villains R.S. Manohar and S.A. Ashokan were cast as the heroes while reigning romantic superstar Gemini Ganesan as the villain.  We take great pride in posting this small vignette about the Tamil cinema great T.R. Sundaram in our Throwback Thursday this week. 
Follow us on Google News and stay updated with the latest!
Follow
Actress Photos
Shradda Das
Mehreen Pirzada
Lavanya Tripathi
Rashi Khanna