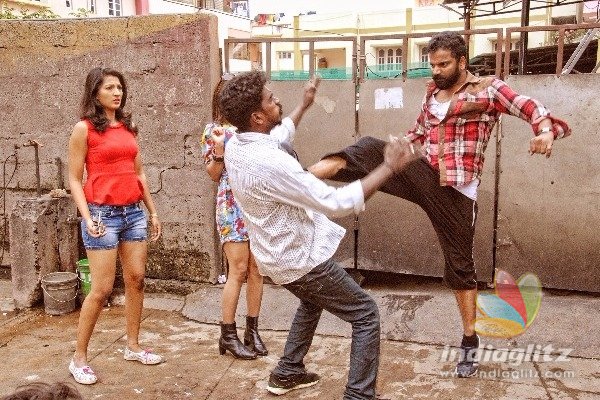 The impossible he has made it possible in his conception sitting with a veteran like KV Raju in screenplay and dialogues. All the 15 plus characters in this are oozing out frustration that is mainly because of the corrupt situations. The head of the state in this 'Tiger Galli' goes to the extent of making judiciary and police fake. That is the extremity of political power indeed!
The study on this kind of subject requires guts and experience. It is KV Raju bombarding in dialogues and Ravi Srivatsa as his mentor taken up every shot with care and caution. All characters including the judge speak loudly and in the process express frustration.
The place 'Tiger Galli' according to director (Peede Sandhi earlier) is a place not easy to enter. When the chief minister forcibly gets the big don Jayaraj to support his chair the activities roll in a nasty way. The police are toothless in front of Jayaraj and gang. The youth with strong will power Vishnu looking at the developments and insult to police is given one hour time by police department to ransack Jayaraj and gang. Jayaraj escape in a brutal attack but Vishnu is given a treatment breaking limbs and hands and in another attack Vishnu head is cut off.
The suspense at this time is that Vishnu and Shiva are twin brothers. One of the children is given to childless couple by twin children mother. Enter Shiva from New Delhi. He is a cop and high thinking. Shiva takes on the three rabble rousers. He makes all the three to enter the court hall. At this place he seeks judicial custody of all the three.
Such announcement of a cop is a very big insult. From the place where the trio trouble shooters sitting create heavy tension to police and judiciary. It is in the time frame of judge showing interest for right proof visits the place where nefarious activities are going on. Trio escape from the court hall set another huge platform where the judge and police are locked. What is in store at this highly loaded dialogue climax? You have to watch it on screen.
Ninasam Satish has struggled hard in proving his action image. He is partially successful. The surprises of this film are Roshani Prakash and Yamuna Srinidi. One is cop and other one is mother – both have done a fine job. Shivamani looks like shorter Dr Vishnu on a few occasions. It is a villain role for this reputed director well narrated. Sai Krishna is quite OK, Ayyappa Sharma as Jayaraj is deadly.
BM Giriraj comedy touch and Uttar Kannada slang, Anantha Velu as commissioner, Yogesh Kumar (producer of the film) as fake cop have given punching performance.
Tiger Galli of 143 minutes is equally loaded with dialogues in the first and second half. Editing is super fast. The scope for music is limited. Roshani Prakash in dream song of her grandmother looks ravishing.
Cinematography by Mathew Raj has extended good support to this film. A film that is heavy with action and moves like 150 kilometer speed in a busy market area is not that easy to capture in camera.
Ravi Srivatsa is very intelligent and vibrant. It is a known fact but controlled to some extent is good for his future.
Rating: 3.5 / 5.0
Showcase your talent to millions!!
Write about topics that interest you - anything from movies to cricket, gadgets to startups.
SUBMIT ARTICLE
More
Kannada Movie Reviews
Vanilla
Hottegagi Genu Battegagi
Seizer
Tagaru
Googal
Raja Simha