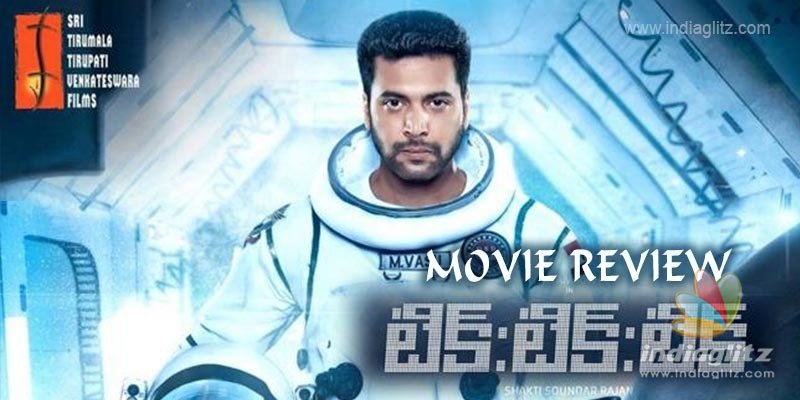 'Tik Tik Tik', starring Jayam Ravi in the lead, hit the screens this Friday.  Here is our review of the film that has been described as India's first space thriller.
Story:
A Defense Space Division team finds out that a huge asteroid will hit earth in less than a week.  They decide to take matters into their own hands and form a team that is capable of saving south India. A team is assigned the task of infiltrating a space station that has a rogue nuclear bomb, and then blasting it off to the asteroid in an attempt to save the Earth. 
A team is formed to rescue the country from the impending catastrophe.  Besides army officers (played by Vincent Ashokan and Nivetha Pethuraj), Vasu (Jayam Ravi), a magician, escape artist, and conman are part of the team.
Everything seems to go well until Vasu has to make a tough choice between saving his 10-year-old son and millions of humans.
Analysis:
At one level, 'Tik Tik Tik' is inspired by the 1998 Hollywood blockbuster 'Armageddon', but the film comes with a blend of its unique, complete with nativity.  
Once the mission is set, director Shakti Soundar Rajan springs some surprises down the plot; though not so entirely unpredictable, the stage is set with a strict timeline to save the world. The film shoots off into space without wasting much time. The rescue team relies heavily on Jayam Ravi's area of expertise to con and retrieve a crucial weapon. With the clock dangerously ticking even as the asteroid approaches the earth's atmosphere, an army ready to kill the Indian crew, lots of twists and finally vast emptiness of space the plot is set for a tight finish.
It's hard not to compare 'Tik Tik Tik' with Hollywood space movies.  The tendency to feel deja vu for several scenes is natural. But every single scene is portrayed as an inspiration and continues to innovate rather than just copy paste from any other space movie. An audience that has never seen Hollywood or space movies is bound to enjoy more, for the minute detailing is top notch. 
The space scenes, especially when the actors lose gravity, comes with a brilliant execution.  Light-hearted banter makes it more enjoyable.  Ramesh Thilak and Arjunan's antics while preparing for the mission is a complete riot and shows the lighter side of a rookie preparing for an unexpected journey.  
Without going much into technicality, the director has kept the dialogues simple to give the layman a dose of space and its feel.  
Probably, some logical loopholes are too much to take.  The idea of a petty thief breaking into a Chinese space station without much struggle is a cinematic liberty taken too far. 
The editing gets clueless when the situation becomes technical and it draws blank expression from the lead characters. 
Shakti Soundar Rajan can surely take the prime appreciation. With 80 minutes of VFX, the visuals are pleasing. D Imman's powerful BGM across the space horizon resonates deep into the screenplay, it certainly aids Venkatesh's work behind the lens. Moorthy's art direction for the space station, ground station, shuttle and most of the internal work deserves a mention.
Jayam Ravi's ability to experiment certainly has paid off. While the film has some setbacks on predictability, logic and so on, the simple narration, father – son sentiment, and light hearted humor with a space backdrop has certainly paved off.  
Verdict:
For all its cinematic liberties, 'Tik Tik Tik' is a well-executed space thriller that comes with gripping moments, fine performances and more.  
Rating: 3 / 5.0
Showcase your talent to millions!!
Write about topics that interest you - anything from movies to cricket, gadgets to startups.
SUBMIT ARTICLE
More
Telugu Movie Reviews
Karthikeya 2
Laal Singh Chaddha
Macherla Niyojakavargam
Sita Ramam
Bimbisara
The Legend