"Anand Shankar skipped a big hero film for doing 'Iru Mugan' with me" - Vikram
Tuesday, August 2, 2016 • Tamil Comments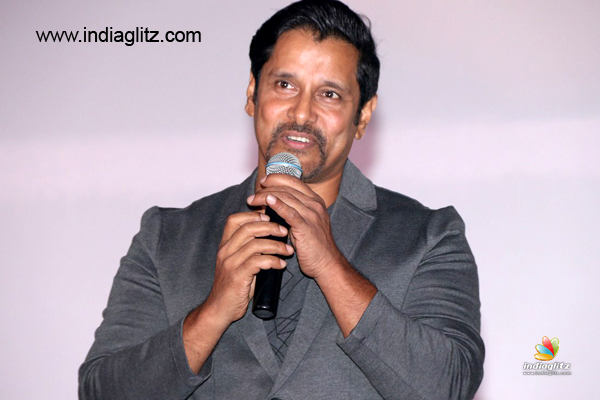 The audio and trailer launch of Chiyaan Vikram's much awaited action flick 'Iru Mugan' was held this morning amid the presence of eminent celebrities of Kollywood. Vikram gave the final speech but it was emotional and lengthy and struck the right chord among the audience and fans who were cheering throughout the function for their star.
Here is the excerpt of Vikram's speech in the even: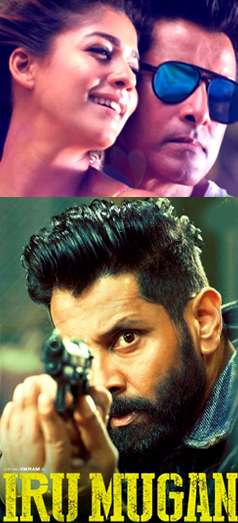 "I did not sleep well last night. I was tensed a little about whether the trailer will fulfill the expectations of you the fans. Then I kept listening to the songs one by one. Thanks for all the chief guests, media friends and fans for making your presence felt. Thanks for actors Nivin Pauly, Sivakarthikeyan and other guests for coming here to encourage us despite their busy shooting schedules.
I just wanted to thank everyone. I want to thank the God for giving such a fantastic team for this film. I have worked with a great team for this film. I don't want to speak anything about the film. You watch the film and it will speak for itself. (Puts a 'O' in Gemini style to acknowledge fans request).
While doing every a film I keep thinking whether it will be liked by fans. While doing this film I thought many things will be liked by the audience. Thanks to director Anand Shankar for that. He said I waited for nine months for this film. Actually he also waited. He got an opportunity to do a film with a very big hero. He could have easily taken up that film. But he said that is not ethically right and waited for 'Iru Mugan' with me. Thanks Anand that takes a lot of maturity from a young filmmaker like you.
I want to thank you also for giving a character which inspired me to perform well. It's been a long time wish to act in dual roles. Actually this film should have gone to some other hero, but I showed interest and then he agreed to do with me. In every stage of the film I felt we need new crop of directors like Anand. His ideas are just brilliant. He will be on a different trip. It's a different film for me and I really enjoyed working with him. Though he is young, his maturity and script work and his planning everything shows he is very matured and intelligent person.
And Shibu, you made me emotional today. Shibu has been distributing my films for many years in Kerala. When this film got into a problem- which many thought is unsolvable- he came in solved that problem in one single day and started the film the next day. It was just fantastic. He only suggested the heroines for the film and put all efforts to make it bigger. I loved working with Shibu. That's why Hari and I decided to do 'Saamy 2' with them.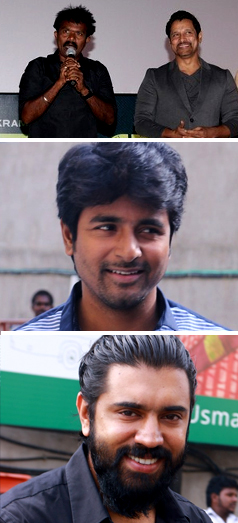 Harris… I love working with Harris. He has always delivered super hit songs for my films. 'Moongil Kaadugale' is my favoritest song. It is still my caller tune. Though I have had many hit songs, I can never forget this son. Thank you for that and Thank you for giving such a wonderful album for 'Iru Mugan'. Every song is so suitable for the canvass of this film. The background score is also great. While I was shooting for the second character Love in the filmI was thinking about Harris's music for that.
RD Rajasekar has showed all of us beautifully in this film. My look in 'Bheema' is my most favorite and it is because Raj has shown me so beautifully in that film. Thank you very much Raj.
We shot the film predominantly in Malaysia and then in Chennai. Every time I enter into the set it will look magnificent. Thank you Art director Suresh for that. Editor Bhuvan has done a great job. Thank you for that. Thank you Assistant directors Kumaran, Mukundan, Vinoth and Production manager Karthik sir.
This is a very difficult film and we finished it really fast. All because of the team work. Nayanthara is simply awesome. Her presence in a frame itself will add magic. We are pairing up for the first time and that will be the added advantage. Our chemistry has worked out well. And the experience working with her was great. She is very professional.
Same way Nithya Menen showed a deep interest for the character. Thank you for lyricists Karky and Thamarai mam for the beautiful lyricists. And Thank you so much fans.
As Sivakarthiikeyan said in his speech, I have always felt that he will become a big hero one day. I am very happy that while he came to stage people shouted 'Remo'. He is the Remo , I have become old. Doing such a film at very young age is simply amazing. It will be a huge hit. I am happy that Remo is not coming with my film. It will come three-four weeks later. Thank you Nivin Pauly for coming here. I became crazy after watching Premam. This is his first time he is coming for a Tamil film related function. We are honored. Thank you so much for that.
Thank you very much one and all. Please forgive if I have missed to mention anyone.
Related News
Actress Photos
Kajal Agarwal
Keerthy Suresh
Varalaxmi
Manchu Lakshmi