The 'tuntari' time
Tuesday, March 1, 2016 • Telugu Comments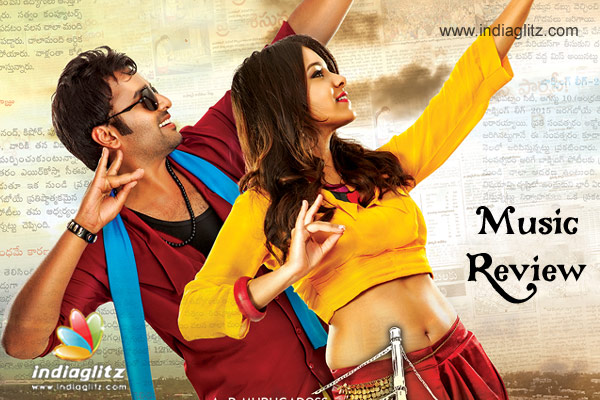 Sai Karthik scores a youthful music for Nara Rohit and Latha Hegde. Yazin Nizar, Kasarla Shyam, MLR Karthikeyan, Divija Karthik, Sai Charan, Tippu, Geetha Madhuri, Deepthi Parthasarathy are the singers.
Krishna Chaitanya, Simha, Baruri Subbaraya Sharma, and Balaji pen the lyrics.
Diamond Girl
Artist: Yazin Nizar
Lyricist: Krishna Chaitanya
Sai Karthik composes a lively music for this breezy and playful song whose lyrics describe the lover boy's awe at his sweetheart's beauty. While Krishna Chaitanya doesn't resist the temptation of some English words like diamond girl, and carnival, the song is mainly native in flavour. Rhyming words like 'Vennello Godaree, Ninu taakevadu evado haree' are a treat. Yazin Nizar is at his usual best. All in all, a cool one.
Rajuke Raju
Artist: Kasarla Shyam
Lyricist: Simha
The song starts off as a rip-off of Adhira Banna from Soggade Chinni Nayana. It then moves to a throwback effect, sounding like a '90s number where the protagonist of the number is seen describing himself in royal terms as well as putting himself on a moral high pedestal even as the whole village breaks into a jamboree. Simha's lyrics have a very rustic flavour, complete with references to the village ecosystem. Kasarla Shyam's lyrics come with a Kollywoodish appeal, much like the mass-y song itself.
Ding Dong Darling
Artists: MLR Karthikeyan, Divija Karthik
Lyricist: Baruri Subbaraya Sharma
Baruri Subbaraya Sharma's lyrics have an eminently folkish flavour about them. While the song is sure to strike the right chord with those listeners looking for authentic folk touch, employing terms like 'chakkani raja', 'silk cheera testane', 'rubber gajulu', 'gulf scent', 'rangula chilaka' sounds rather jaded. MLR Karthikeyan has as striking voice. Divija Karthik tries to induce a sense of deja vu with her Chitra-esque voice. All in all, Sai Karthik delivers a good, albeit inspired, music.
Adagaledhani
Artists: Sai Charan, Deepthi Parthasarathy
Lyricist: Balaji
Sai Charan's electrifyingly youthful voice is the best part of the number, besides Sai Karthik's instrumentation. Deepthi Parthasarathy is a good value addition. Balaji's lyrics come with the routine phrases like 'O mere jaana', 'main hoon tera deewana', but also profound phrases like 'O nimisham lo debbai sarlu kalchuku tintavu', 'prema ke nee peru pedatha', and so on.
Kona Seema
Artists: Tippu, Geetha Madhuri
Lyricist: Balaji
Tippu is at his usual best for this energetic number. Without him and of course Geetha Madhuri, this very good number would have been only a good number. Balaji's lyrics come with references to places like Rayalaseema and Sivakasi, but also now-boring usages like 'aaja.. raaja', 'adigindi aake leja..' and the like. All in all, the song also stands out for the appeal of Sai Karthik's tuning.
Verdict: An album for the new generation, it has rip-offs, throwbacks, and so induces a sense of deja vu. Kona Seema, and Diamond Girl are the songs to watch out for.
Rating: 3/5