What makes Suriya an extra special actor and a star
Wednesday, September 6, 2017 • Tamil Comments

This day, twenty years back, a young Suriya introduced himself to the film fraternity as an eager and ambitious actor through his debut film 'Neruku Ner' (Sept 6, 1997). Packed with a zest for realising his dreams, the young actor has etched his place in the industry through sheer hard work and dedication to become one of the most versatile and talented actors that we respect and admire.
But as many of us do know, it wasn't all cakewalk for the handsome actor. From the beginning of his humble profession in the garments export factory to the present stardom he commands in the film industry, Suriya has been an exemplary role model in humility.
Though, Suriya wasn't admittedly inclined towards an acting career in the beginning, as evident from his refusal to star in director Vasanth's 'Aasai' in 1995, the eminent actor shifted gears to truly identify his latent potential for acting.
The young actor had his breakthrough in director Bala's 'Nandha', in which he plays the role of a ex-convict who goes through a turbulent and complicated attachment to his mother. The film garnered wide critical acclaim and helped expose the actor's exceptional skills. From then on, the actor has been unstoppable with films like 'Pithamagan' (for which he got Filmfare's Best Supporting Actor Award), 'Kaakha Kaakha', 'Aaytha Ezhuthu', 'Ghajini', '7aum Arivu' , 'Mattran' etc
Apart from his praiseworthy acting skills, Suriya is also widely known for his efforts to get into character roles, evident in films like 'Varanam Aayiram' in which he showed off his dashboard abs in the celluloid and probably the first South Indian actor to do so. Surya's range of roles has been so diverse that he has made us cry, laugh, think and wonder through his varied and distinct portfolio of films.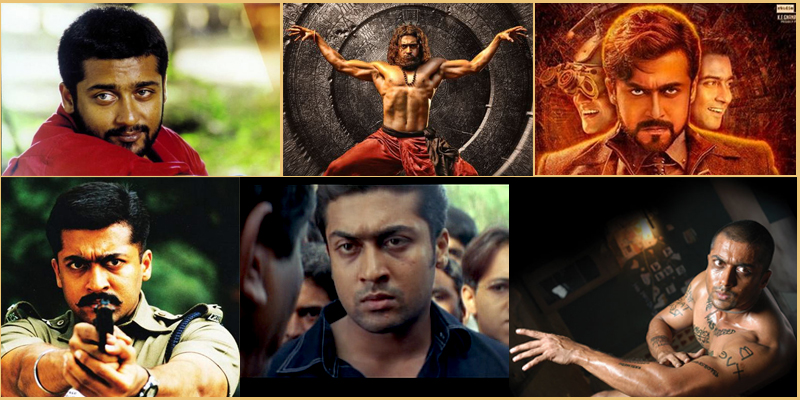 Suriya's success didn't stop him from choosing experimental and differing roles as in films like 'Perazhagan' in which he played a hunchback. He also gave one of his best performances in the science fiction movie '24', which was a blockbuster in Tamil as well as Telugu. However, it also meant that there was no stopping this illustrious actor into dishing out 'Singam' series, a trilogy of commercial cop films, playing and adapting himself to mass scenes and thereby strengthened his base as mainstream commercial star which he has established with mass films like 'Ayan' and 'Aadhavan'. This ensured that he is one of the handful of actors who has garnered a wide fan base in the south including the Andhra and the Kerela markets.
Even though Suriya has attracted hundreds of thousands of fans and followers through his profession, there is also another reason why we love him so much the way we do. In 2008, Surya started Agaram Foundation through which he spearheads charitable works to the underprivileged children who miss out on or drop out of schooling.Being such a proficient actor, a goodwilled humanitarian and a remarkable man in both public and private life, no doubt Suriya holds a special place in the minds and hearts of his fans and the common public even after twenty years.