Bigg Boss 3 Kasthuri and Vanitha duck fights on Twitter!
Saturday, September 28, 2019 • Tamil Comments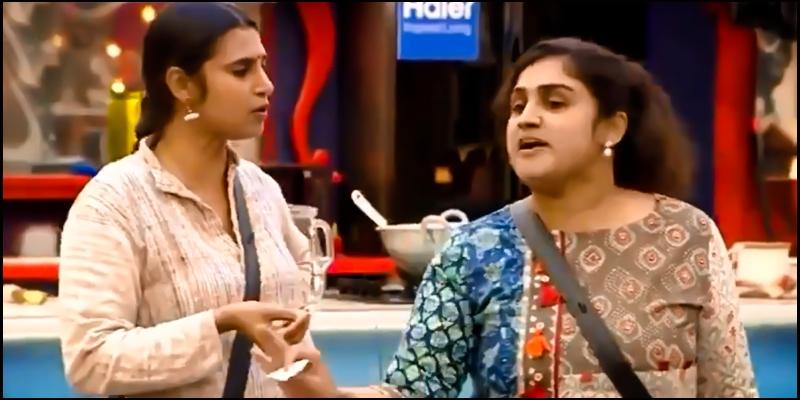 As the third season of Bigg Boss reality game show is reaching an end, recently Kavin had exited the house taking 5 lakhs offered by Bigg Boss, and this had received mixed responses in social media. Another eliminated contestant Vanitha had supported Kavin's decision to leave the house.
Wildcard contestant Kasthuri who had stayed in the house for just 16 days, and was always in a conflict with Vanitha, had tweeted that it is unfair to blame Losliya even though she had did some mistakes due to her age, and added a duck emoticon after the tweet. It must be noted that Vanitha had accused Kasthuri of calling her Vaathu during the show.
In response, Vanitha who saw the duck emoticon replied with her tweet "@KasthuriShankar everyone is asking me to give it back to you. But unfortunately there is no emoji or icon on the internet available to describe you. so I'm just going to leave an empty space."Again, Kasthuri responded tweeting "Dear vanitha, Yes, even the internet is incapable of expressing words like you do. You can feel proud thinking have won the cyberspace war of words as well. Cheers! ".
என்னதான் #losliya வயசு கோளாறினால் தவறுகள் செய்தாலும் அதற்காக அந்த சின்ன வயது பெண் மீது இப்படியெல்லாமா அபாண்டமாக பழி போடுவது? விட்டுருங்கம்மா ! ?? ??‍♀️ #BiggBossTamil3

— Kasturi Shankar (@KasthuriShankar) September 27, 2019
Dear vanitha,
Yes, even the internet is incapable of expressing words like you do. You can feel proud thinking have won the cyberspace war of words as well. Cheers! ??

— Kasturi Shankar (@KasthuriShankar) September 27, 2019
Actress Photos
Apsara Rani
Sakshi Agarwal
Iswarya Menon
Shradda Das