'Vaisakam' team happy with output
Monday, October 10, 2016 • Telugu Comments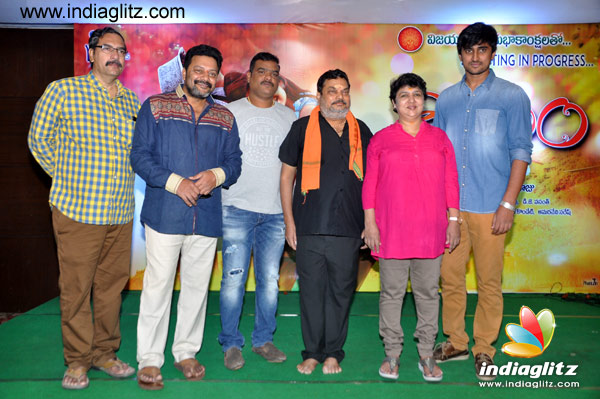 Dynamic lady director B Jaya's 'Vaisakam', produced by BA Raju on RJ Cinemas banner, is almost done but for one episode. Starring Harish and Avantika in lead roles, it has Sai Kumar playing a fireman.
Producer BA Raju says, "The shoot will be wrapped up by Diwali. So far, I have made six films and there were some small tensions while making them. With 'Vaisakam', that is not the case as we have been enjoying every single day of the shoot. The film not only has all the ingredients, but also has a message. Sai Kumar plays a very crucial role and he did it out of respect for me and director Jaya despite his busy schedule. We thank him from the bottom of our hearts. The entire unit is very proud of the film. People will know what director Jaya is capable of with this film. It is a film that is pretty close to her mentality."
Choreographer Sekhar said that he always wanted to work with a lady director. "I had approached director B Jaya for 'Lovely'. But that was not possible as the songs were already shot. Finally, I got a call to choreograph for 'Vaisakam' and it was initially for only two songs but I have ended up doing all the songs. Harish will not just be a mass hero, but also a class hero. Music by Vasanth and cinematography by Subbarao will be a great asset."
Saikumar says, "I love human relations and emotions very much. This is the reason why I accepted this film. This film contains many good dialogues and one of the lines I say contains the entire story of the film. I have donned 'Khaki' dress in many films, but in 'Vaisakam', I will be doing so playing a fireman. Jaya garu and Raju garu are very calm and cool and they get fine output from everyone, thanks to this nature."
Director B Jaya says, "The movie is coming out very well. Everyone has gelled well as a team to give a good project. Valishetty Subbarao, our cameraman, has used Body Gimble technology, which is being used for '2.0'. Vasanth has given good music for the film; the songs have come out very well, packing in all emotions. Ravuri Krishna's dialogues are very good. We have introduced many actors in the film and with this, we are introducing Harish as the hero. Harish and Avantika have acted very well together. I have shown the film to the team and they all enjoyed it like regular audience rather than the technical crew of the film. People who watch the movie after release will enjoy it similarly."
Music director Vasanth says, "The songs have come out well and so has the movie. The songs will be a big hit."
The rest of the cast include Eeswari Rao, Rama Prabha, Prudhvi, Kasi Viswanath, Krishna Bhagavan, Sri Lakshmi, Gundu Sudershan, Bhadram, Sompu, Phani, Madhavi, Jenny, Jabardasth Team Venky, Sreedhar, Ram Prasad, Prasad, Teja, Lateesh, Sruthi Naidu, Kalyani, Kumari, Mounica,Chandini, Ishaani.
Director of Photography is Vaalisetty VenkataSubba Rao. Art direction is by Murali Kondeti. Stills are by Srinu. Co-director is Amaraneni Naresh.