'Vaisakham' has got a strong Story'- Actor Harish
Tuesday, July 18, 2017 • Telugu Comments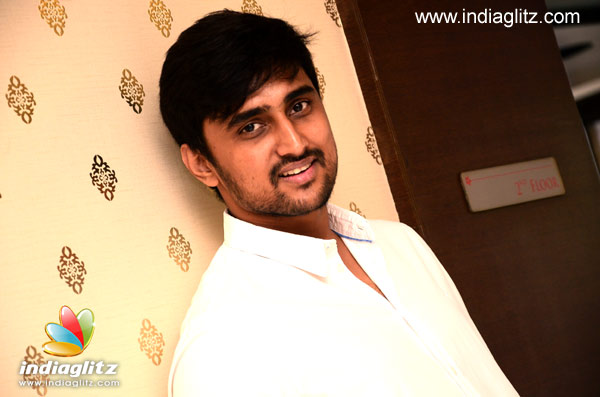 Directed by B. Jaya and produced by B. Raju under 'R.J. Cinemas' production house, Vaisakham has completed the shooting and the post production procedures as well and now is gearing up for a release on the 21st of July.
The movie stars Avanthika, Harish, B. Pruthviraj, K. Viswanath, Sai Kumar and more.
The male lead of the movie, actor Harish, who is a debutant with Vaisakham was interviewed about his role, his experience as a new-comer and more.
He stated 'Vaisakham is a huge film and I was initially very excited to be a part of the film and I ended being grateful for the opportunity."
He continues."The movie is based on a real-life story and events that take place in our lives regularly. The relatability factor is definitely there and people will love the movie, we're sure about that"
Turns out that the young actor is from the background of Bheemavaram and was always enthusiastic and passionate about movies. He came to the industry to begin as an actor and successfully auditioned for his role in Vaisakham after a lot of struggle.
He says "Just because I am a debutant, nobody took that easy. Everyone is very focused and take their work seriously. They took me seriously too. The fact that they gave me the opportunity in the movie as the main lead, and in such a big banner, I consider it an honor and I'll forever be grateful for this chance"
He continues "When I met Jaya Madam at an office, she was just looking for a new artist to add a fresh look to the movie. She was so brilliant with her work and she is just so sharp."
He explains "that's when she looks over at me and asks if I was interested. I didn't need a script, nor a story, I had faith and I believed that she and sir (the producer) will not let me down and will take me somewhere great…I believed in that"
The movie's PR is going pretty great with the general public loving the title of the film and following the moves on social media. The title and the first look got a pretty great appreciation and response from the audience which stimulated the existing hype around the movie.
"I play a boy next door in this movie. He is quite simple and mature and has got the zesty attitude. I loved playing such a great role"
"I dance a lot in the movie and the choreographer too was very helpful and helped me out in a lot of ways. I used to do many stage-shows and performances, which helped me tune the energy just right for the role and I took some 20 days of training to actually dance like a professional. It is important for debutants to take their jobs seriously"
News surrounding the audio release event of Vaisakham is making rounds around the tinsel town as Prince Mahesh will be attending the event as the chief guest.
"I am very glad and happy that such a great star will be attending our event. We're all quite stoked and we couldn't be happier. He's amazing…"
He finally concluded thanking the producer saying "if there's anything why the movie is a finished product, then it is definitely because of the producer. He is an amazing man and he is kind of man that you'd want to have around to shower you with great philosophy and knowledge on work and life. He is simply amazing"
Vaisakham will be out on the 21st of July 2017.
Related News
Actress Photos
Priyanka Jawalkar
Sanchita Shetty
Rasheeka dutt
Indhuja