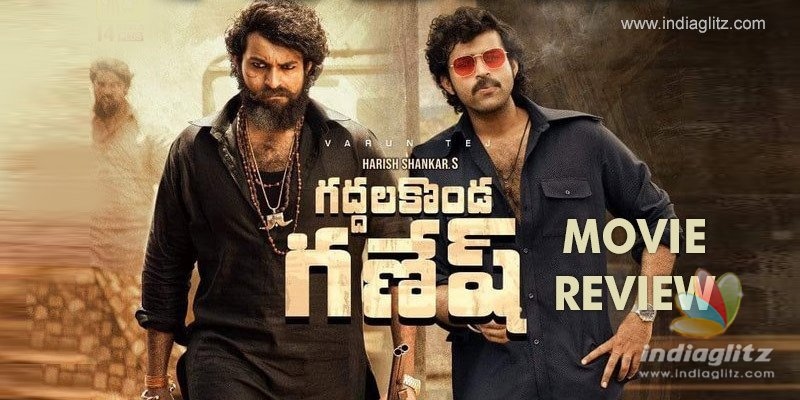 'Gaddalakonda Ganesh', starring Varun Tej, hit the screens this Friday.  Here is our review of the latest box office release.
Story:
Abhi (Atharvaa Murali) is an aspiring filmmaker who wants to tell the story of a living gangster.  He zeroes in on Gaddalakonda Ganesh (Varun Tej), a dreaded don from a village bordering Telangana and Andhra Pradesh.
As he shadows Ganesh's men, Abhi realizes that the don's story is replete with twists (which are hardly exciting).  But when Ganesh gets to know about Abhi and his secret mission, unforeseen consequences might follow.
What are they? How does Abhi humour the mercurial Ganesh and realize his dream of becoming a filmmaker?  That's the second half for you. ?
Analysis:
The remake of the Tamil movie 'Jigarthanda' is faithful, by and large.  Director Harish Shankar glamourizes the don's character with a flourish, reserving the soul of the story to the last 30 minutes.
In telling the bumpy saga of the ruthless Ganesh, who gets transformed through a fortuitous turn of events, the writer-director relies on some time-tested elements.  The lead man finding redemption in people's affection is compelling.  There is a sad past, a mother who has been swallowing pain for years, etc.  All this strikes the right notes.
For all its inherent strengths, the film is blighted by the director's penchant for forced comedy.  To make Ganesh look fearsome, he is made to mouth punch lines and do the same things again and again like a caricature.  This robs the film of gravitas.
The characterization of Varun Tej's Ganesh becomes an obsession rather than a novelty.  In an attempt to make him appear remarkably terrible, he is made to commit one too many random murders.  Someone is killed by fire, someone else gets amputated mercilessly, yet another soul gets a dozen bullets pumped into his body.  Everything is supposed to convince the audience about something that was established in the first 30 minutes itself. At 173 minutes, the gangster drama packs too many redundant moments.  In trying to shadow Ganesh, Abhi and his sidekick (comedian Sathya) do inane stuff, which all make it vacuous.
The story unfolds in a fictional town where everyone exists for the thankless job of being scared by Ganesh, whose flair for style is unnatural.  There is no believability factor after a point, especially when Abhi spends the entire first half giving the impression that he is frightened to even meet Ganesh but acquires remarkable level of comfort in his presence all of a sudden.
Ganesh is thrilled like a comedy piece at the prospect of becoming an on-screen hero.  His scenes with the funny acting guru, played by Brahmaji, are over-the-top.
The love track between Varun Tej and Pooja Hegde is filled with hackneyed ideas.  An eve-teasing scene here, a remix song (Sridevi's 'Elluvoche Godaramma') there.
The Mega hero's performance is convincing in the second half, especially compared to the one-note first half.  He shows versatility in the film's last act, and gets his Telangana slang fairly right. Atharvaa is able, his acting is restrained.  Mrinalini Ravi is good as a boyfriend-crazy girl who acts cute.  Pooja Hegde is not OK in the get-up of a rural girl.
Mickey J Meyer's music is distinct for a good part of the film but is too loud at times.  Ayananka Bose's cinematography ticks.
Verdict
'Gaddalakonda Ganesh' is a mixed bag.  It's lengthy at 173 minutes.  The second half tells the actual story.  The first half establishes the premise and keeps dragging on and on.  The comedy works in fits and starts.  The romantic tracks are sub-par.  Characters speak of the greatness of cinema without depth.
Rating: 3 / 5.0
Showcase your talent to millions!!
Write about topics that interest you - anything from movies to cricket, gadgets to startups.
SUBMIT ARTICLE
More
Telugu Movie Reviews
Love Today
Itlu Maredumilli Prajaneekam
Masooda
Iravatham
Yashoda
Aakasam