As funky as it is soulful
Monday, December 4, 2017 • Tamil Comments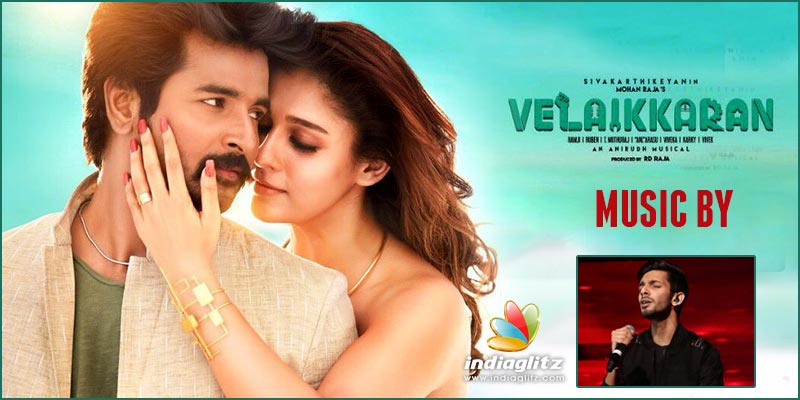 Karuthavanlaan Galeejaam: Full on energetic Kuthu
Singer: Anirudh Ravichander Music: Anirudh Ravichander
Lyrics: Vivega

Presenting the winning streak of Anirudh and Sivakarthikeyan; this time Anirudh goes simply on an energetic local folk mode. With funky lyrical all around that rhymes around with "Thakkali" , "Vavvalu" and so on, the song should hit the crowd well enough.
The tune is something we have heard over and over in many folk numbers over the years, yet a racy thara dapanguthu never goes down on a boring note. Anirudh's vocal is the big winner of this single that has an underlying electric vibe and a chorus to support his stand on Chennai and its Madrasism. The track will certainly have some foot tapping kuthu dance and knowing Siva's talent as a dancer there is a lot in store indeed.
Iraiva- A soulful rock song!
Album: Velaikkaran Composer: Anirudh Ravichander
Voices: Anirudh Ravichander, Jonita Gandhi
Music heart-throb Anirudh Ravichander had announced a special '2 in 1' second single 'Iraiva' for the much anticipated 'Velaikkaran' starring Sivakarthikeyan in the lead role. The movie's first number Karuthavanlaam Galeejaam impressed listeners with its energy. 'Iraiva' on the other hand was touted to have two emotions intertwined namely life and emotion.
'Iraiva' is the perfect marriage of scintillating soul music and exploding rock. And Anirudh seems to have gifted what he promised in this soul-shaking number. The song starts off with the gentle strumming of guitars as Anirudh's vocalizations weaves magic with trance inducing inflections. We begin to gel and sympathize with the singer's pleading lines and-
Bang! We're taken aback with rock-styled hardcore shout-outs exploding. Anirudh's portions is low-laying initially and the next instant transforms into the song's joie-de-vivre. We're not complaining though, but happy as it might be what gives the song its versatility.
As electric guitars ream in on your ear drums, surprisingly a no-nonsense transition leaves you stumped as an eclectic female voice touting poetic lines of 'Uyire' ensues. Anirudh then continues to play puppet with listeners as he sways to and fro, high and low, with intermittent treatments of hardcore rock and tantalizing soul music.
'Iraiva' is many-sided with emotions of serenity, love, prayer, hope and anger. The background music is never intruding but only adds to the vivacity of the song. Anirudh's proves himself extraordinary again with distinctive experimentation.
'Iraiva' is set to create sensation and find an eternal spot in your love/rock playlist.
Vaa Velaikkara
Voices: Shakthishree Gopalan, Bjorn Surrao
Lyricist: Vivek
Vaa Velaikkara has a slumberous start riding onto Shakthishree Gopalan's staccato spewing of words that comes off non-impressive and ornamental for the sake of it. The song picks up verve with instrumental aid and Bjorn's shout-outs halfway through the track, but not to much avail. On another minute perspective, this number seems to be a replication of the stylistic 'Iraiva', like a lost brother from a far away land- distorted and easily forgettable.
Idhayane
Voices: Anirudh Ravichander, Neeti Mohan
Lyricist: Madhan Karky
Neeti Mohan with her mellow soft voice makes Idhayane more than the sum of its parts in an otherwise bland and usual number. Anirudh has flawlessly used instrumental score to his advantage in taking the song forward in a streamlined flow. The piano interlude announces a change in tone for the female lead giving the song much life and versatility in the limited scope of such a song. Heavily hued by nostalgia and melodious rendering by Neeti, this song is set to be a feast for the melody famished music fans.
Ezhu Velaikkara
Voices: Siddharth Mahadevan
Lyrics: Viveka
A recurring motif in the 'Velaikkaran' album is a call to act upon obstacles. The need to get up and go get. All tracks lean towards inspiration in one way or the other ;and Ezhu Velaikkara is no exception as one could discern from the obvious title of the track. Siddharth Mahadevan justifies his choice as singer for this powerful soul track. Strings and chorus make the listening experience invigorating emotionally with a little flavouring of wind and percussion as well. Ezhu Velaikkara achieves what it set to do : to raise you up when you feel low.
Verdict: Re-invention is the norm for Anirudh, eg: Iraiva. But he also retains familiar tones and style patterns in the album. 'Velaikkaran' playlist is an essential music prescription for Anirudh fans.